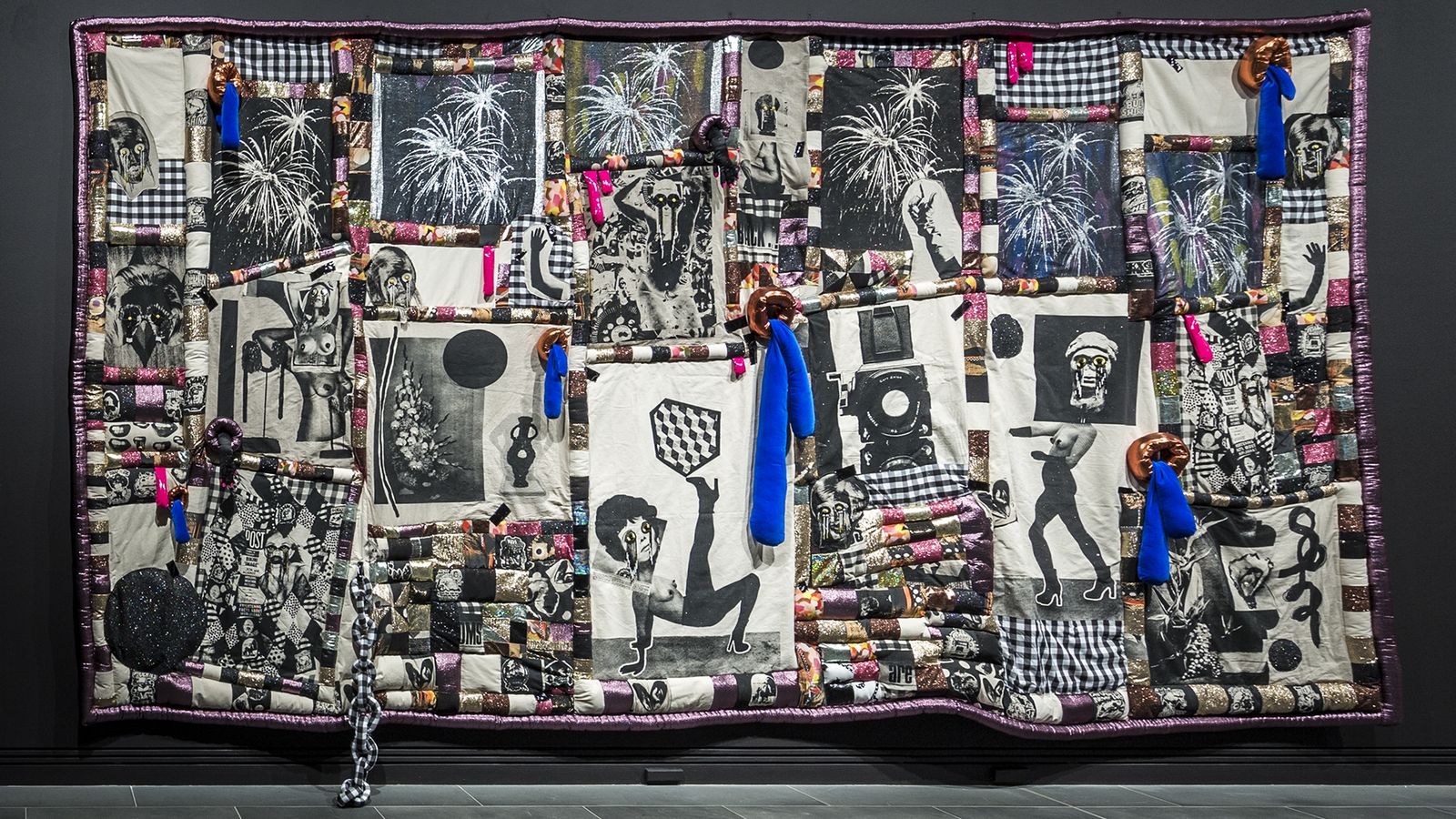 2017 Ramsay Art Prize
27 May - 27 Aug 2017
Galleries 8, 9, 10, 11
Free entry
---
$100,000 national art prize supporting contemporary Australian artists under 40.
Sydney-based artist Sarah Contos won the inaugural 2017 Ramsay Art Prize, with her work Sarah Contos Presents: The Long Kiss Goodbye.
The winning work of art brings together personal remnants of Contos' practice, resulting in a colossal quilt that she describes as her most ambitious work to date.
Chosen from more than 450 entries from across the country, and selected by a panel of international and national contemporary art experts, Contos' 2017 Ramsay Art Prize entry is now part of the Art Gallery of South Australia's collection.
The judges of the 2017 Ramsay Art Prize were Rhana Devenport, former Director, Auckland Art Gallery, contemporary Australian Artist Nell and Leigh Robb, Curator of Contemporary Art, Art Gallery of South Australia.
Nell speaks to what this Prize means for artists when she says that 'this Prize represents a rare combination of opportunities – to be included in a curated exhibition at the Art Gallery of South Australia; to be acquired into the Gallery's collection and to receive a major financial reward that will fuel future work. For all the finalists, the very opportunity to be selected for exhibition at the Art Gallery is immeasurable'.
Artists
Tony Albert (NSW)
Khadim Ali (NSW)
Jacobus Capone (WA)
Celeste Chandler (VIC)
Sarah Contos (NSW)
Georgina Cue (VIC)
Keg de Souza (NSW)
Julie Fragar (QLD)
Teelah George (WA)
Natalya Hughes (NSW)
Trent Jansen (NSW)
Ash Keating (VIC)
Owen Leong (NSW)
Vincent Namatjira (SA)
Joey Nganjmirra (NT)
Baden Pailthorpe (NSW)
Clare Peake (WA)
Jason Phu (NSW)
Rebecca Selleck (ACT)
James Tylor (SA)
Justine Varga (NSW)