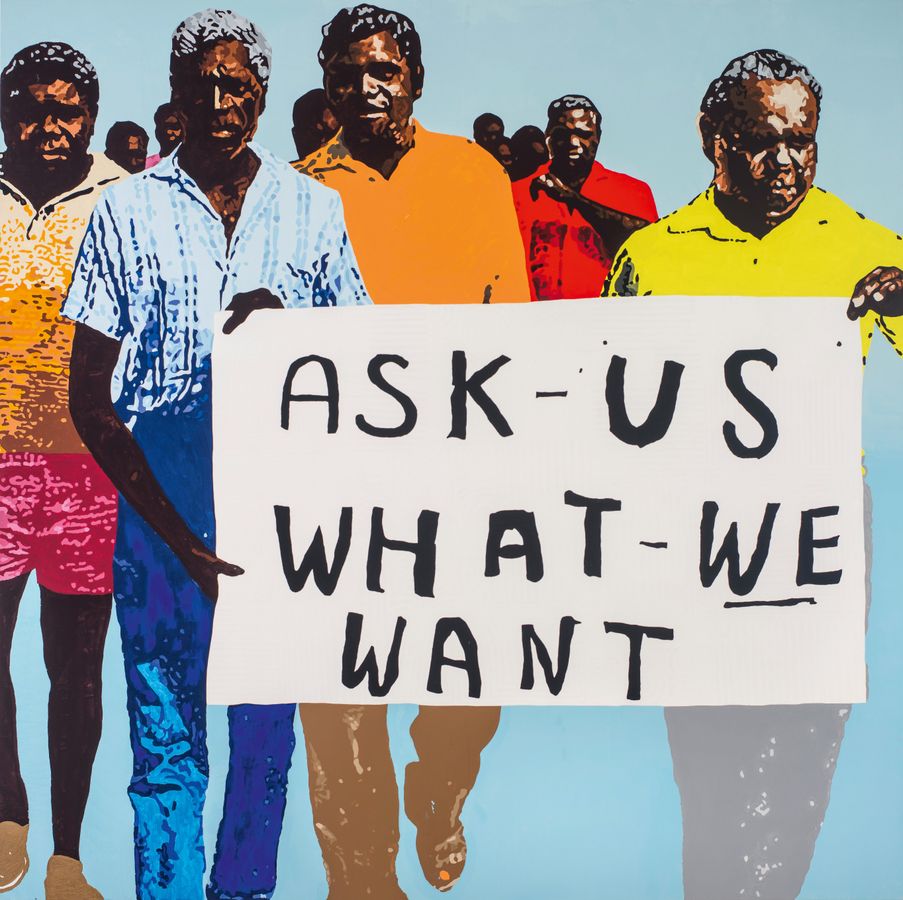 About the Collection
---
The Art Gallery of South Australia has one of the largest art museum collections in Australia, comprised of almost 45,000 works of art spanning 2000 years. Our collection includes paintings, sculpture, prints and drawings, photographs and videos, textiles and clothing, ceramics, glass, metalwork, jewellery and furniture.
To date approximately 40% of collection records are available to view in the online collection. We make regular updates through research and documentation.
Australian art
Our Australian collection presents a comprehensive survey of Australian art, including Aboriginal and Torres Strait Islander Art, from around 1800 to the present. Among its strengths are its nineteenth-century works (including Australian Impressionist paintings and colonial silverware and furniture), its twentieth-century Modernist collection (which includes a renowned selection of works by female artists) and the work by South Australian artists. The Australian Prints, Drawings and Photographs collection includes 2,000 drawings by Hans Heysen, bequeathed by the artist, and the R.J. Noye collection of 6,000 early South Australian photographs.
In 1939 the Gallery became the first Australian art museum to acquire a work by an Aboriginal artist and today, the traditional and the contemporary unite a diverse collection which includes desert paintings on canvas, bark paintings in ochre, photography, video, textiles, ceramics, glass and sculpture. Highlights of the contemporary Australian collection include Lindy Lee's Life of Stars at the Gallery entrance and the Kulata Tjuta collaboration, made by Aṉangu artists working in the north of the state.
International art
The international collection includes extensive holdings of European and North American art dating from ancient Rome to the present. Highlights include an encyclopaedic array of modern British paintings, more than 3,000 European Old Master prints and paintings, 2,000 pieces of decorative art and twenty bronzes by Modernist sculptor Auguste Rodin. The contemporary international collection crosses artistic and geographic boundaries, representing diverse mediums and countries – such us sculptures and installations by the Young British Artists, painting by Sean Scully, sculpture by Thomas Hirschhorn, couture by Iris van Herpen and digital video work by Russia's AES+F and Japan's teamLab. Highlights on display include Berlinde de Bruyckere's confronting We are all Flesh and Chiharu Shiota's monumental string work Absence Embodied.
Asian art
The Asian art collection, which begun in 1904, represents art from across the region, with focuses on the pre-modern art of Japan, Southeast Asia, India and the Middle East. The collection includes stone, wood and bronze sculpture, ceramics, textiles, paintings and decorative arts such as lacquer ware. Our dedicated Asian galleries include Australia's only permanent display of Islamic art. Highlights of the contemporary Asian art collection include a series of textiles by Indonesian artist Eko Nugroho.
Provenance Research
The Gallery undertakes ongoing research to establish the history of ownership, or provenance, of works of art in its collection. Find out more.