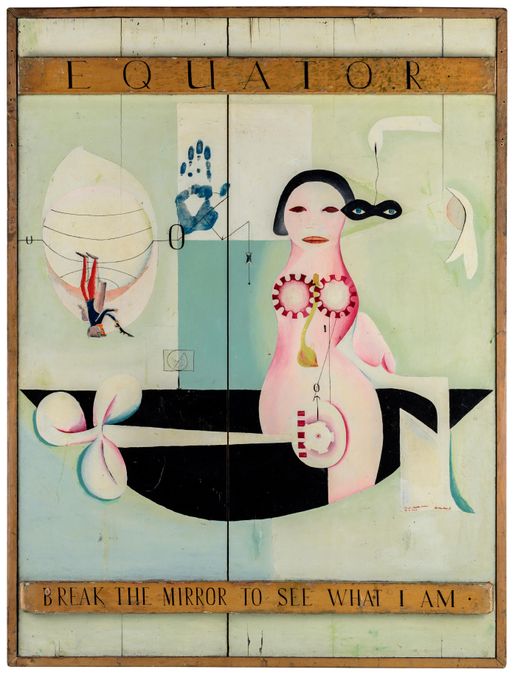 The voyage: immigration to Australia
---
Learn more about Dušan and Voitre's journey to Australia
Stormy weather and mechanical issues extended the length of Dušan and Voitre's voyage aboard the SS Charlton Sovereign to Australia. During their long sea voyage, Dušan and Voitre created a small number of works, drawing on paper and painting on wooden panels from discarded crates and furniture.
The brothers also kept voyage journals, written mostly in Czech. Their writing during the journey is personal and full of observational details, as well as distant memories, thoughts and dreams. Dušan also wrote to his family explaining his intentions to one day return to home stating 'the world may be large but it is also round', while Voitre expressed his feelings of love and fear in his journal entries.
Four paintings created by Dušan during the voyage survive including Perpetuum Mobile and Equator in AGSA's collection which is painted on either side of the same wooden panel. This double-sided work was painted on the ship's gaming table stripped of its felt covering. Equator depicts a surreal image where the distinctions between flesh and machinery are unclear, and figures and motifs float in space. The work may be displayed with either (or both) sides visible. It describes a universe where dual relationships and spatial dimensions are confused – even the painting itself doesn't have a correct 'front' or 'back'.
Dušan and Voitre arrived in Sydney on 29 October 1948 and travelled to the Bathurst Migrant Camp where Voitre was reunited with Vera. They stayed in Bathurst until December, long enough for the brothers to regain their health after being at sea for a long period of time, before they travelled by train to Adelaide.
What familiar symbols do you recognise in Equator and Perpetuum Mobile?
Janus is the God of beginnings, gates, transitions, time, duality and doorways and is usually depicted as having two faces, looking forward and looking back. Is the double-sided Equator and Perpetuum Mobile looking forward and back?
Sculptures are often viewed in the round, so that all sides are shown. Equator and Perpetuum Mobile is displayed so that both sides are shown. Would you consider this work of art a painting or a sculpture, or is it both?
A diptych is often a pair of paintings which are usually hinged together and displayed side by side. If Equator and Perpetuum Mobile were two separate paintings displayed next to each other how would this alter your perspective?
Critical reception by Elle Freak, Assistant Curator, Australian Paintings & Sculpture
Dušan's double-sided voyage paintings, Perpetuum Mobile and Equator, 1948, were at the centre of early controversy in Australia. The immediacy of their imagery and materiality – inspired by and created in the context of world conflict – generated extreme responses. The paintings were rejected from display in the Seventh Annual Exhibition of the Contemporary Art Society, in Adelaide South Australia of July 1949. It was Dušan's first exhibition in Australia and Voitre's second. The circumstances surrounding the incident are not entirely clear, and the paintings were among eight works by Dušan and seven works by Voitre listed in the exhibition catalogue. According to Helena (Dušan's wife), it could have been Lisette Kohlhagen, artist, CAS foundation member and secretary of the Royal South Australian Society of Arts (RSASA), who removed the works from display during the hanging of the exhibition: she had 'complained that they had no proper frame and were obscene'. In his review of the exhibition, artist Ivor Francis acknowledged: 'it is a great pity the selection committee was unable to find a place for some of the modern works rejected, particularly those of the surrealist painter Dušan Marek, our new arrival from abroad'.
Dušan and Voitre spent time in a refugee camp and later decided to immigrate to Australia. What is the difference between a refugee and an immigrant?
Discuss some reasons people travel. What are some things you gain through the experience of travelling to a new place, particularly one which has a different culture to your own? What place would you like to travel to and why?
List some reasons people migrated to Australia in the 1940s and 50s. Why do you think people migrate today?
Make a double-sided work of art. How might this work be displayed so that both sides can be viewed?
Both Dušan and Voitre created a small number of works, drawing on paper and painting on wood panels from discarded furniture. Create a work of art on an item which is destined for landfill.
Dušan and Voitre kept journals on their voyage to Australia. Create a work of art while on a journey somewhere. It might be while you travel to a place far away in a car or simply to school on a bus, train or tram or even while you walk to your destination.
Recall a time where you travelled somewhere for the first time. Write a letter to someone about that journey. How did you feel, what did you see? What did you like most about this new place?
Equator was to mark the occasion of crossing the equator. Think of an important event that has happened to you. Create a painting celebrating this event.
Speak to someone in your community who has immigrated to Australia. Document their story and create a work of art which captures the essence of their experience with migration. With their permission you may like to record their story and use their voice as an audio component in your work that tells their story first-hand.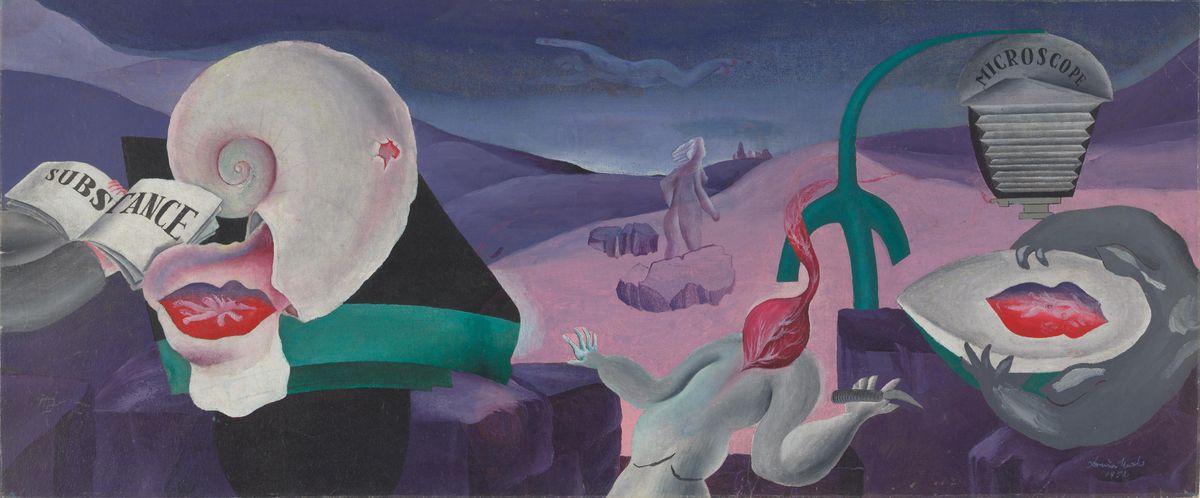 Life in Australia: Surrealism, travel & the ocean
Discover more about the brothers' long and varied life in Australia
The Gallery's Learning programs are supported by the Department for Education.
Art Gallery of South Australia staff Elle Freak, Kylie Neagle and Dr. Lisa Slade contributed to the development of this resource.