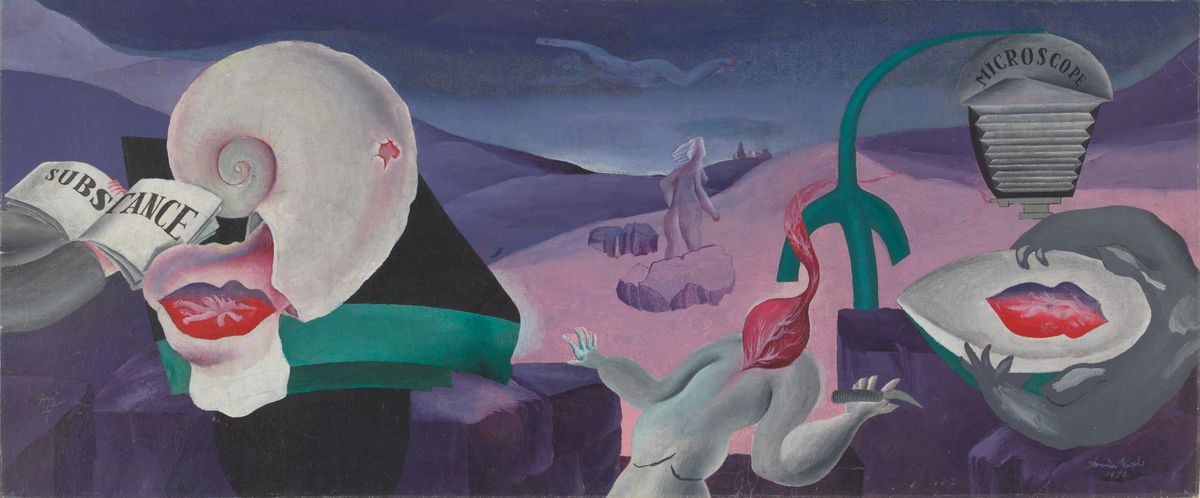 Life in Australia: Surrealism, dreams, travel and the ocean
---
Discover more about the brothers' long and varied life in Australia
Under a Commonwealth Employment Scheme for migrants, Dušan and Voitre were first employed by the South Australian Railways at Islington located a short distance north of the city of Adelaide, while Vera and Helena (Dušan's future wife who he met onboard the SS Charlton Sovereign) worked at the Royal Adelaide Hospital. The brothers soon found new employment at Sheppards Jewellers where they could both utilise their skills in engraving and stone setting which they had learnt in Prague, later starting their own jewellery business 'Marko' in Kent Town, South Australia.
The brothers quickly took part in group exhibitions in Adelaide, stirring a wave of discussion and controversy. The early paintings, sculpture and drawings by Dušan and Voitre were incomprehensible to many. Their first exhibitions in Australia were not well received, and at times even censored. In one instance in 1949, Dušan's double sided painting Equator and Perpetuum mobile was rejected on the grounds that it was obscene. For some, Dušan and Voitre's disregard of formal conventions was frustrating and confusing, and their subject matter offensive and repulsive.
Frustrated by the rejection and prejudice of his work, Dušan and his wife Helena moved to Tasmania for a short period in 1951 and then to Sydney. In 1953 Dušan held his first solo exhibition in Australia at the Mack Gallery in Sydney, featuring fifty works of art. It was a show that engaged all the senses, with visitors surrounded in an immersive surrealist environment, with six ticking clocks, a tinkling music box, velvet bejewelled flowers, web-like drapes and burning incense. The responses to his work in this exhibition were varied. In an article titled 'Beware of reality' published in the Mercury, it stated Sydney viewers have described the work as obscene, fascinating, repulsive and powerful.
While in Sydney Dušan purchased a 16mm camera and produced two films, Light of the Darkness and Fisherman's Holiday. He continued to produce drawings and paintings that referenced his voyage experience and personal philosophy. In 1954 Dušan and Helena moved to New Guinea where Dušan was employed as a photographer, later working on plantations in Rabaul before accepting a role as an engineer on boats that transported copra (dried or roasted coconut). While in New Guinea Dušan produced paintings and several films in addition to making film recordings of the local environment and people. Dušan also created several pen-and ink drawings and a series of lino blocks, which he printed on a textile and used to illustrate his unfinished book of poems Jelajou.
Voitre and Vera continued to live in Adelaide until 1956 when they joined the South Australian Lighthouse service and moved to Kangaroo Island with their two young children. They were stationed at three different lighthouse locations in South Australia: Cape du Couedic on Kangaroo Island; Troubridge Island, near Edithburgh on the Yorke Peninsula; and Cape Willoughby, Kangaroo Island. Both Voitre and Vera had dreamt of living as lighthouse keepers since they were in Prague and according to Vera in her unpublished memoir About my Husband: 'For Voitre being a lighthouse keeper meant a true bonding with Australian nature'.
While a lighthouse keeper, Voitre continued to produce pen-and-ink drawings in a surrealist style with references to his growing faith, as well as creating busts of family and friends. Together Voitre and Vera also produced a puppet theatre and marionettes. Believing that their children may benefit from living in more conventional surroundings, Voitre and Vera decided to return to Adelaide in 1958. From the early 1960s Voitre decided to concentrate solely on his sculpture where he made works on commission for private individuals, churches and schools across Australia.
Curator's Insight, Elle Freak Assistant Curator, Australian Paintings & Sculpture
On the beach, 1949, one of the first paintings Dušan created in Australia, summons multiple subconscious and poetic associations. He presents a series of organic shapes – suggestive of clouds, shells, human limbs and muscular tissue – freely occupying open space and even inhabiting the surface of the outer frame. When considering the words of curator Daniel Thomas, who observed how, during Dušan's first Australian summer, he loved floating, not swimming, during long hours in the sea, On the beach perhaps conveys the disorientating sensation of sitting on hot white sand and then floating in cold rippling water. There is no sense of linear time or a clear passage of developing forms. The only fixed identity is the delicately described face of Dušan's future wife Helena Jakubová. Here, in this painting, she inhabits an alluring position within a fertile activity of organic life, placed below a blue rain cloud and above fleshy coral-pink limbs. She is hovering somewhere between reality and dream.
Locate Czechoslovakia on a map. Notice how Czechoslovakia is land-locked, meaning that it is cut off from the ocean. When Marek arrived in Australia he was impressed by Adelaide's beaches and the Coorong and would spend lots of time simply floating in the water. What are some special places you have been to? What was unique about this place?
Marek was impressed by Australia's vastness and in particular the bright colour and hard clean light in South Australia. Research artists who have emigrated to Australia. How did their works capture their experience of a new place? Tip Yosl Berger, Khai Liew, Inge King, Wolfgang Sievers, Guan Wei and Ah Xian.
In 1949 the Contemporary Art Society in Adelaide rejected Equator for its annual exhibition, stating it was too obscene. In 1987 the same painting was acquired by the Art Gallery of South Australia and in 1993 it was included in the exhibition Surrealism: revolution by night at the National Gallery of Australia alongside other surrealists such as René Magritte. How else did Marek challenge the mainstream with Equator and Perpetuum Mobile? Investigate incidents in Australian art history where contemporary works of art have caused controversy or debate.
Ambiguity of form, intention and presentation puzzled many of the brothers' early critics. Their first exhibitions inspired a range of responses, including the headlines, 'Surrealist art show compelling' and 'Weird art display by two Czechs'. Using one of these two headlines, create your own exhibition review using works of art to support your claim.
On 11 November, 1950 Dušan purchased advertising space in The Advertiser, Adelaide, and stated: 'Art cannot speak through nice social forms. It must not fear to speak plainly. Man is not privacy. Break the mirror which changes your sides. Empty yourself to see what you are. Dušan Marek'. Unpack each sentence, what do you think he meant by this? Do you agree with his statement? Consider this statement in relation to contemporary art today, is it still relevant?
Sydney viewers described Dušan's work of art in his solo exhibition as obscene, fascinating, repulsive and powerful. Find examples which you think best suit these descriptions and explain why.
Surrealism was an artistic and literary movement which began in the 20th century and explored the unconscious mind as a way to unlock the imagination. Artists were inspired by dreams and included imagery which defied logic and suggested a new reality. Investigate other Surrealist artists such as James Cant, Leonora Carrington, Ivor Francis, James Gleeson, René Magritte, Joan Miró, Meret Oppenheim, Dorothea Tanning and Remedios Varo. How do these artists compare to Marek's approach to surrealism?
Dušan was disappointed by his first sight of the sea in Germany. However upon seeing rocks of Rode in South Australia, the glare and the whiteness of the sun and sand and the primal ocean surge, were characteristics that more attune to what he had visualised. When visiting the Coorong Dušan spent long hours in the sea floating, not swimming. Similarly, nature was an important element for Voitre, his time on Kangaroo Island, surrounded by sea, as described by Vera meant a true bonding with Australian nature.
Writing, making and responding
The seashore as a place of transformation is a frequent theme in Surrealist art. Round the twist is an Australian children's comedy series based on a collection of stories by author Paul Jennings. The stories follow the supernatural and at times unreal adventures of the Twist family who live in a lighthouse on the Southwestern Victorian coast. What do you think it would be like to live in lighthouse? Read a short story by Paul Jennings or watch an episode of Round the Twist. What elements of Jennings stories adhere to surreal ideas? Create your own surreal or unreal story centred around the ocean.
Dušan took eagerly to the strange Australian realities. James Gleeson (1915-2008) was a prominent surrealist artist whose work explore human nature through flesh-like and mechanical landscape forms. Look at the works by both artists. What do you notice that is similar and different between these two artists' surreal works.
Surrealist artists sometimes used Automatism (automatic writing) as a way of encouraging spontaneity and stimulating image-making. Artists would write as fast as they could without thinking, nothing is corrected or re-written. Practice automatic writing. Use your writing as inspiration for a work of art using either objet trouvé (found objects) or a salvaged surface. You may like to start by choosing words at random. These could then be illustrated on your salvaged surface or you could locate found objects that connect or respond to your automatic writing in some way.
List some things you find scary. Create a nightmarish scene using only biro and a single continuous line that incorporates some of these things.
Dušan and Voitre delighted in the act of emptying fragments of their thoughts, feelings, and memories into their works, which then act as portals for the viewer's own liberating experience. For two weeks, keep a journal of all your thoughts, feelings, dreams and memories. Use this journal as a starting point for a work of art that captures some of these ideas.
Voitre and Dušan returned to drawing throughout their practice, using the medium for varied purposes including caricature, observational studies and animation. Dušan's animated work was informed by the lively tradition of Czech animation, which began in the 1920s with advertising films. Dušan's surreal animations Light of the Darkness, Fisherman's Holiday and Nightmare are all silent three-dimensional puppet or plasticine works, with some carved wooden puppet heads in Nightmare. In contrast, Dušan's animation Adam and Eve based on the biblical story of the creation of man and woman uses only dots, circles and lines. Create an animation using one of the methods below:
Create an abstract animation based on a biblical or mythological allegory using only coloured paper cut into basic geometric shapes.
Write a collection of words on different pieces of paper. Eg. Bicycle, clock, time, winter, summer, cold, travelling etc. The more words the better. Take turns selecting a word at random until you have 10 words. Using these words as the basis for your story create a surreal animation. You may like to make paper puppet or plasticine figures to illustrate your surreal story.
Surviving examples of Voitre's jewellery, created on impulse for friends and loved ones, have a more personal and individual tone. These include a small curvilinear brooch in the shape of a perfume bottle, adorned with marcasite (polished pieces of pyrite – crystal like in structure) which is in AGSA's collection. Created by Voitre for Vera, the organic form could be equally recognised as a heart, or a piece of fruit, seeming to melt into and even emerge from the shapes of nature. In another example, Voitre employs a series of fluid and interconnecting lines to define an image of himself with his wife and their two young children. Using aluminium, cardboard or recycled materials create a piece of jewellery for someone you care about that symbolises an aspect of your relationship with that person.
The Gallery's Learning programs are supported by the Department for Education.
Art Gallery of South Australia staff Elle Freak, Kylie Neagle and Dr. Lisa Slade contributed to the development of this resource.