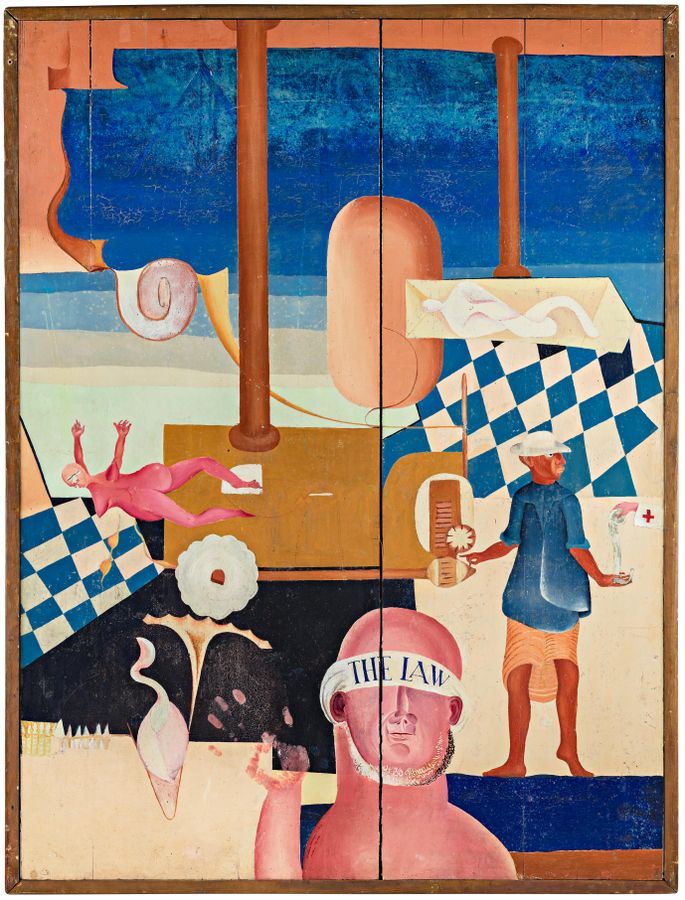 Dušan and Voitre Marek: Surrealists at sea
---
This education resource introduces you to the work of Czech-Australian brothers Dušan and Voitre Marek. It can be used as a starting point in the classroom for students to learn about Surrealism, the experience of immigrating to Australia, the impact of war and the role of the curator. It is also the ideal companion to your Gallery visit.
Dušan and Voitre Marek: Surrealists at sea is the first major survey of the art of Dušan and Voitre Marek. From their arrival in Adelaide in 1948, Dušan and Voitre set into motion a surge of new ideas and controversies that challenged the conventions of Australian art.
Set against the sound of ticking clocks and a music box, this exhibition presents the breadth of their investigations. Highlights include the artists' voyage paintings created during their long sea journey from Europe to Australia and Dušan's pioneering surrealist films.
There are over 45 making and responding suggestions in this resource that are linked to the overarching themes within the Marek brothers' work and provide ideas that relate to the world of your students whilst they learn about Australian art history. Through this, students are invited to explore, discuss and compare their work with other artists they encounter in the Gallery's collection.
Come along to our Marek Meet up event on Saturday 17 July. This event will include a tour of the exhibition and hands-on making session.
The recorded curator talk will be available the week following the event.
We recommend exploring the online components of this resource first, as it includes images, media files and links to other pages on the website which aren't available in the Powerpoint version.
Life in Australia: Surrealism, travel & the ocean
Discover more about the brothers' long and varied life in Australia
The Gallery's Learning programs are supported by the Department for Education.
Art Gallery of South Australia staff Elle Freak, Kylie Neagle and Dr. Lisa Slade contributed to the development of this resource.