Experiences of war
---
The Czechoslovakian Communist Party seized full power in a coup d'état (or coup) in February of 1948. This resulted in immediate repression of Czechoslovakia and was the beginning of four decades of communist rule in the country. During this time, thousands of Czechoslovakians faced political persecution for a variety of freedoms - freedoms which today are considered basic human rights. It was illegal to emigrate across the political boundary which divided Europe, essentially those controlled by the Soviet Union and non-Soviet controlled areas, this is known as the Iron Curtain.
A coup is the seizure of a government and its powers by another political group or dictator. Coups are usually considered an illegal move. Although coups still do happen today, due to the increase of democracy around the world, they occur less often.

Investigate coups (successful or not) which have happened in recent times.
Prior to the Communist coup Czech artists created a variety of works from figurative to abstract as they were connected with the West and aware of such movements as Cubism and Surrealism. However, the Soviet influence on fine art was overwhelming. Travel and communication between the art worlds ceased and artists were forced to adapt to the new political climate, creating works that adhered to socialist ideals only. In essence, these works of art were considered propaganda; biased or misleading and used for political persuasion.
After the coup, artists who challenged this new order by creating works of art that could make people politically aware were considered enemies, as they defied the Communist regime. Fearing the loss of their creative and personal freedoms, Dušan and Voitre Marek along with Vera Podpěrová (Voitre's fiancé) decided to flee Czechoslovakia. They were helped across the border by two guides and the Marek's paternal cousin Milena Koliašová. Milena worked for the Czech Resistance and helped hundreds of people flee before an informer reported her actions to the Communist Party. She received a sentence of twenty-two years, of which she served ten, her husband was sentenced to a year of heavy labour for not reporting his wife to authorities and their children were denied a tertiary education.
In March 1948, Dušan, Voitre and Vera reached the assembly point for those seeking political asylum in Allied Occupied Germany and were taken to the Dillenburg displaced persons' camp where they remained until July. Birth of Love and The Voyage by Dušan were created during his time in the camp and were painted on wooden slats that were removed from the base of their beds. These works survived, as did a series of drawings in a sketchbook by Voitre. These portraits captured the people he encountered in the camp and were accompanied by fragments of text in Czech.
On 4 August 1948, the Marek brothers sailed from Bremerhaven, Germany aboard SS Charlton Sovereign, arriving in Sydney on 29 October, while Vera travelled to Australia on the SS Wooster Victory from Genoa.
30.07.1948 ... we left, my son [Voitre nickname for Vera], and I don't want to believe that I am on this journey without you. Who did this to us? Every one of your tears troubles me ... I sleep on the floor on top of my coat. I don't smoke. You'll be glad that you didn't forget me ... To Australia
4.IIX.1948 / Anchors hauled up at 11 am. We are leaving Europe and I don't know for how long. We are going to Australia ...
Why do you think art movements such as Impressionism, Cubism and Surrealism were forbidden under a Communist regime?
Look at the work by Josef Manes, Mikolis Ales and Josef Vaclav Myslbek who were considered good examples of progressive art, that drew inspiration from Czech folk culture. Compare these works to those created by the Marek brothers during this time. How were they different?
Discuss the following statement: 'Art is a powerful tool to awaken society to political issues'. Find an example where an artist or a work of art has instigated change or brought about awareness of a political or social issue.
The portraits Voitre drew while in Dillenburg include inscriptions in Czech and read like fragments of random thoughts or overheard conversations. Over the course of a week, be mindful and listen to conversations you hear as you are going about your day. Take notes of these fragmented pieces of dialogue. Use these words and sentences to create a surreal poem.
On 15 March Hitler's forces invaded and occupied Czech lands before the Second World War had been officially declared, on 1 September 1939. Voitre was twenty years old and Dušan had just celebrated his thirteenth birthday. All members of the Marek family were affected by the Second World War.
In 1943, the brothers' uncle, Antonín Marek, who was the father of their close cousin Milena (Miloslava) Koliašová (née Marková, 1915–2010), died of starvation in a concentration camp. According to Milena's son Miroslav Kolias, Antonín was working as part of an entertainment troupe that staged puppet shows when he was reported to authorities for discussing the dangers of Nazism. The entire family was arrested. After pleading with authorities, Milena, her two sisters, Jara and Bozena, and her mother were sent to a 'slave labour' camp, while Antonín was sent to the Auschwitz concentration camp.
- Elle Freak, Assistant Curator, Australian Paintings & Sculpture
Responding
Explore the history of puppetry throughout the world including traditional Czech puppetry, European marionettes in the 17th century, Indonesian shadow puppetry and compare these to more western or contemporary examples such as Punch & Judy, Sooty and Sweep or the Muppets. What do these puppets and the show they are part of all have in common?
Making
Dušan's knowledge of puppetry would later be applied in his animations, while Voitre held puppet shows for the children on Kangaroo Island, where he worked as a lighthouse keeper from 1956 to 1958. Read more about the life of the Marek brothers in this resource, their early years in Czechoslovakia, their journey to and life in Australia. As a class, create a story board which captures significant moments in their lives. Assign different moments of the story to smaller groups. In your smaller group, create a series of puppets and perform a stage show that tells the life of Dušan and Voitre Marek.
Until 1938 Prague had around 1500 active puppet theatres, most of which were destroyed during the German Occupation, the Nazis being suspicious of the use of satire. Satire is the use of humour or exaggeration to highlight or criticize politics or topical issues. Satirical puppets often mock the physical appearance or behaviour of public figures. Explore the use of satire in Australian media platforms. Analyse and compare the use of language, literary and visual techniques between a contemporary and historical satire example. Tip: Look at examples such as The Shovel, Sammy J or The Chaser. Select a current issue in Australian politics and create a satirical puppet show, comic or newspaper article.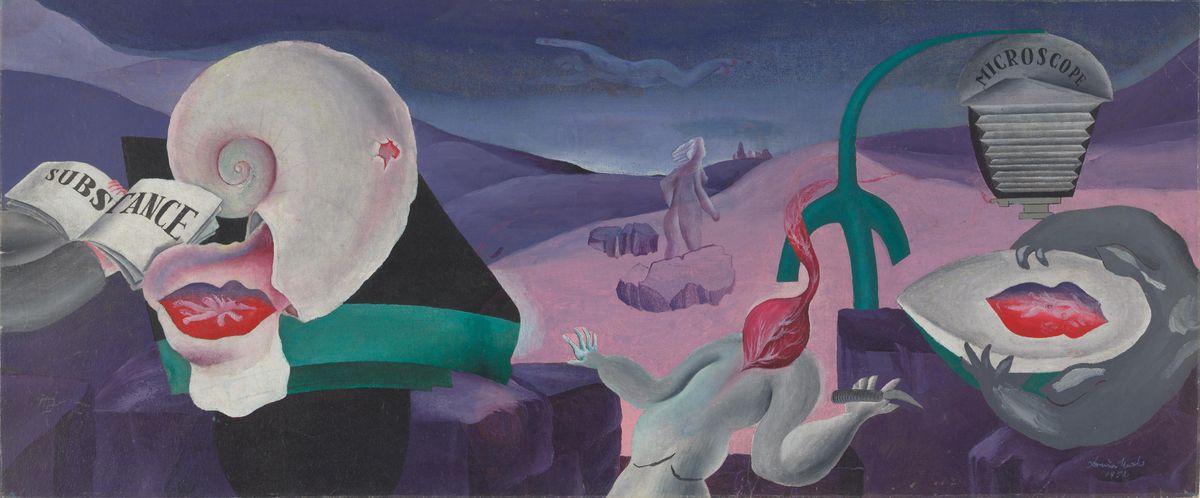 Life in Australia: Surrealism, travel & the ocean
Discover more about the brothers' long and varied life in Australia
The Gallery's Learning programs are supported by the Department for Education.
Art Gallery of South Australia staff Elle Freak, Kylie Neagle and Dr. Lisa Slade contributed to the development of this resource.