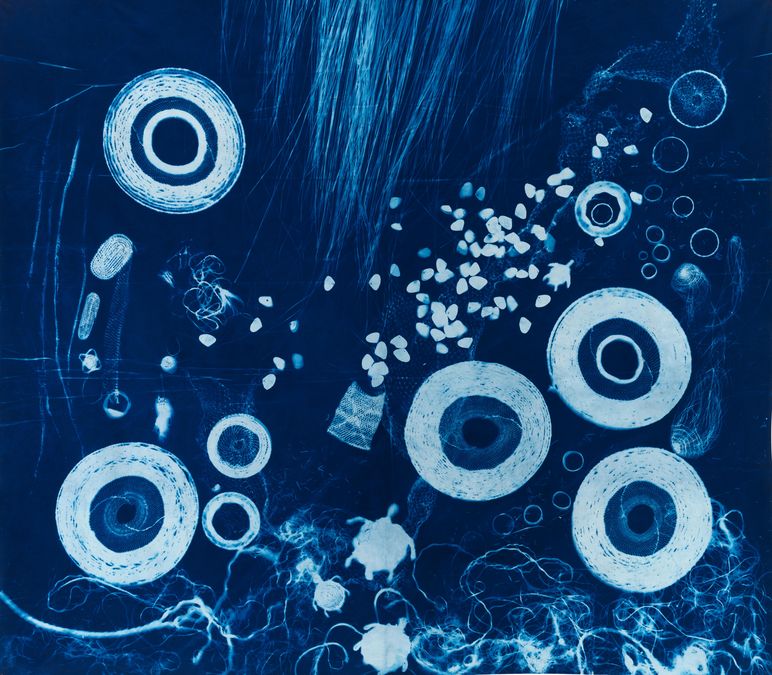 Making and Responding
---
The collaborative installation Wunjayi (today) by Sonja and Leecee Carmichael comprises handwoven forms and string, found objects and large-scale cyanotype textiles. This work celebrates the resilience of Quandamooka tradition today, through an intergenerational expression of saltwater identity and culture.
Wunjayi (today) includes knotted gulayi (Quandamooka women's bag) woven from ungaire (freshwater swamp reeds). The bag is filled with yugari (also referred to as pipis) and surrounded by quampie shells, as well as hand-rolled talwalpin (cotton tree) string, a coiled coolamon (used to carry water), and contemporary talwalpin and ginyingara (oyster) sculptural forms created by Leecee. As Freja Carmichael, Leecee's sister, describes in the catalogue essay, 'this collection of forms sourced or made from the land and sea celebrates the ongoing richness of Country and ancestral memory embodied in living materials'.
These objects are then used to create the large cyanotype prints, which Sonja and Leecee make together and are developed through the technical assistance of photo media artist and friend Renata Buziak. Each cyanotype records the shape of the woven forms and shells when they are placed on the textile surface and exposed to UV light, thus leaving a trace or impression of the objects. Freja Carmichael explains that the layering of the objects onto the cyanotype is a metaphoric expression of the meanings and experiences of Quandamooka people, which is embedded in the sands, lands and waters of Country.
Leecee describes the cyanotypes as being 'deep like the ocean and allow the viewer to see inside the weaves'. The blue pigment also references the rich colour of the Quandamooka sea.
Water provides for us and protects us. We travel across the bay to the island and being on the water is home. We must keep our waters safe like they have kept us safe for hundreds of thousands of years. My grandma would say "water is the living springs of Mother Earth"
Ways of life for Quandamooka people changed dramatically with colonisation. Access to traditional land was denied, and language and cultural practices were silenced or controlled. As a result, traditions such as weaving were interrupted for a period of time. How do the works of art made by the Carmichaels preserve and maintain culture?
Research other women artists who use fibre in their works, such as Carly Tarkari Dodd, Helen Ganalmirriwuy Garrawurra, Yvonne Koolmatrie, Shirley Macnamara, Judy Watson and Lena Yarinkura. Compare their use of techniques to the those used to make the objects in Sonja and Leecee Carmichael's installation. Conduct an analysis for each artist and their work. Consider the following and record your findings:
- Where does each artist source their materials?
- What time of year are they collected?
- Are the materials treated in a specific way?
- How durable are the materials?
- Does the object (made from the fibre) have a function? For example, what was the object used for?
- Is there a balance between form (the way the object/fibres look) and function (how the object may be used)?
- What other elements are required to make the materials usable – for example, sun, water, salt, fire?
Collect an object from around your school environment that reminds you of this place. For example, it might be a leaf from a tree that grows nearby or a piece of sports equipment you use. Create an impression in clay of this item as a way of capturing your experience of school. Take this impression home as a gift for your family.
Sonja and Leecee are mother and daughter who create their works together. Create a work of art with someone in your family either from an older or younger generation than yourself. Perhaps you could draw a portrait of each other or make a sculptural representation of where you live using textiles or objects from around the home.