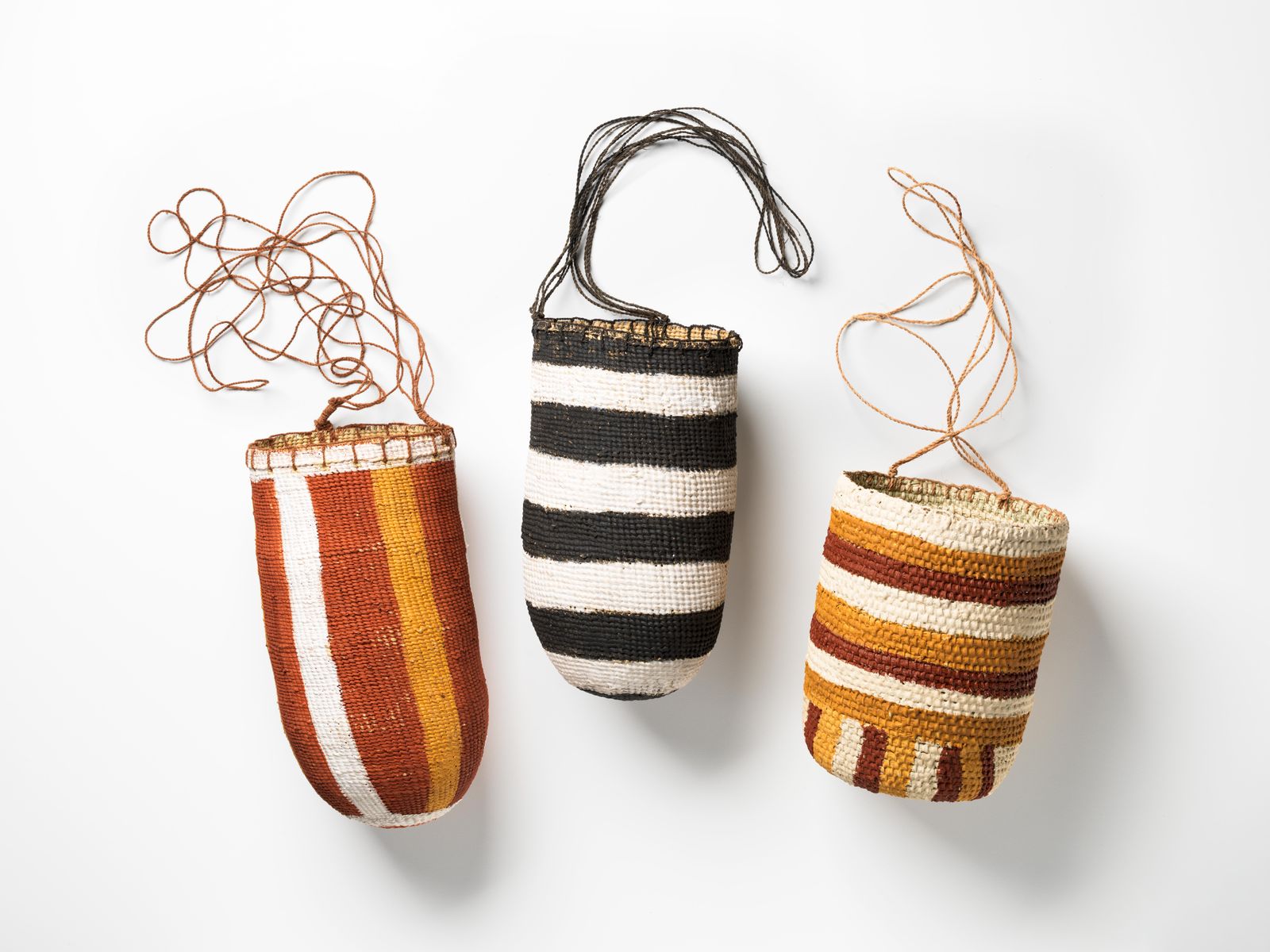 Milingimbi Weavers
---
Margaret Rarru Garrawurra is a senior artist, master weaver and respected elder in her community. She is renowned for her 'Madonna Bra' bathi (baskets) and wearable pieces, as well as her minimalist miṉḏirr mol (black conical baskets). The specific recipe for creating mol (black) dye from local plants was refined by Rarru and is reserved for her use and for those to whom she grants permission, including Mandy Batjula Gaykamaŋu. After taking to weaving at a young age, she has developed her craft throughout her life and has contributed immensely to the development of fibre as a contemporary art form.
Helen Ganalmirriwuy Garrawurra is a celebrated weaver who works at Milingimbi Art and Culture in Arnhem Land, Northern Territory. She has been weaving since a young age and is continually finding new methods of weaving natural fibres into miṉḏirrga bathi (conical bags and baskets), mät (2D artworks) and wearable works of art. Her work is identified by fine attention to detail, precise technique and a striking use of miny'tji (designs). Seemingly simple in their presentation, the designs she weaves are embedded with clan knowledge, relating to specific Country, sacred waterholes, ancestral spirits, clan totems and responsibilities. For Ganalmirriwuy, weaving provides an unbroken link with her ancestors.
Ruth Nalmakarra Garrawurra is a dedicated senior artist, educator and cultural leader for her community. She was born and raised in Galiwin'ku (Elcho Island) and in the late 1960s moved to Yurrwi (Milingimbi), where she resides today. She began weaving as a young girl and learnt to paint from her family during the Ŋarra (cleansing) ceremony time, during which clan designs, miny'tji, are applied to the body. The limited palette and geometric designs used in her weaving and painting are informed by these clan designs, of which she is a custodian.
Mandy Batjula Gaykamaŋu is the daughter of esteemed community leader Helen Milminydjarrk. She lives and works alongside her mother and mother's sisters, including senior artists Ruth Nalmakarra Garrawurra, Margaret Rarru Garrawurra and Helen Ganalmirriwuy Garrawurra. Despite her being one of the younger artists at Milingimbi Art and Culture, the precision and detail of her work is of a standard usually attributed to the most senior of weavers. As well as being an accomplished weaver, she also paints her clan designs associated with the Djaŋ'kawu Sisters on bark, larrakitj (memorial poles) and archival paper.