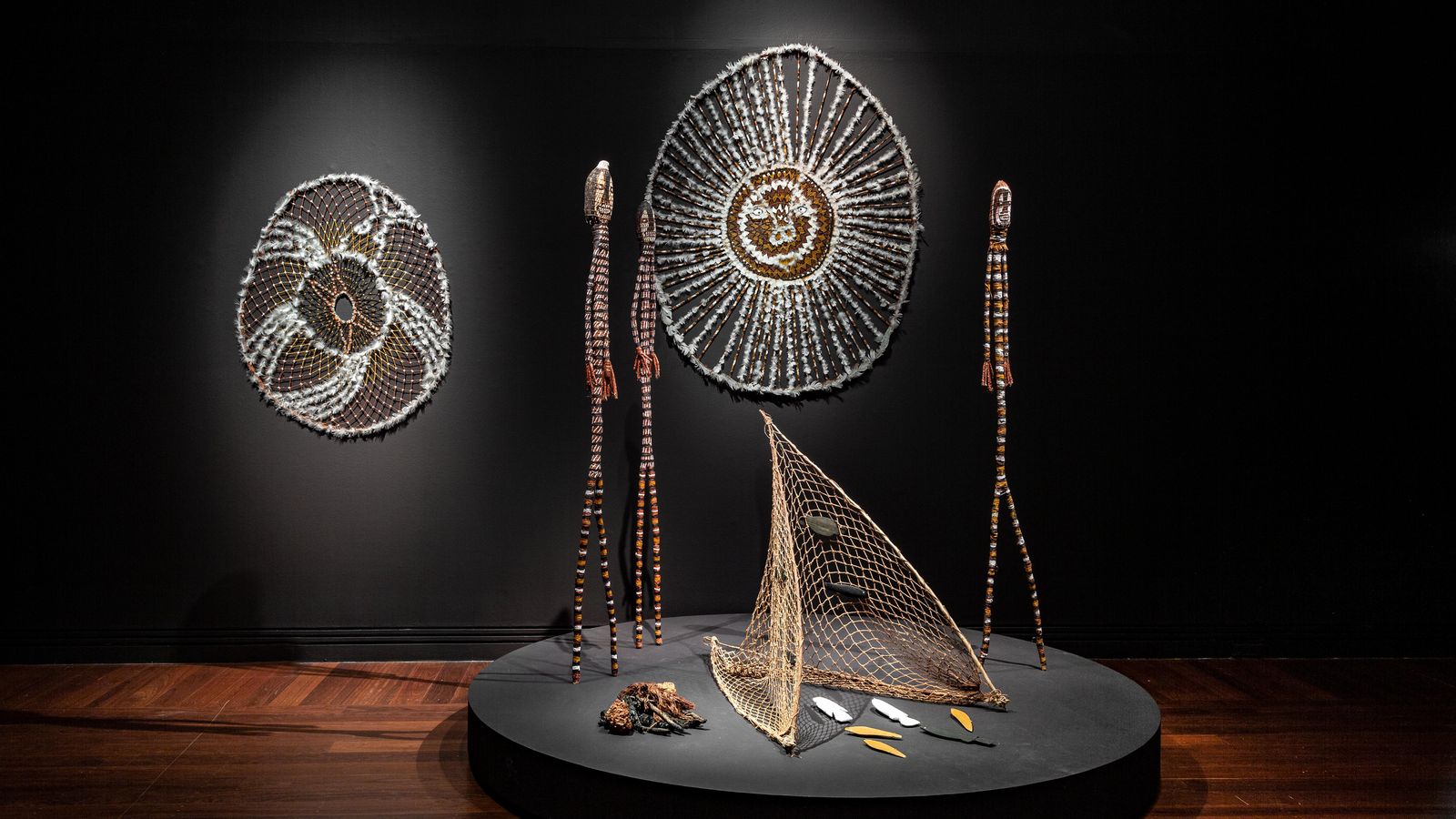 Lena Yarinkura
---
Fibre sculpture adapting techniques learnt from her mother
Lena Yarinkura
Lena Yarinkura is a Kune woman from Buluhkaduru in Maningrida, Arnhem Land in the Northern Territory. In the mid-1990s Yarinkura pioneered a new school of fibre sculpture, adapting the techniques she learnt from her mother, Lena Djamarrayku, to construct sculptural work. In recent years, Yarinkura has connected elements of her practice to realise large and complex multimedia installations that contain characters and events drawn from the cultural knowledge and stories shared between her and her husband.
No one taught me to use pandanus to make my animals. I have been teaching myself, I create new ways all the time. They are only my ideas … I pass my ideas on to my children and my grandchildren. It is important that I teach them, because one day I will be gone, and they will take my place
Yolanda Rostron
Yolanda Rostron is a Rembarrnga woman from the Balngarra clan. She grew up at Bolkdjam, an outstation near Maningrida community, and later moved to Ankabarrbirri outstation, where she lives today. From an early age she helped her artist parents, Lena Yarinkura and Bob Burruwal, to harvest materials and watched them create sculptures and bark paintings. In her own practice, Rostron depicts a range of figures, including yawkyawk (female water spirit), wurum (fish-increasing spirit), djamo (dog) and djurn (black-nosed python), interpreting the stories passed down to her as well as developing her own identity as a fibre artist. Recently her daughter Philomena Kelly also began learning techniques from her mother and grandparents, visible in her expressive sculptural animals and spirit beings as well as dart (bark painting).
Bring the artist into the classroom
Listen
Fiona Salmon discusses the work of Lena Yarinkura in Tarnanthi 2020: Open Hands