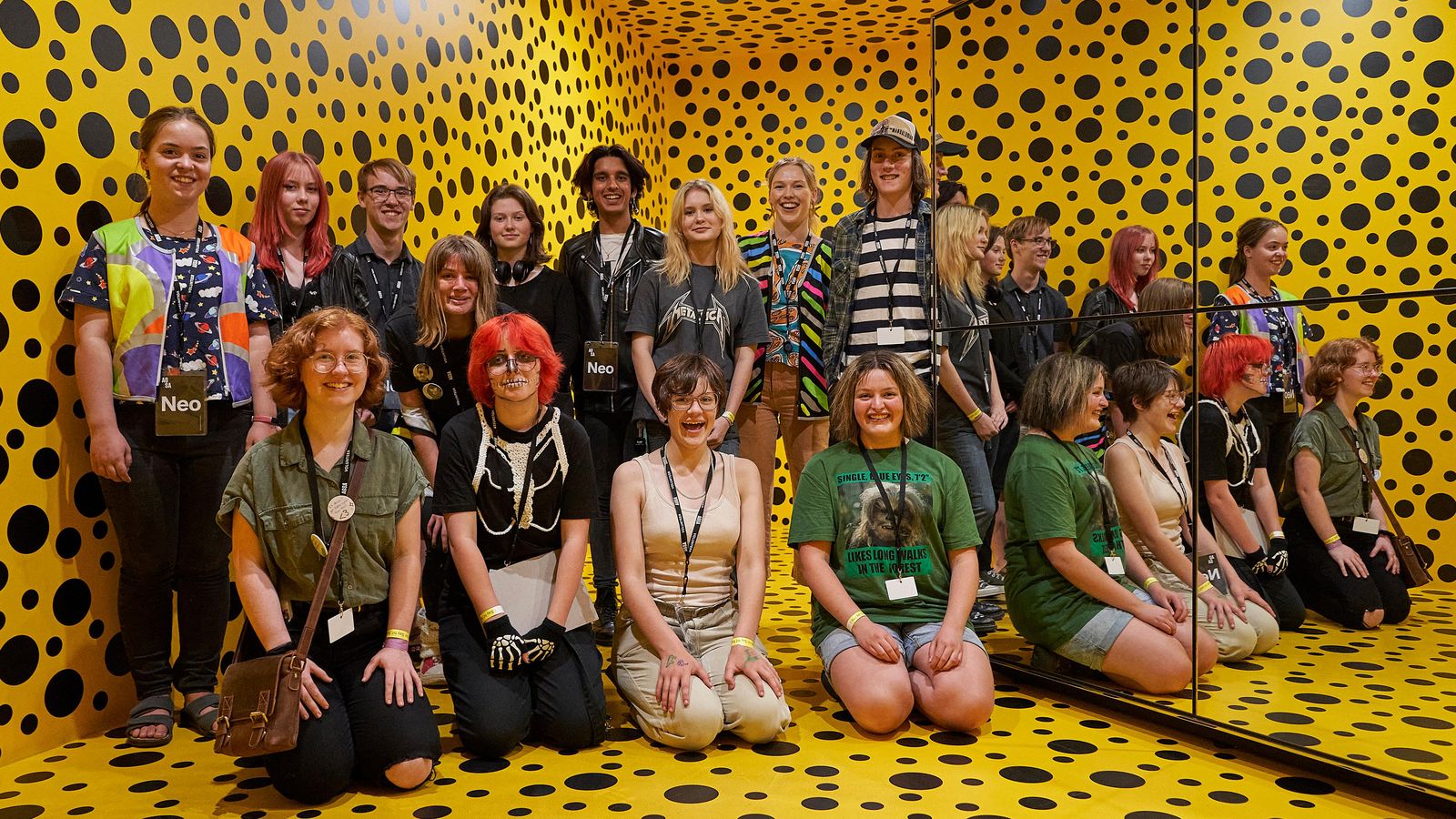 2023 Neo Ambassador Committee
---
Across the year, here you can find key dates, meeting agendas and minutes, and other bits and pieces including:
Meeting Minutes
Dates for your 2023 diary - including two event planning days, events and after school meetings
Introduction to Neo and the Ambassador Committee
Permission Form that covers: NAC Permission, Medical Emergencies & Image Release. If any of details change across the year including contact number or email, please send an email to klavins.bernadette@artgallery.sa.gov.au.
If you have any queries, concerns or if you no longer wish to participate as a member of the 2023 Neo Ambassador Committee, please contact:
Bernadette Klavins
Teen Programs Officer, AGSA
8207 7076
Klavins.bernadette@artgallery.sa.gov.au
Meeting Minutes and Agenda
After each meeting, you can find the notes here to stay up to date.
Minutes taken by Matilda
Agenda:
- Intro to Frida & Diego: Love & Revolution with Tansy Curtin
- Neo SALA Theme
- Music Ideas
- Food
- Ideas to engage people in Frida & Diego

Minutes:
Frida & Diego – Love & Revolution exhibition themes: turbulent political, social and cultural change, Mexicanismo, new ways of seeing, love family and friends, home and heart, self
Neo SALA exhibition theme ideas: bright colours, floral, cottagecore(?)
NO DRAWING ACTIVITIES (people could instead engage w/ exhibition space in other ways such as treasure hunt, mini portraits)
Aimed @ younger demographic (outdoor games on lawn, ball games)
Food (mexican?, flatbreads, food to be sensory friendly and hygienic, quesadillas, corn chips, gelato/ice cream – may be better for Oct event, snow cones, fairy floss?, hot chocolate – w/ alternate milk options)
Music (Felix Mir – OCTANGLE!!!, HTO (half time oranges), violet harlot? Strawberry jam – too big a cross over with Nonnie, smaller bands, school ensembles, mums favourite?
TICKETING SYSTEM CHANGE – SECURITY CRACKDOWN We are moving to Eventbrite for the next event, fingers crossed it will go smoother!
Next meeting: day to be decided please see poll in email
Minutes taken by Lily
Agenda:
Debrief of 1 April Event
Intro to Frida & Diego: Love & Revolution
Brainstorm time!

Neo Iconic (24 June)
Neo SALA Exhibition

Debrief on Neo Teen Takeover: Supersaturate

Over 650 guests! (Congrats this is huge).
Security: talk to staff & security if anything occurs.
Workshops went well.
Badge making at the back of the café was more manageable.
Sense of community at event allowing patrons to feel safe.
Quiet space was good but not well advertised or obvious.
Map for next event? QR Code?
Security measures:

ID and bag checks
Stamps and/or wristbands
Fence jumping
Duty of care factors affect what can be done as well as security

Insta posts with info around bag size/ID checks etc.
Bigger bins/recycling.
Making environment more comfortable for younger audience.
Reconsider food options:

Accommodate vegan/veggo, food allergies, GF, neurodiverse, etc.
Are they using gloves

Accessibility of gallery – floors can be slippery.
Felt more like a concert than an arts event

Next Event: Neo Iconic 24 June

Frida & Diego: Love & Revolution

Event will be on the first day of the exhibition
Bright colours
Florals
Textiles
Murals
Painting
Love
Passion
Politics

Activity Ideas!

Tote Bag painting with Ruby Chew
Clothes Swap and Mending with Carly Snoswell
Nature Prints – using leaves/flowers to print with
Flower Pressing
QR Code Scavenger Hunt (could be good for August event, Neo Games)
Photo Booth with Greenery Background
Face Painting

Neo SALA Exhibition, we need to lock in a theme – will be showcased at Neo Games in August
Neo Games Aug 19 Ideas

Lazer Tag – Jojo to look into
Tower Building with cardboard boxes
Could test games at Hothouse in July

Neo music programming committee?
Next Meeting: Tuesday 2 May 4.30-5.30pm in the Function Room
Minutes: Taken by Sjaida
Next event 1st of April! Neo Teen Takeover: Supersaturate - SA Youth Week and Andy Warhol exhibition focus
Debrief on Neo Upside Down 11/02/2023

We should allocate jobs for setting up before the day so we know what to do
Quiet Space: 

Some people found it hard to find the quiet spot - make more signage for it to let people know that it is a quiet space
There was some sound bleed / it was a bit loud - maybe we need to position further into gallery

Some complaints about the food (not having utensils ect )to eat. Switch up the food every few Neo's so there is more options within the budget. Everyone agrees to book Cheesy St in for the Takeover.
Lots of people enjoyed the event - 4.6/5 rating
What we found in the surveys - most people find out through word of mouth and friends
Most people find out using Instagram (maybe make more posts about neo?) 99% said that they would attend another neo.
If you know any groups (dance groups, bands, other performance arts) let them know that they can perform at Neo!
Have a DJ and make a dance floor!!🕺💃🕺💃 (maybe near the end of the night)
Maybe try and switch up the Neo meeting times (things are a bit busy on Tuesday - alternate between Monday and Tuesday meetings?)
Kind of hard to set up the lawn games and equipment.
A retro theme! To accompany the Any Warhol exhibition :)
Charlie Watt is giving around some free passes to her show! She is also maybe free to perform at the next event
Activity ideas!

Face painting
A collage making station
Making protest signs
LAZER TAG 🔫 - maybe too expensive? Jojo to look into.
Roster: Everyone: please edit with your shifts ready for Neo Upside Down: https://docs.google.com/spreadsheets/d/1tCJ0hrURdpoB2odpFQELAOLZbxqev0Qw044PNLIRzGE/edit?usp=sharing
Minutes: Taken by Felix
This Saturday: Arrive at 4:30pm if you want to set up (meet in Function Room), otherwise you have to come with everyone else at 6pm
Everyone: Email an ID photo to Bernadette (it gives you 10% discount on the shop plus some ticketed shows !!! )
Everyone: Permission forms need to be signed by parents and returned to Bernadette before Saturday
Everyone: Meet for group photo at 7.30pm on the night
Bring feedback to meetings if you saw anything (what worked well, what didn't etc)
Karaoke in gallery 9, darker spaces work best - Jamie
Badge making in café area – set up by AGSA café counter - Oona
Group photo at 7.30pm on the night
Sign-making before the event on the night 
Neo Instagram is only for neo related posts !!!!
Bernadette: Wipe TikTok page, share log-in details for Tik Tok and Instagram ready for this weekend
Aurora: Send Bernadette Escher template to print ready for Saturday
Next meeting: Schedule for posting at the next meeting, discuss Zachary's workshop idea
Key Dates
Including Neo events, two planning days and after school meetings.
2023 Calendar

| Event | Date | Time | Location | Notes |
| --- | --- | --- | --- | --- |
| Summer Hot House | Wed 25 Jan | 10am-3pm | Radford Auditorium | Lunch provided. Please bring a water bottle. More details provided in the New Year. |
| Meeting | Tue 7 Feb | 4.30-5.30pm | Function Room | Finalise Neo Upside Down planning |
| Neo Upside Down | Sat 11 Feb | 6-8:30pm | | Set up from 4.30pm |
| Meeting | Mon 27 Feb | 4.30-5.30pm | Function Room | Neo Teen Takeover: Supersaturate planning |
| Meeting | Tue 21 Mar | 4.30-5.30pm | Function Room | Neo Teen Takeover: Supersaturate planning |
| Meeting | Tue 28 Mar | 4.30-5.30pm | Function Room | Neo Teen Takeover: Supersaturate planning |
| Neo Teen Takeover: Supersaturate | Sat 1 Apr | 6-8:30pm | | Set up from 4.30pm |
| Meeting | Tue 11 Apr | 4.30-5.30pm | Function Room | Neo Iconic planning |
| Meeting | Tue 2 May | 4.30-5.30pm | Function Room | Neo Iconic planning |
| Meeting | Mon 22 May | 4.30-5.30pm | Function Room | Neo Iconic planning |
| Meeting | Tue 13 Jun | 4.30-5.30pm | Function Room | Neo Iconic planning |
| Meeting | Tue 20 Jun | 4.30-5.30pm | Function Room | Neo Iconic planning |
| Neo Iconic | Sat 24 June | 6-8.30pm | | Set up from 4.30pm |
| Winter Hot House | Wed 12 Jul | 10am-3pm | | Lunch provided. Please bring a water bottle. |
| Neo Games | Sat 19 Aug | 6-8.30pm | | Set up from 4.30pm |
| Neo Teen Takeover | Sat 28 Oct | 6-8.30pm | | Set up from 4.30pm |
| Neo In Colour | Sat 9 Dec | 6-8.30pm | | Set up from 4.30pm |
Permission Forms
To officially join the NAC, you need permission from your parent or guardian to accept this offer and to communicate with AGSA staff. Your parent/guardian must complete and sign the forms and submit below by Monday 9 January 2023.
Neo is a free event exclusively for young people aged 13-17 years. Presented 6 times a year, Neo is a festival-style event curated in response to AGSA's latest exhibitions, featuring live music, performance, artist-led workshops and social activities.
Neo is presented by The Balnaves Foundation. Since 2016, Neo has welcomed over 10,000 teens to the Art Gallery of South Australia.
The Neo Ambassadors are a volunteer committee of young people aged 13 to 17, who are vital to the development and presentation of AGSA's flagship program for teens, Neo. The Ambassadors are recruited annually from around South Australia, with each member being involved in layers of the program, from idea generation, to being hands on in the delivering of exciting and inclusive events for their peers at AGSA.
As a Neo Ambassador you will:
Advise and support the development and presentation of Neo
Help discover new ways of connecting diverse young people across South Australia
Work with AGSA staff and artists to co-produce and promote programs that enable young people to actively connect with art, artists and AGSA onsite, online and on tour
To act with respect for others at all times
Attend and actively contribute to meetings every 3 to 4 weeks (in person or via Zoom) with Teen Programs Officer Bernadette Klavins
Meetings occur at least once per month and usually take place on Tuesdays or Wednesdays between 4.30-5.30pm
Participate in 2 days of professional development across the Summer and Winter School Holidays
Attend and contribute to at least three Neo events a year
Participate in optional opportunities and activities throughout the year; including opportunities to run guided tours at Neo and Start events, develop and present workshops at Neo, take part in media interviews, or contribute to Neo's zine
Being a part of the Neo Ambassador Committee provides invaluable opportunities to develop new skills and experiences such as:
Professional development opportunities including:

Event management
Public Program development
Public speaking
Leadership experience
Evaluation and reporting
Marketing and promotion (including print and social media)
Budgeting

Be part of a committed professional team of passionate young arts advocates
Behind-the-scenes access to the AGSA collection and latest exhibitions
Exclusive experiences with AGSA Curators, Producers and Educators
Meet exhibiting artists and cultural leaders
Receive discounts and freebies, including a 10% discount to the Gallery Store and AGF+ W
Invitations to special events
10% discount at the Gallery Store with the presentation of your AGSA ID card
10% discount at AGF+W with the presentation of your AGSA ID card.
Free entry to all paid exhibitions when presenting your AGSA ID card.
To receive your AGSA ID card you will be inducted as a Gallery Volunteer at our first meeting. As a Gallery Volunteer you will also be invited to special tours, previews and volunteer events throughout the year.