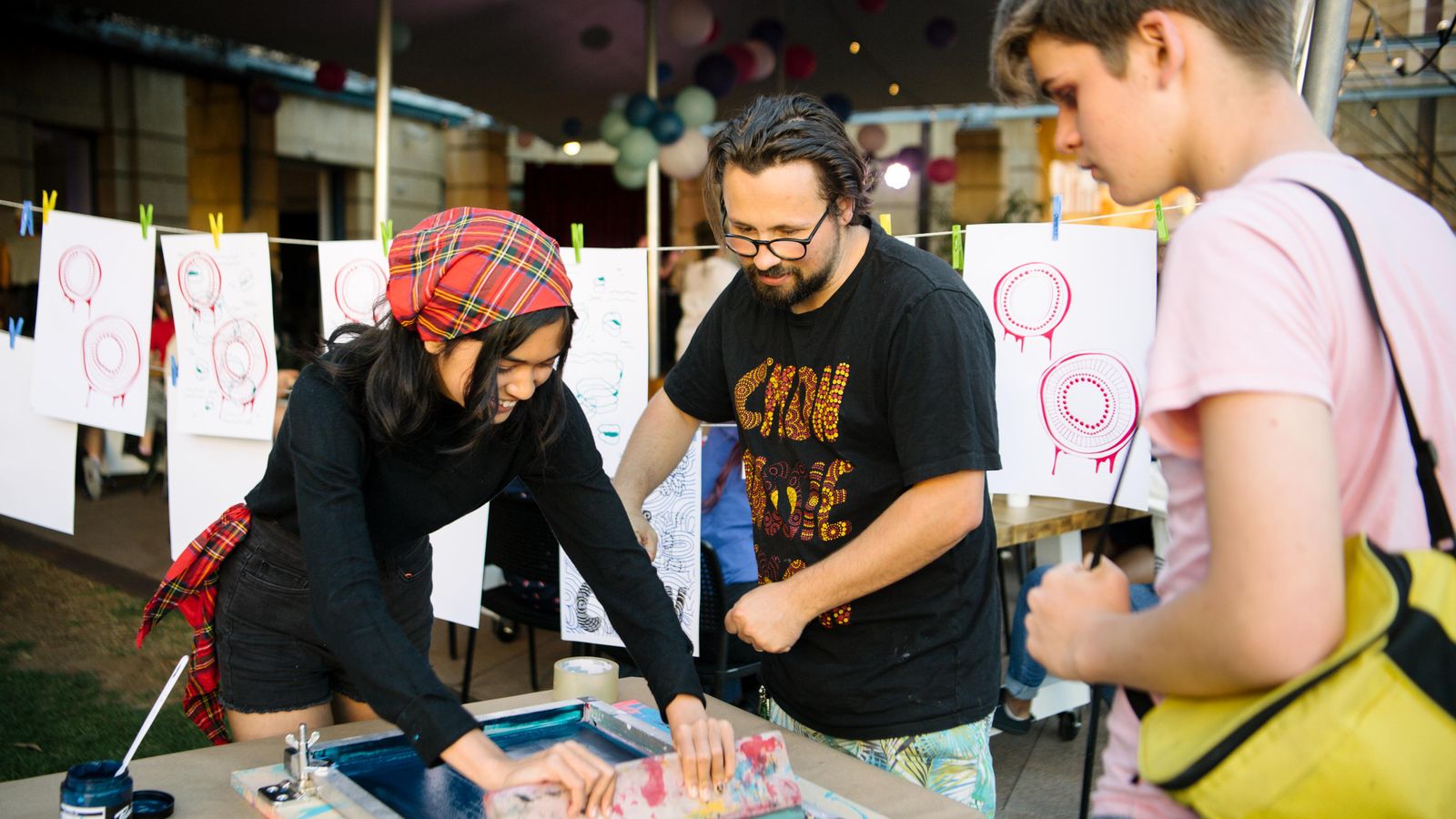 Teens
/
Special Event
/
Online
Neo: Home Game
Online Saturday 15 Aug 2020
5-9pm
Free
13-17 years
---
Log on for a huge night of all things teen-led and local at Neo Home Game!
We can't wait to bring you a big program of teen talks, creative online labs, and your artworks in our first ever exhibition, all in celebration of the South Australian Living Artists Festival.
Book into a FREE creative lab
Clay at Home with Cassie Thring* – 5pm
Mappa Mundi with Claire Wildish – 6pm
Stitch & Resist with Carly Snoswell and Teen Ambassador Georgia Haese* – 7pm
*Book into this workshop and receive a free studio pack! Each awesome kit ensures you have all the materials ready to go on the night, along with some other VIP treats.
Highlights
✏️ Explore Neo's first ever SALA Exhibition, showcasing artwork made by you. There's still time to get involved!
🎸 Young musicians this one's for you! We'll be releasing a call-out for our Battle of the Bands competition...
🎨 Want your artwork in the hands of South Australian teens? We're launching a Sticker Design competition!
💥 Learn how to turn ordinary objects into extraordinary photographs with South Australian artist Steph Fuller
🎤 Tune into our latest line up of teen-led discussions:
SALA Feature Artist Kirsten Coehlo X Teen Ambassador Bianca Chu
Neo Ambassador Charlotte Lockwood X SA Regional Teens
Neo Ambassadors X NGA's Teen Council
👕 Refresh old clothing into wearable items with Teen Ambassadors Remy and Claudia
✂️ Create your own guerilla stickers with Eamon McEvoy
💡 Create your own characters with Teen Ambassador Madeleine Coates, using worksheets by George Rex!
🎨 Watch the latest artwork-inspired Makeup Demo by Teen Artist Aaliyah Hickman
✨ And more...
Register for this event
Register below to receive VIP program updates, exclusive opportunity invites, artist call-outs, competitions, and to receive the event link when we go live!
Are you a young artist?
Be part of Neo's first ever exhibition as part of SALA Festival, launching at Neo Home Game!
Follow us at @agsa.neo on Instagram for the latest program highlights.