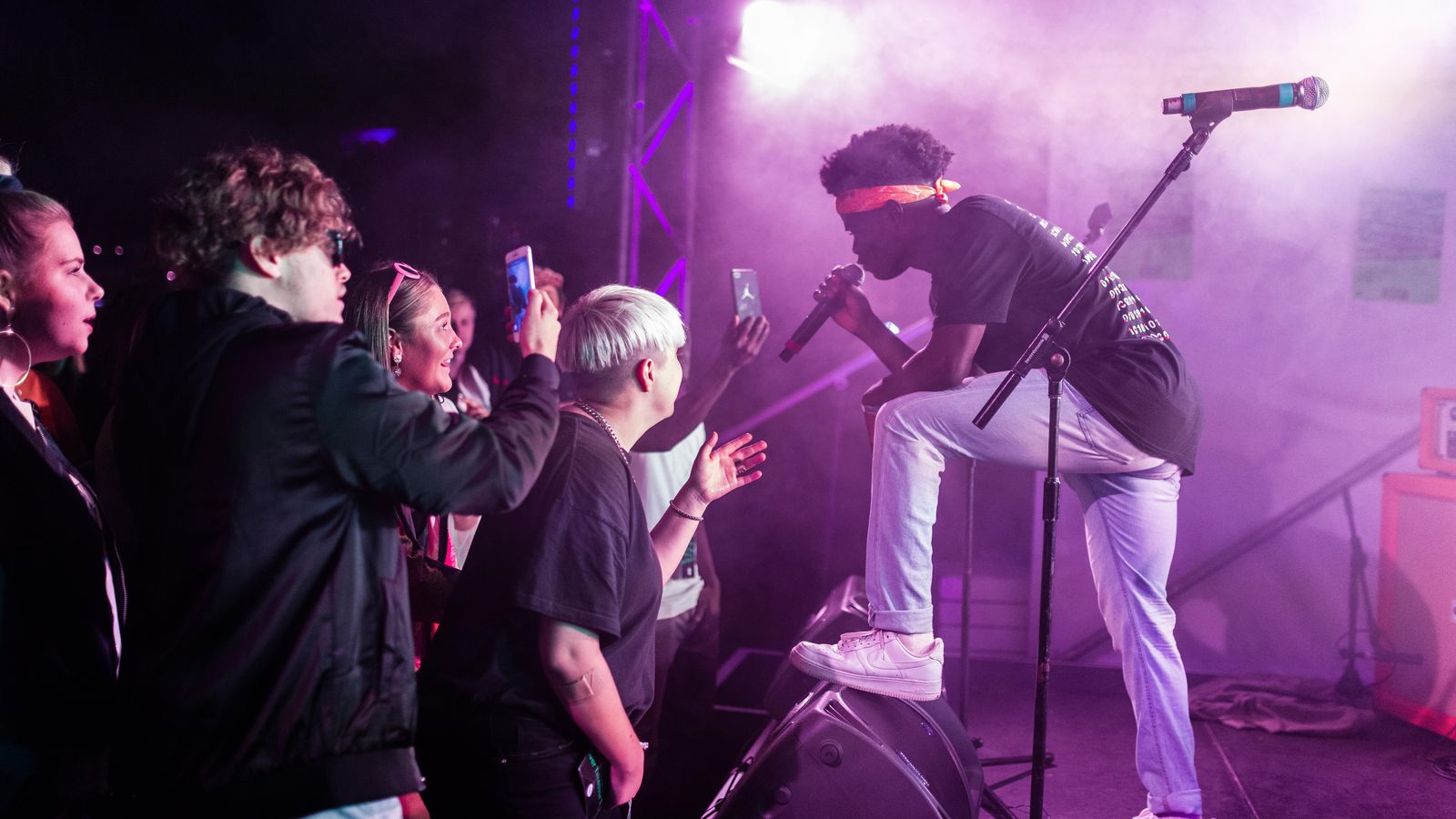 Neo Full Moon: Teen Takeover
Free with Bookings
Gallery-wide
Ages 13–17
---
Ready to make some noise this October? It's time for a Teen Takeover.
This event is live at AGSA, with the option to experience virtually. Online friendly activities are marked with 🤳!
Get ready to grab a friend, pull together a wild costume, and roll into a night of live music and performances at Neo Full Moon. Enjoy the sounds of South Australia's top teen musicians in our first ever Battle of the Bands competition, a wicked artistic program by Guest Curator Brad Darkson, as well as free food, creative labs, and pop-up performances from emerging young creatives, leaders and local organisations, with the full line up including:
5.45-6.15pm
Lil Adelaide Rollers
You'll know you've arrived when a quad of teen skaters appear on North Terrace...
Rock out to the Battle of the Bands finalists throughout the night, with the winner announced on stage at 8.30pm.
Can't make it IRL? Head to the Neo Portal to live stream the performances between 6-8.30pm.
Join MOD. online to create an interactive, non-linear story game using Twine. Together we'll imagine a world and see what's happening inside it, with room at the end to make your own Choose Your Own Adventure game too. Don't worry if you've never done something like this before! We will provide support in learning some basic coding.
This session is online. Bookings are essential.
6pm
The Haus of Kong
The Haus Of Kong invites you to a Drag show extravaganza. Leading with love and showcasing diversity, theatrics and high energy performance art at its finest.
6 & 7pm
Theatre Games with SAYarts
Get dramatic in some high energy theatre games with the SAYarts teen crew.
6.15pm
Katie Aspel, presented by Tandanya
Chill out to the sounds of Ngarrindjeri artist Katie Aspel. Singing and songwriting has been a huge part of her life and she hopes to continue sharing her story and music throughout her career.
6.30 & 7.30pm
Dance with the Haus of Kong
The Haus Of Kong welcomes you to an all inclusive dance workshop led by acclaimed professional dancers from the Australian Dance Theatre. Come and channel your inner superhero as we teach you how to turn a few basic steps into performance art.
Passionate about social justice? Learn the basics of how to create your own textile art about issues that are important to you. South Australian artist Carly Snoswell will show you all the tips and techniques of cross-stitching, and young advocate and Teen Ambassador Georgia Haese will help lead discussions around the issues and concerns which impact you.
This session is online and IRL. Booking is essential for online attendees.
6.45pm & 7.45pm
Young Adelaide Voices
Listen to the powerful sounds of Young Adelaide Voices, a collective of 40 unstoppable teen choirists.
7.30-8.30pm
Cirkidz
Flip out when you see Cirkidz perform some sky high acrobatics...
8.15pm
Wildest Costume Competition
Gather some friends and come dressed up as your most ghoulish or glittering selves. There are prizes for 'Wildest Costume' to be won, make sure to head to the outdoor stage at 8.15pm to go in the running...
Chromatopia with Adelaide Central School of Art
Join Adelaide Central School of Art for a colour filled activity in response to the new exhibition Chromotopia. Participants will be welcomed into the exhibition space to create a series of small layered drawings with a range of traditional and unexpected materials. Create works inspired by contemporary artists, including Virginia Cuppaidge, Jitish Kallat, Tracey Moffatt and Gareth Sansom.
Collaborative Mural with Elizabeth Close
Grab some paint and get involved in a collaborative mural exploring form and scale with Pitjantjatjara and Yankunytjatjara artist Elizabeth Close
'We Are Always Connected' with Rachael Anderson, presented by Tandanya
Find out makes you feel connected by contributing to a collaborative sticker wall with Adnyamathanha artist Rachael Anderson.
Wearable Art with FELTspace
Create your own piece of wearable art with FELTspace!
Polling Booth with the Commissioner for Children and Young People
Have your say on the latest hot topics with the Commissioner for Children and Young People.
Teen Fashion Show with Australia Teenage Fashion Awards SA
Be inspired by the work of South Australia's youngest up and coming designers in this roving fashion show.
Photobooth - Atrium
Take a spooky snap with your friends in The Photobooth.
Snacks
Grab a few tacos or a serve of nachos from TacoCat, a spider web fairy floss and a soft drink. Vegan and gluten free friendly options.
Register for the event at the link.
We've added more live music and performances across the event, but numbers and capacity restrictions for each space apply.
Remember to social distance, wash your hands, and use hand sanitizer frequently.
If you're not well or experiencing flu-like symptoms, please join us online instead of at the Gallery.
Since 2016, Neo has welcomed over 6000 teens to the Art Gallery of South Australia.