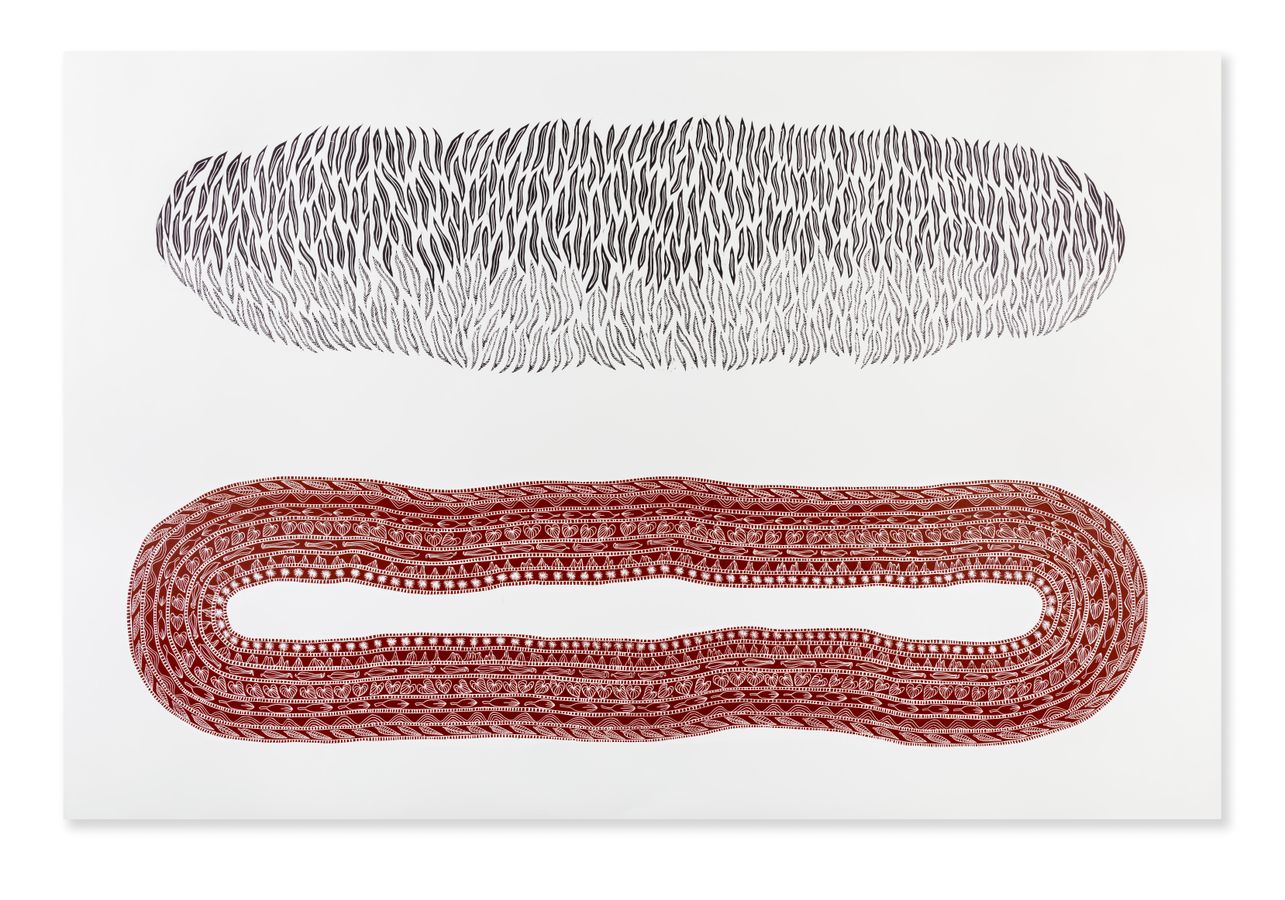 Teho Ropeyarn
---
Teho Ropeyarn (b. 1988) is an artist and curator from Injinoo, situated at the very tip of Cape York Peninsula, Far North Queensland. Although he currently lives and works in Cairns, Ropeyarn remains deeply connected to Injinoo – a subject that features prominently in his printmaking practice. He is a descendant of the Angkamuthi and Yadhaykana clans from the east and west coasts of the Northern Cape York Peninsula; he has ancestral connections to Moa, Badu and Murray Islands of the Torres Strait as well as the Woppaburra people of Great Keppel Island and Butchulla people of Fraser Island, both off the east coast of Queensland.
Ropeyarn's familial and cultural relationships are fundamental to his practice. Having spent much of his childhood and teenage years learning the language, rituals and beliefs of his Injinoo Elders, as well as stories of umany (European colonisation) and uta (post-colonisation), printmaking has become an essential medium for Ropeyarn in maintaining and transmitting his culture. Often working at scale, his prints take a contemporary interpretative approach to the ancestral stories, totems and ceremonial body markings of his Elders rather than a direct transcription. His graphic lino and vinyl cuts – a practice that also encompasses the traditions of carving – frame Injinoo culture through Ropeyarn's own metaphoric lens and personal aesthetic.
My Aunty Reverend Mary Eseli explained to me that the crocodile knows its territory from birth. The crocodile is patient, a guardian of its territory. The crocodile will travel away but always come back to the area where it lives… If we become the crocodile, our culture and language will be protected for the future generations to come.
Locate Injinoo on a map of Australia. How far is this place from where you live? What do you think the environment would be like in Cape York Peninsula? What flora and fauna might you find there that you might not find in other parts of Australia?
Investigate the seasons where you live versus the seasons in the top end of Australia – how are they different and why?
Ropeyarn spent much of his childhood and teenage years learning the language, rituals and beliefs from his Injinoo Elders. What is something you have learnt from people in your family or community that you think is important to remember or pass on to younger people you know?
Articles and Books
Ayuva Meenha: Teho Ropeyarn. West End, Queensland: onespace gallery, 6 November – 5 December 2020. Exhibition catalogue.
Catalogue of Works: Teho Ropeyarn: Ayuva Meenha. West End, Queensland: onespacegallery, 6 November – 5 December 2020. Exhibition catalogue of works.
Cumpston, Nici. Tarnanthi 2021. Exhibition catalogue. Adelaide: Art Gallery of South Australia, 2021.
Geelong Gallery. "Exploring Aboriginal and Torres Strait Islander cultures and histories—A Geelong Gallery collection resource." PDF. Accessed 15 September, 2021.
Northern Peninsula Area Art."Keeping Culture Strong, With the Strength of a Crocodile." Published 6 August, 2013.
Websites
Facebook. "Teho Ropeyarn Artist."
Geelong Gallery. "Teho Ropeyarn."
Queensland Government. "Injinoo". Published 5 December, 2016.
Giga Art. "The Art of Teho Ropeyarn // Aboriginal Art." Youtube. 3:08mins. Published 19 February, 2021.
Colour Theory 'Teho Ropeyarn', published 2014,
Tarnanthi is presented by the Art Gallery of South Australia with Principal Partner BHP and support from the Government of South Australia
The Gallery's Learning programs are supported by the Department for Education.
This education resource has been developed and written in collaboration Dr. Belinda Howden, Kylie Neagle and Dr. Lisa Slade.