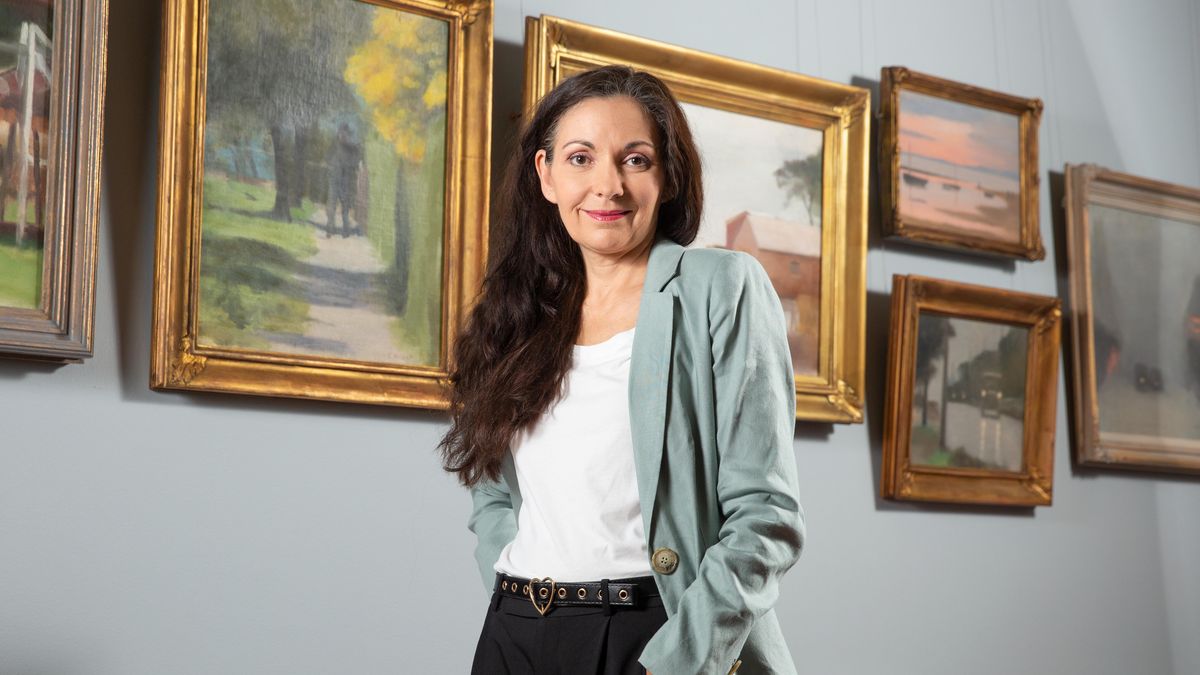 The role of curator
---
Piecing together the life of one of Australia's finest painters of the twentieth century
Retrospective and survey exhibitions assess a large body of work by a single artist. These are also called monographic exhibitions. They usually follow a chronology to demonstrate the shifts and developments that evolve across an artist's body of work. Sometimes the curator may give greater emphasis to a particular period in the artist's career or highlight certain processes, ideas or media. In some instances different genres may also be included, such as still life, portraiture or landscape. The curator may choose to include drawings, photographs, prints and oil paintings, along with other interpretative material including music, video etc.
Spanning sixteen years, Clarice Beckett's active professional career was relatively brief for a major artist. Across this period, she created only oil paintings and the changes in her painting approach and subject matter are very subtle. Beckett never dated her paintings and this has made the dating of her work very difficult for art historians and curators. For example, it is often hard to know if a painting is from 1922 or 1935.
That she never dated her work was not unusual, but it does indicate that 'clock or date' time was a secondary concern for the artist. Her paintings suggest that she was more preoccupied with diurnal time (the course of the day) and the shifting effects of light throughout the day. The precise locations of her landscape subjects are also difficult to identify. In this way, her paintings appear to have universal qualities, being both timeless and placeless.
In consideration of these qualities, I chose to structure the exhibition around the chronology of a single day in order to emphasise Clarice Beckett's interest in broader, universal themes such as the cosmos, and the eternal and the ephemeral. This curatorial approach also points to how Clarice Beckett was interested in a range of mystical and spiritual concepts that emerged from Buddhism, Christianity, theosophy and anthroposophy. Rather than limiting the presentation of Clarice Beckett as an Australian modern woman artist, it was important to indicate to audiences that her art explored spiritual dimensions. This helps to reposition her in the broader context of international modernism.
By Tracey Lock, Curator of Australian Art at the Art Gallery of South Australia
After Clarice Beckett died in 1935 at the age of 48, she was forgotten. A chance encounter in the early 1970s led to the art of Clarice Beckett being rediscovered by curator Rosalind Hollinrake. Her rediscovery of Beckett led to fifty years of dedicated research and promotion that has seen Beckett recognised as a major Australian twentieth century artist.
In the 1970s, Hollinrake championed the work of Beckett and other little-known and overlooked artists in her small commercial gallery in Melbourne. While Beckett's importance has now been acknowledged, today Rosalind Hollinrake's role as a pioneer Australian woman curator is finally receiving appreciation.
Tracey Lock is Curator of Australian Art at the Art Gallery of South Australia. She has written six books on Australian art, including the defining monograph on Dorrit Black (2014) and most recently, Clarice Beckett (2021). Most recently, she curated Clarice Beckett: The Present Moment and in 2019 she curated Adelaide Cool: The abstract art of David and John Dallwitz. In 2018 she led an experimental rehang of the Gallery's permanent Australian art collection (700 works of art) that tested new curatorial methodologies, encompassing Australia's engagement with Asiatic, Islamic and Oceanic cultures. She has been responsible for key additions to the Australian art collection, including works by Fred Williams, Sidney Nolan, Anna Platten, Dorrit Black and a major collection of 21 paintings by Clarice Beckett. Tracey Lock has been the recipient of the Churchill Fellowship (2012) and the Cité Internationale des Arts Residency Fellowship, Paris (2017).
Fun Fact
The exhibition Misty moderns: Australian Tonalists 1915-1950, curated by Tracey Lock was held at the Art Gallery of South Australia in 2008. It was the first major exhibition of its kind that told the story of the Australian Tonalist painting movement, which was founded during the twentieth-century interwar period. Misty moderns showcased the earliest beginnings of the Tonalist movement by including Max Meldrum's 1917 revolutionary perceptual landscapes. Around 80 works of art by Max Meldrum and his followers including Clarice Beckett, Roy de Maistre, Roland Wakelin and Lloyd Rees were included in the exhibition.
This exhibition also inspired the writing of an award-winning fictional book about Clarice Beckett called Night Street written by Kristel Thornell.
When displaying her work for exhibition, Beckett grouped her works in themes, which was quite different from the usual way artists hung their work. The present moment has been thematically displayed around the shifts in time that chart the chronology of one single day. What are some other thematic ways the works of art in this exhibition could have been displayed?
Imagine The present moment was to tour regionally throughout Australia. However, only 5 works of art can go on the road. Which 5 works would you select and why?
Write a new wall label for your favourite work of art by Beckett.
Curator Tracey Lock has paired Beaumaris seascape by Beckett with a tonal score, Song of Summer by Delius. This piece was created around 1919 and describes the sea:
"I want you to imagine we are sitting on the cliffs of heather and looking out over the sea. The sustained chords in the high strings suggest the clear sky and stillness and calm of the scene...You must remember that figure that comes in the violins when the music becomes more animated. I'm introducing it there to suggest the gentle rise and fall of the waves. The flutes suggest a seagull gliding by." – Frederick Delius
How do the sound and visual effects in the exhibition enhance the works you see on the walls? Select a work of art by Beckett and pair a contemporary and historical piece of music to accompany it. Why did you make your selections?
Tip: Listen to a sensory playlist curated by Jade O'Donohue, Presenter Three D Radio, inspired by AGSA's exhibition Clarice Beckett: The Present Moment
Research a single Australian artist of your choosing and create a hypothetical exhibition of that artist's work. Create a tableaux or mood board that illustrates the works of art you selected for the exhibition as well as any additional audio or visual components.
Beckett Soundscapes
Musician Simone Slattery has created a suite of soundscapes that accompany the viewing experience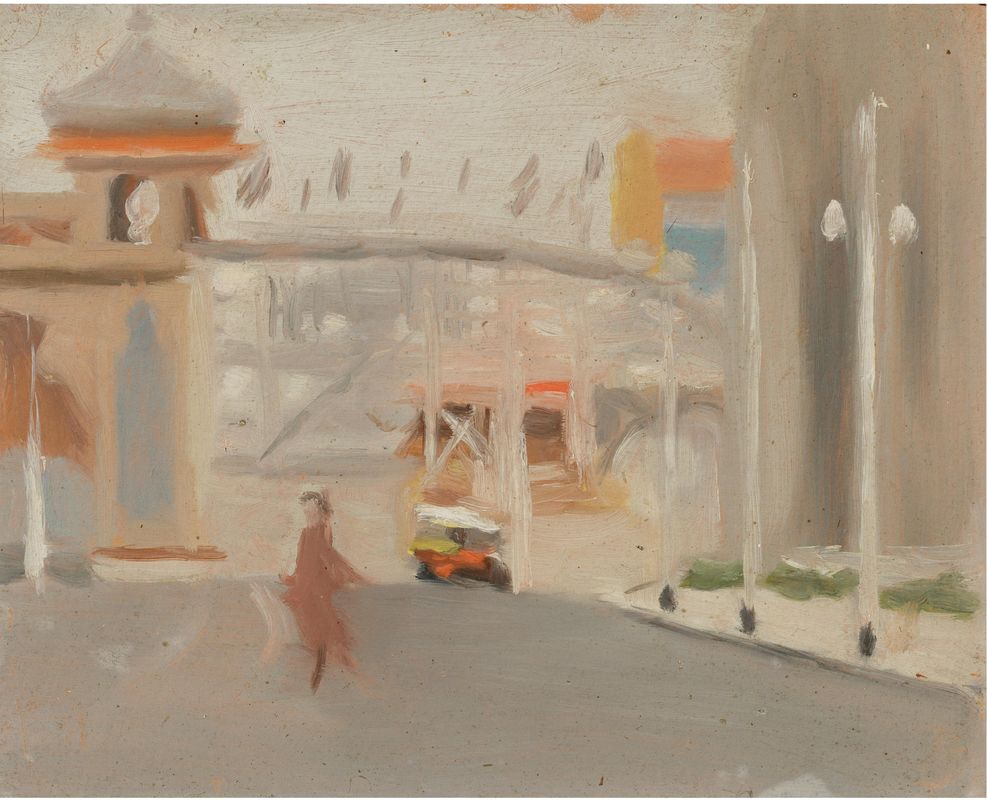 Introducing Clarice Beckett
Learn more about one of Australia's most important painters of the interwar period
The Gallery's Learning programs are supported by the Department for Education.
Art Gallery of South Australia staff Tracey Lock, Kylie Neagle, Thomas Readett and Dr. Lisa Slade contributed to the development of this resource.