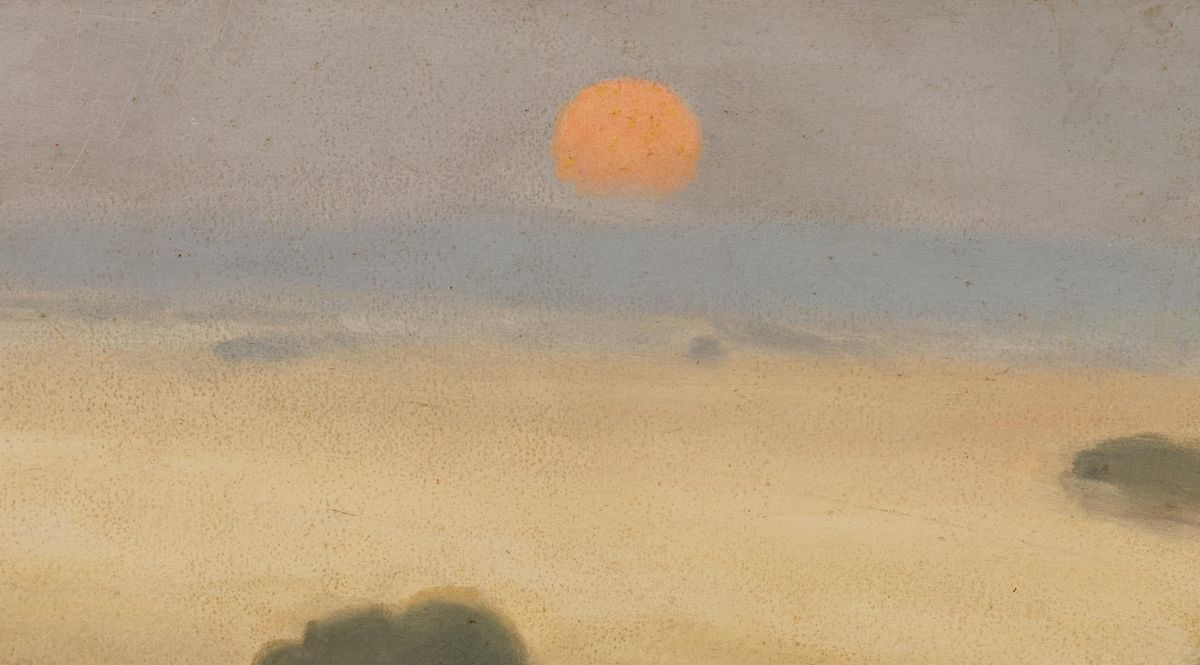 Curator's Insight - Clarice Beckett
---
AGSA becomes home to the most substantial collection of Clarice Becketts in the world
Only once in a lifetime does the opportunity arrive to secure an intact, private art collection of superb quality. Alastair Hunter's long-held desire to identify a major acquisition for the Gallery in memory of his mother, Elizabeth, has recently been realised with his donation of the highly coveted Rosalind Hollinrake collection of twenty-one paintings by Clarice Beckett. This personal tribute is a transformational addition to the Gallery's Australian art collection and consolidates the Gallery's renowned role as a leader in the collection of important art by Australian women.
Clarice Beckett's story – of tragedy, chance and triumph – makes this large group donation of pertinent cultural significance. The artist is one of Australia's most important women painters of the interwar period, yet astonishingly her identity was almost completely lost to art history. Elements of Beckett's personal story of neglect are shared by many twentieth-century women artists around the world. She was a remarkable modernist. Her personal life was sad and her brilliance was virtually unnoticed in her lifetime. When she died of pneumonia aged forty-eight, she was completely forgotten.
Fortuitously, in the mid 1960s, Dr Rosalind Hollinrake was intuitively drawn to Beckett's then unattributed paintings, mysteriously signed 'C. Beckett'. Through a chance encounter with the artist's sister, Hollinrake uncovered Beckett's elusive identity and spent the next fifty years of her life rescuing the artist from obscurity. As part of the process, Hollinrake salvaged hundreds of the artist's neglected canvases from a remote open-sided shed in rural Victoria. In 1971 she held an exhibition of these rediscovered Beckett paintings and some others, and this marked the gradual re-establishment of the artist's reputation.
Even during her lifetime, Beckett's artistic path was singular and she developed her own visual language. The vaporous 'soft' effect of her oil paintings was critically regarded as 'dangerous', in their departure from realist painting traditions. The gentle and seemingly insignificant nature of her subjects was also the antithesis of the more commonly revered heroic landscapes of the interwar period. Rather than completing formal paintings in a studio, she achieved these almost ethereal qualities by painting outdoors, where she became preoccupied with depicting the shifting effects of light – either in the quiet of early morning or in the stillness of evening. Her immediate and direct painting approach translated at times into an atmospheric form of painterly abstraction. Although appearing minimal in content, her works are nuanced and often capture fleeting moments in time. Her everyday views of her local suburban environment – modern Melbourne in the 1920s and 1930s – evocatively record transient motifs such as moving cars, trams, lone figures, waves or clouds.
In scale and subject matter, this premium group of Clarice Beckett paintings demonstrates the full range of the artist's oeuvre, and was painstakingly assembled by Rosalind Hollinrake. The earliest work by Beckett is Luna Park, 1919, which is the first known painting of the famous fun park, which opened in 1912. The Beckett work notably precedes Sidney Nolan's famous versions of the same subject by twenty-two years. The largest work in the group, The boatsheds, 1929, encapsulates her idiosyncratic fascination with crepuscular lighting effects. Here, the sea and sky merge, and as the critic, George Bell, favourably remarked, it conveys gentle 'Whistlerian qualities'. One of her most important portraits, October morning, 1927, typically retains an abstract anonymity. Its play of cast shadows creates a theatrical scenario, but here the mysterious central male protagonist is now known to be Beckett's secret lover.
The group also includes five of her most radical landscapes, which verge on pure abstraction. The art writer and painter, Ian Burn, considered Summer fields, 1926, to be a turning point in Australian landscape painting, while the same work prompted the celebrated Australian artist, Fred Williams, to remark, 'I think she got there before me'.
Continuing its tradition of leading the way in the research and promotion of modern Australian women artists, the Gallery is excited to announce that it will be collaborating with Dr Rosalind Hollinrake on a long-awaited exhibition and monograph on Clarice Beckett, where her important role in Australian art history will be critically evaluated. Including 100 works, the exhibition will be the Gallery's principal production to coincide with the 2021 Adelaide Festival. Clarice Beckett will be the largest survey ever staged of the artist's work, and the first for over twenty years. This exhibition will explore Beckett's deeply felt internal life while offering a window into universal human experience.
The exhibition will be the first showcasing of the complete collection of the Alastair Hunter Clarice Beckett donation. Through the generosity of Alastair Hunter, OAM, the Gallery is now home to the most substantial collection of Clarice Becketts in the world.
Tracey is Curator of Australian Art at AGSA. This article first appeared in AGSA Magazine Issue 39.