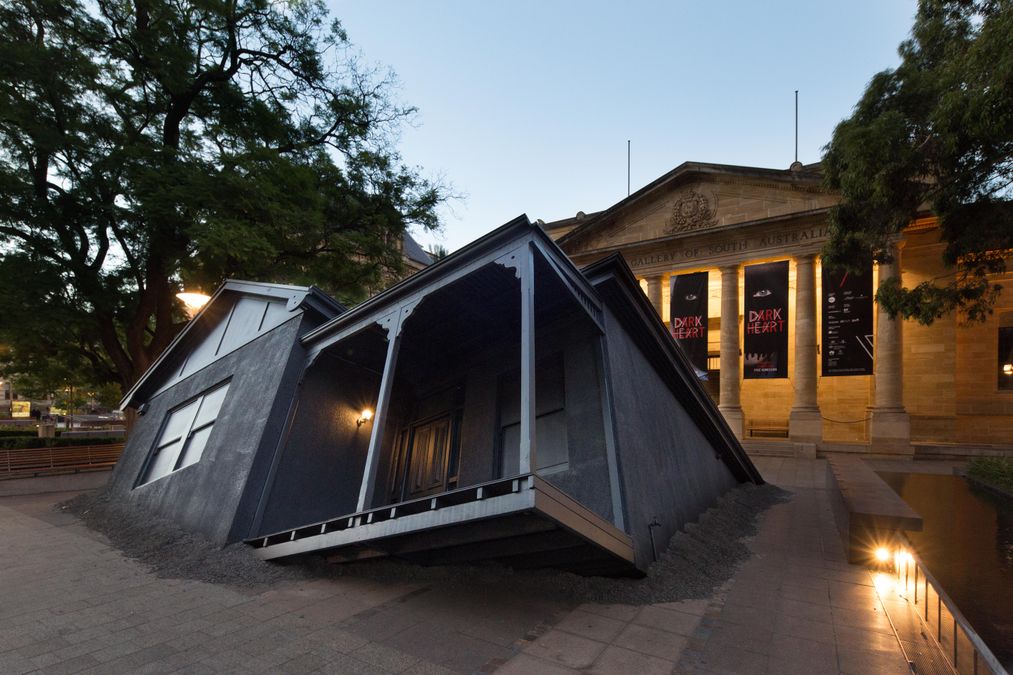 Public Art
---
Any work of art situated in the public realm – from memorials to monuments, sculptures to site-specific installations, projections to posters, street art to street furniture – can be considered public art. Although not always, most public art is expressly commissioned through private or public funding for the purpose of display outdoors or in a shared civic space.
Few categories of contemporary art attract more contention than public art. By virtue of its visibility and necessity for broad appeal, public art often finds itself in the crosshairs of public opinion. The occupation of civic space, however, lends public works of art a number of important and enduring functions. Public art can reveal layered histories and narratives of place, mark culturally significant locations, commemorate people and historic events, 'speak back' or critique political powers, generate civic pride, and provide aesthetic pleasure as a daily and democratic right.
Over the past five decades, artists have worked hard to expand the boundaries of public art. While many contemporary works of public art retain a scale and permanency suited to an outdoor environment, public art today is as wide-ranging in its appearance as any other artform. Contemporary artists have shifted the traditions of memorialisation or religious reliquary – large-scale statues forged in durable materials such as stone, marble or bronze – towards place-making interventions or activations of civic space in materials as transitory as light, sound and performance. Some artists working in the field may not even produce works of art at all, instead acting as advisors in the formulation of public space. Artists can offer important aesthetic and conceptual guidance among government officials, urban planners, architects and fabricators.
Public art need not appear as a government-sanctioned object. The term also captures myriad cultural expressions, sometimes illegal, generated by the wider community. Street art, graffiti, guerrilla gardening and yarn-bombing are just some examples of public art by stealth, equally responsive to civic space as a suite of large-scale steel sculptures.
Public art in the twenty-first century is deeply contextual. Existing beyond the confines of a gallery, we have come to expect public art to embody, or at least respond to, a complex network of forces – geography, history, politics, and the community it serves. Although this approach might seem commonplace today, it is worlds away from the heroic monuments of previous centuries. It reflects our changing relationship to the built and natural environments we occupy – the cultural demands we place on communal space – as well as our collective attitude around the social purpose of art.
In 2016, South Australian artist Peter Drew took to streets across Australia to paste up one thousand posters from his AUSSIE series. Featuring photographic portraits drawn from the National Archives of Australia, Drew's posters portray individuals who applied for and were granted exemption from the White Australia Policy in the early twentieth century.
Monga Khan, 1916 (2016), for example, depicts the proud profile of a Punjabi man who lived and worked as a hawker – a travelling vendor who supplied vital provisions between metropolitan and regional Victoria. In re-staging the archival portrait, Drew says, "I think my art offers a kind of gentle revenge. These people get to live on with the same images we used to exclude them."[1]
Drew's declarative statement, 'AUSSIE', subtitles Khan's image and reimagines him as an Australian folk hero. As an emblematic figure, Khan represents a history of thousands of migrant workers and communities whose overlooked labour and cultural contributions have built contemporary Australia. In pulling Khan's image and story from historical obscurity into the daily parlance and visual presence of the street, Drew makes use of the quotidian power of shared civic space. "I like to exhibit my art on the street because public space is a great equaliser, and an ancient forum."[2]
[1] Peter Drew, "About", accessed 10 August, 2021, https://www.peterdrewarts.com/contact
[2] Peter Drew, "Peter Drew Arts", May, 2021, video, 1:47, https://www.peterdrewarts.com/
In groups brainstorm what makes a successful sculpture? Imagine a world where there is no public art. Describe how this would impact on communities. Consider a site anywhere in the world that would benefit from a work of public art. Describe what the work would look like and the impact that it would have. Stage a debate in your class arguing the pros and cons for public sculpture.
In 2014, Ian Strange exhibited his work Landed in the Adelaide Biennial of Australian Art. Located on North Terrace, this work consisted of an entire house constructed to look as though it had landed from outer space. Find examples of this work and public responses to it.
Take a look at public works of art where you live. Write a set of guidelines for artists when designing, developing and installing public art.
Imagine you have been selected to create a temporary work for North Terrace. Consider who you will need to help you, the best materials to use and how your work will sit in the context of the existing buildings. Begin by:
Researching other examples of public art.
Completing a series of thumbnail sketches that include the dominant architecture on the site and consider scale and proportion.
Creating either a 3D maquette or 2D Photoshop mock-up of your work.
The Gallery's Learning programs are supported by the Department for Education.
This education resource has been developed in collaboration with ACE Open and the Art Gallery of South Australia. Written by Dr. Belinda Howden with contributions from Louise Dunn, Kylie Neagle and Dr. Lisa Slade.