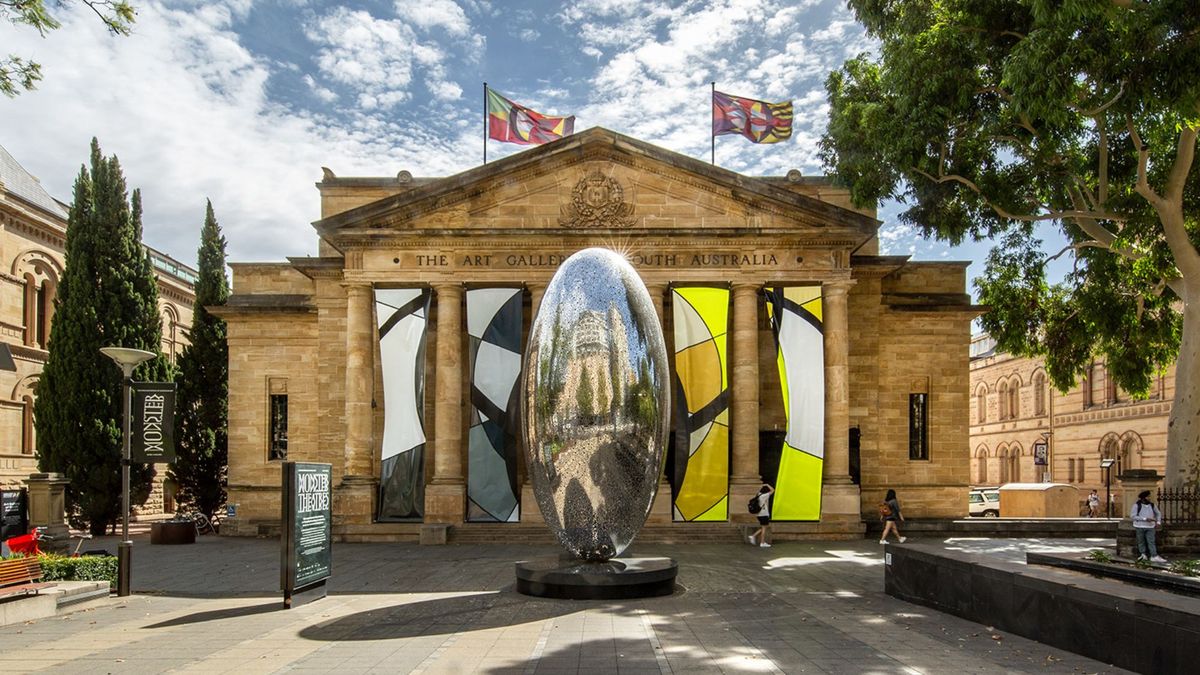 Galleries
---
A gallery is a specially designated site for the display of works of art and visual material culture. Australia has some of the oldest galleries in the world. The Gwion Gwion and Wanjina rock art sites, situated in the Kimberley region of Western Australia, predate European galleries as spaces of cultural display by some 45-50,000 years. These significant socio-cultural and ceremonial sites – featuring pictographs (rock paintings), petroglyphs (rock etchings) and sculptural forms – reflect the cosmology of thousands of generations of Aboriginal people living in and migrating across the region. The contemporary art gallery, as we know it today, shares some of its purpose with these sites; in the display of art we see ourselves reflected, we record and understand the conditions we are collectively living through, and, ideally, educate each other and future generations.
There are a number of different types of galleries that make up contemporary art in Australia, each distinct yet interdependent. They range from large-scale public and private institutions to the small-to-medium sector, composed of independent contemporary arts organisations; there are galleries that have evolved out of University archives and collections, as well as more short-term or experimental exhibition spaces, such as Artist Run Initiatives.
The largest galleries in contemporary Australian art are our state and regional institutions. While size and geography may characterise their individual focus, these galleries are unified by the fact that they are publicly owned and primarily devised to collect works of art – contemporary and historic – often telling a national story of Australia's cultural life. As public institutions, they are civic-minded. They reflect the living cultural histories of their region and support their local artistic communities by collecting and exhibiting relevant works of art, while serving the wider community through aesthetic, social and educational programs. There are also similarly sized private institutions. Founded in the singular vision of an individual philanthropist or private collection, these galleries, over time, can develop to become large public-facing contemporary galleries of national repute.
The small-to-medium sector encompasses arts organisations of a particular scale. Most notably, it captures a network of independent contemporary art and exhibition spaces across Australia that champion the work of living artists. While contemporary art spaces are also public-facing, they primarily produce temporary exhibition and event-based programs rather than collect works of art. As incubators, they often boast artist studios[BH4] or residencies to complement their exhibition programs; they forge connections between other independent contemporary art spaces and artists, nationally and internationally; and, as a result, are known to facilitate the production of four times as many new works as major galleries commission and acquire.[1]
University galleries and museums comprise another important facet of contemporary art in Australia, connecting university campuses with the wider public through visual art. Having typically evolved out of the Humanities or Fine Arts departments, university galleries not only contribute to civic cultural life, more broadly, but also aim to enrich their own research communities and the next generation of scholars, artists, curators and arts writers. As galleries, they drive new scholarship. Their collections constitute the primary resource for pioneering research projects, exhibitions and publications, and facilitate dynamic models of pedagogy, such as object-based learning.
Where state, regional, small-to-medium and university galleries are public-facing, commercial galleries are market-facing. In Australia, commercial galleries often represent a stable of contemporary artists, hosting exhibitions, connecting artists with collectors and patrons, and raising an artist's profile through media, private commissions, art prizes [BH8] and professional collaborations. While some artists find commercial success independently, commercial galleries continue to hold an important role in contemporary Australian art as active agents in the development of an artist's career.
An artist-run initiative – sometimes called an artist-led or artist-run space – is a gallery initiated primarily by artists for artists. Unshackled from the need to collect, nor focus exclusively on commercial aspirations[L9] , the artist-run initiative has become synonymous with experimentation. They can be structured as either a temporary or long-term endeavour, making it a model responsive to the changing conditions of contemporary art, and, as such, are frequently approached by artists, curators, arts writers and academics as a testing ground – a crucible for new ideas and practices. Often evolving out of existing arts communities and networks, artist-run initiatives provide invaluable real estate for social exchange and open-ended artistic exploration, making them significant to arts practitioners across all stages of their career.
[1] National Association for the Visual Arts, S2M: The economics of Australia's small-to-medium visual arts sector(Sydney: National Association for the Visual Arts, 2017), 91,
ACE Open is a contemporary art gallery situated in the Lion Arts Centre in Adelaide CBD, South Australia. Like many other small-to-medium contemporary art spaces across the country, it is dedicated to exhibiting new and recent works by living contemporary artists.
ACE Open has a founding history as the amalgamation of the Experimental Art Foundation (EAF) and Contemporary Art Centre of South Australia (CACSA), both highly respected South Australian small-to-medium contemporary art organisations that share a combined 116-year history of producing independent, radical and pioneering art-making. Established in 2017, ACE Open has since evolved into South Australia's flagship contemporary art gallery. Featuring a curated program of South Australian, Australian and international artists, it supports the careers of current arts practitioners through exhibitions and events,publications, and offers audiences critical encounters with the artists of today.
In addition to its exhibition program, ACE Open presents a range of public programs for audiences, such as artist talks and workshops, and hosts artists through its on-site, subsidised studios. The ACE Open studios provide essential space and support for contemporary artists to create new works and develop their careers. As Adelaide-based sculptor and 2019 ACE Open studio resident, Tamara Baillie, describes: "The physical space [of a studio] is really important as someone who makes objects. Meeting other artists, here at ACE, has been really important too – getting to know their practices, getting to have that sense of community. We're learning from each other."[1]
[1] Tamara Baillie quoted in "Supporting South Australian artists and contemporary art through ACE Open's studio program," ACE Open, PDF, accessed 10 May, 2021,
The Gallery's Learning programs are supported by the Department for Education.
This education resource has been developed in collaboration with ACE Open and the Art Gallery of South Australia. Written by Dr. Belinda Howden with contributions from Louise Dunn, Kylie Neagle and Dr. Lisa Slade.