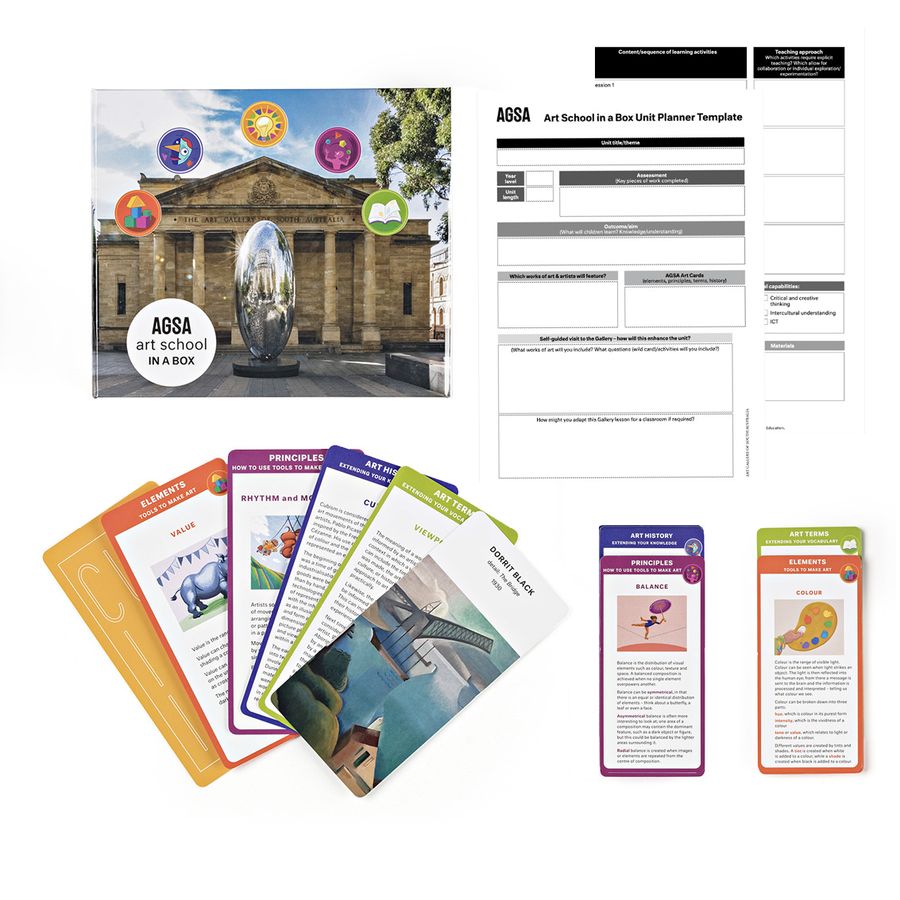 Maximising your visit - online
---
Weave a visit to the Gallery into your teaching programs across multiple learning areas.
Learn strategies for engaging your students with works of art while in the Gallery and ways to extend this experience back in your classroom with post visit activity suggestions.
This workshop is suitable for those teachers in need of some alternative ideas for facilitating self-guided sessions or for TRT teachers needing some quick go-to activities to deliver with minimal materials and preparation. Linked to the Australian Curriculum, this session and the AGSA Art School in a Box resource is the ideal companion for any visual art class across the country.
Using the new resource AGSA Art School in a Box as a framework, you will be shown different ways to structure a visit to AGSA or an art lesson in the classroom. The resource includes over 200 making and responding activities that can be used in response to any work of art. With a focus on art elements and principles, art history and art terms the resource is your one stop shop for embedding visual arts and design into any classroom.
Below you will find the pre-recorded workshop, presentation, works of art referenced in the presentation, links to relevant resources and a professional development certificate.
You will need:
A copy of AGSA Art School in a Box
Cardboard (210gsm or cardboard from a shoe or cereal box)
Scissors
Pre-event reading
If you create anything during this session or include anything in your classroom which your students make - we would love to see it. Email photographs of your work to education@artgallery.sa.gov.au or tag us on Instagram #agsaeducation.
Look for unusual or irregular shapes in the negative spaces in a work of art. Draw these shapes in your sketchbook.
Using these shapes as inspiration, create a new sculpture from coloured cardboard.
Shape Up Space Out Sculpture examples created by workshop participants
Without looking at the dates, arrange these works of art from oldest to newest (most contemporary).
How did you come to this decision?
Are these works all made by Australian artists?
What can you see that suggests they are made by an Australian artist – or not?
In a classroom, you would not provide students with the dates - only the images for them to make their decision.