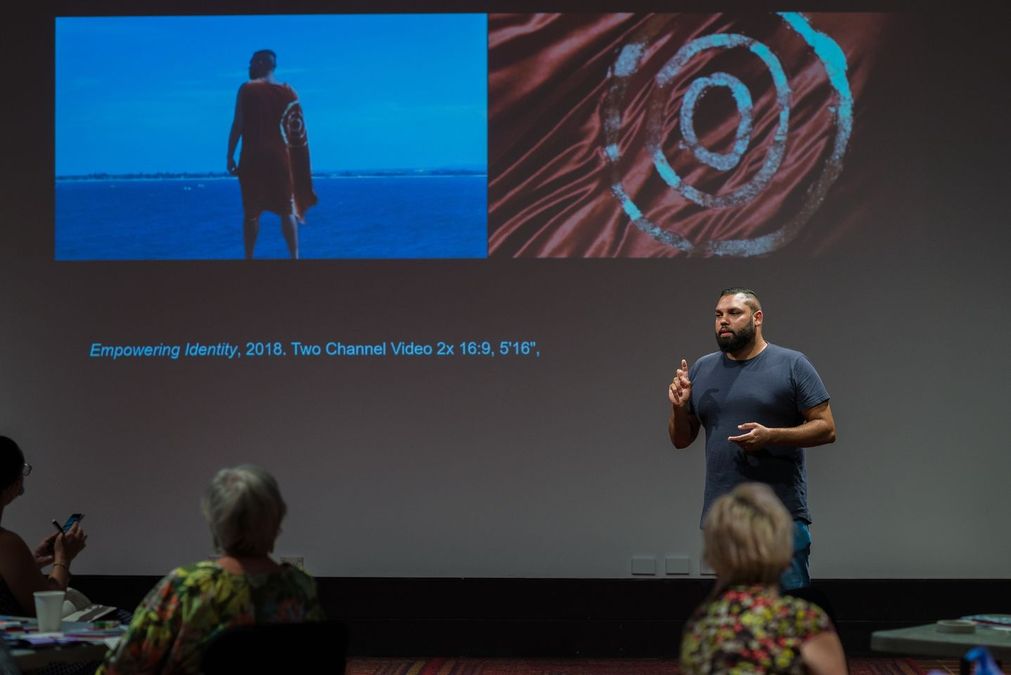 Start with the artist – always
---
Kylie Neagle, Education Coordinator
In 2018, when AGSA Education initiated the program 'Aboriginal and Torres Strait Islander Art in the Classroom', no one had anticipated the overwhelming interest in the topic. Now in 2022, this program is in its eleventh iteration, having reached over 600 teachers nationally. The publication of the same name has sold 5000 copies, with forty per cent of these being sold interstate. The demand for support and guidance on how to incorporate Aboriginal and Torres Strait Islander histories and stories into classrooms in a culturally appropriate and meaningful way persists.
During our latest workshop Gamilaraay/Kamilaroi artist Dennis Golding provided educators with an insight into his practice, which focuses on resilience, power and identity, before leading a hands-on 'making session', where teachers created a dazzling design for a cape, to represent their own identity or something they love.
Our philosophy is grounded in placing the artist at the centre of our workshops. Although we understand that it is not always possible to bring an artist into every classroom across the country, there are still ways by which teachers can enrich classroom content.
In our strategies-based component of the day-long workshop, teachers were shown how to use our 'using artists as a starting point' flowchart when responding to a new artist. In this workshop we focused on the work of Bidjara artist Christian Thomson. Participants watched artist videos, read articles and considered the themes and ideas of Thompson's photographic and film work and how they could connect these ideas to world of their students. The crucial element is for teachers to design tasks that respond to the artist's work without students creating copies of the artist's work.
Working with Thompson's ideas and concepts that related to memory, place, flora and performance, participants then created their own wearable work of art. Using coloured cardboard inspired by a flower or plant, the teachers experimented with folding, curling, tearing and cutting techniques and created extravagant body adornments to express their individual personas.