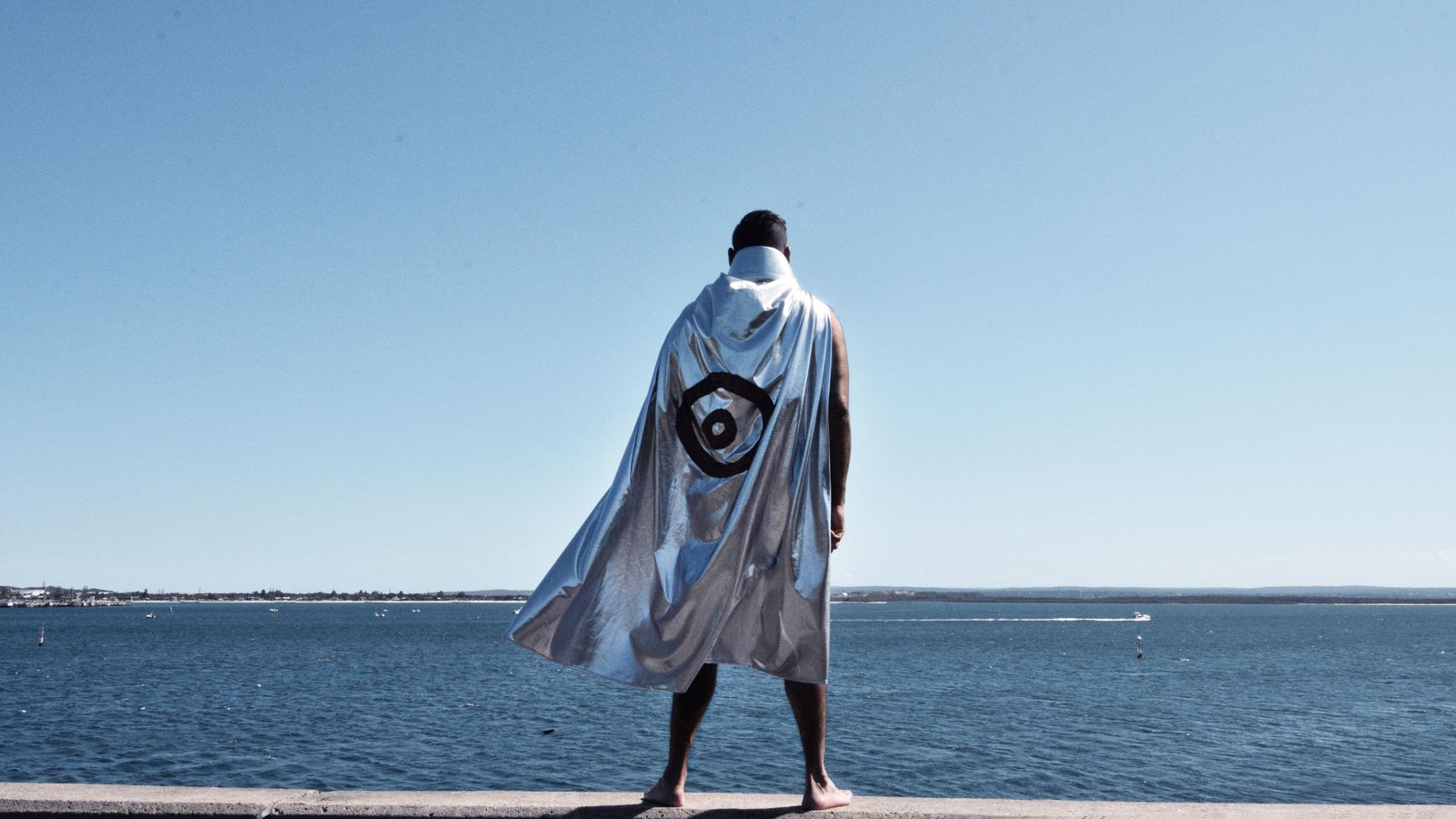 Dennis Golding
---
Dennis Golding (b. 1989) is an artist descended from the Kamilaroi/Gamilaraay people of north west New South Wales. Born and raised in Sydney, Golding spent his youth growing up on Everleigh Street in the suburb of Redfern – the eastern border to an Aboriginal-managed social housing district known as 'The Block'. Golding's childhood experiences and memories inform his photography, installation and mixed-media practice, as he explores not only his personal history but also a shared sense of cultural identity.
Casting Shadows (chandelier) (2022) - an installation of sculptures in the shape of chandelier and ceramic shield – captures the political and social history of The Block. Following years of Aboriginal-led protests and campaigning, The Block was formally established in 1973 to provide affordable low-cost living for Aboriginal people in inner city Sydney. Since then, the suburb of Redfern has been the site of some of Australia's most significant civil rights movements. The Aboriginal Medical Service, Aboriginal Legal Service and Aboriginal Housing Company were established in Redfern in the 1970s, and the tent embassy in Canberra grew from a Redfern-based group of activists.[1]
The Victorian-era architecture of Everleigh Street is the focus of Cast in cast out. Golding grew up living and playing across five different terrace houses on the street – the back fences were knocked down, allowing families to move freely between one another's homes.[2] Using epoxy resin and iron oxides, the artist recast the ornate iron lacework adorning the balconies and palisades of these terraces. The mid-nineteenth century architectural feature, with its curlicues of European flora such as ivy and daylilies, depicts an imported design aesthetic as part of the colonial expansion of Sydney. The decorative feature once marked boundaries and asserted ownership over land and space, and is a material reminder of Aboriginal dispossession. By recasting these features as sculptural objects, however, Golding has transformed the iron lacework into a collection of fragments, like slices of memory and time. They now conjure stories of Golding's own family, as well as generations of other Aboriginal families, who lived with and were surrounded by this same architecture every day. "I'm trying to decolonise these objects in a way that I become in control of the object, rather than the object being in control of me."[3]
[1] Fiona Kelly McGregor,"The Future is Here", Carriageworks, 3-28 November 2021. [2] Sebastian Goldspink, Free/State, Adelaide: Art Gallery of South Australia, 2022, 100. [3] Dennis Golding, "Spotlight | 2020 NSW VAEF Recipient Dennis Golding," Artspace, 2 December 2020,
Golding is reclaiming this fundamentally imperialistic architecture as his own, of his people: in the context of Redfern, the terrace houses are Aboriginal architecture. He plays with the flora and fauna depicted in these lace panels. The flowering gum, a much-used motif in the lacework, is found in abundance in the town of Collarenebri on Country in northwestern New South Wales, the traditional home of the artist's family, and the word 'Collarenebri' literally translates to 'place of many flowers'. His installation brings together these motifs, drenched in the orange lights of the street, with shadows echoing collective reminders of place.
Articles and Books
"2021 TELSTRA NATIONAL ABORIGINAL AND TORRES STRAIT ISLANDER ART AWARDS – Interview." Reviews by Judith and Friends. 7 June, 2021.
"Dennis Golding: The Future is Here." Art Collector. 3 – 28 November, 2021.
Galvin. Nick. "Invisible no more: Artist Dennis Golding is the cape crusader. Sydney Morning Herald. 31 October, 2021.
Goldspink, Sebastian, et, al. Free/State. Adelaide: Art Gallery of South Australia, 2022.
Knowles, Rachael. "First Indigenous winner of century-old fellowship decolonising objects through art." National Indigenous Times. 20 November, 2020.
Martin, Jacqui. "First First Nations Winner in 100-Year History." Art Collector. 2020.
McDonald, Patrick. "Festival Art Show is Up, Up and Away." Adelaide Advertiser. 15 September, 2021.
Stephens, Andrew. "Dennis Golding's superhero cape." Art Guide Australia. November/December, 2021, i134, 70-73.
Websites
"Dennis Golding." Artereal.
"Dennis Golding." Artist website.
"Dennis Golding."Australian Design Centre. 2020.
"Dennis Golding: Tradiing Places."Artereal.
"The Future is Here: Dennis Golding." Carriageworks. 3 – 28 November, 2021.
"The Re-Right Collective." Artspace. 2020.
Video
"Artists & Practice: Interview with Dennis Golding." Campbelltown Arts Centre. 29 October, 2020. Vimeo, 10:08.
"NAVA Artist File: Dennis Golding." National Association for the Visual Arts. 29 September, 2020. Youtube, 4:39.
"Spotlight | 2020 NSW VAEF Recipient Dennis Golding." Artspace. 2 December, 2020. Vimeo, 4:09.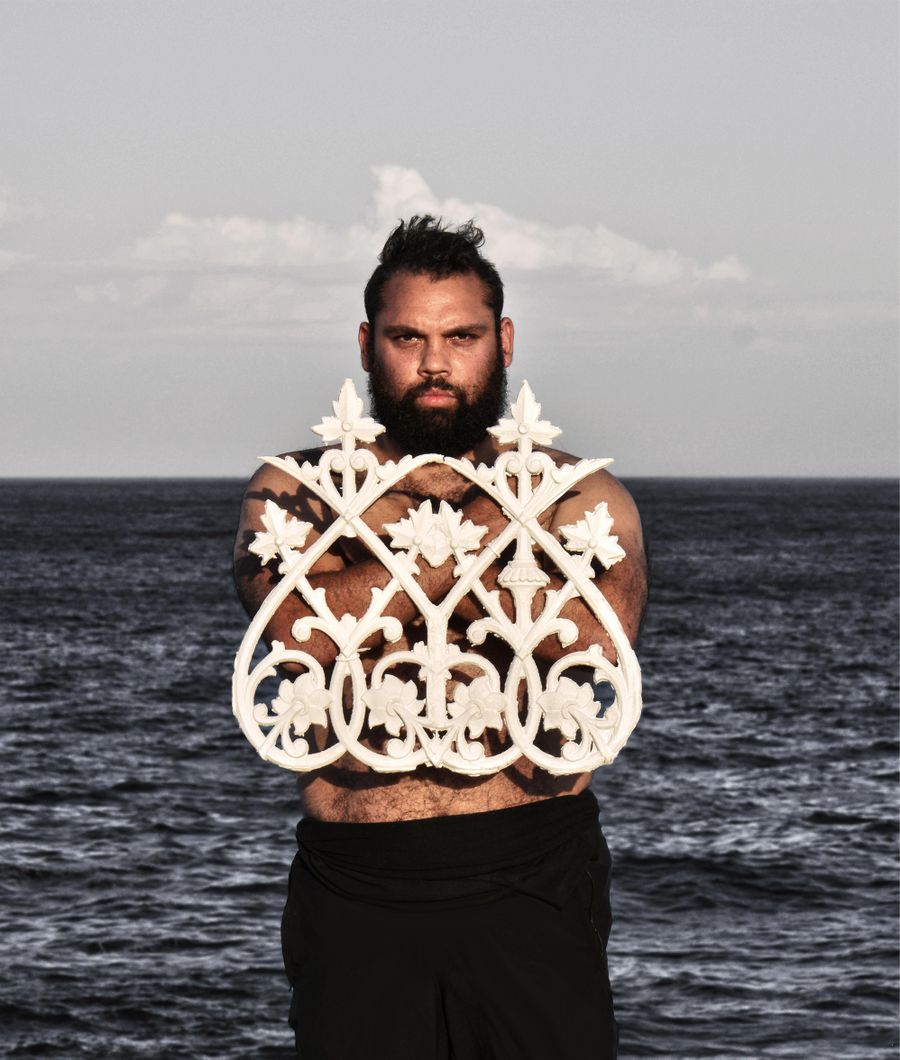 I am aiming to understand the practices of colonial occupation and western structures of land ownership by investigating the manufacture, allocation and design of Victorian cast iron panels, which were an iconic architectural feature of the homes in which I once lived
Casting Shadows (chandelier) references Golding's childhood memories of growing up in inner Sydney, Redfern. Golding has recreated fragments of the Victorian-style wrought iron fences that adorn these terraced houses. Dismantling the wrought iron panel, Golding recasts it in resin and reconfigures them to present it as a shield, which he is in control of – thus decolonising the original lacework.
Take a walk around your neighbourhood, photographing or sketching the different types of fences that people have in their yards.
The fence motif that Golding creates is symbolic of a threshold that keeps people in but also keeps people out. Create a new fence design for your home – be as imaginative as you like.
Golding has referenced personal iconography and native flora is some of his shield designs. Roses and grape vines for example remind him of his childhood as these grew in his grandmother's backyard.
Photograph image of plants and flowers that grow in your garden or school or source images of these flora online.
Design a shield that incorporates some of these plants or flowers. You may like to draw or paint or create your design digitally. Consider the use of pattern, symmetry and repetition. You may like to incorporate some symbols or icons that relate to you and your world into your shield too.
Tip: For younger students you may wish to provide images so that students can create a collage shield.
Golding's work is about power, strength and resilience. Locate two other works of art by an Aboriginal or Torres Strait Islander artists that is also about power, strength and resilience. Provide examples of these artists' work to share with the class. Compare their work to that of Golding. What do these works of art have in common and how are they different?
Over the years, and more recently as Redfern has been increasingly gentrified, Aboriginal communities living in The Block have been subject to the authority of the state. Golding recalls a shared childhood experience of "police constantly surveilling us and riding around on horseback… [as kids] we wanted, in some ways, to be invisible and hide even though we didn't do anything wrong."[1] Golding has redressed these collective memories in his artistic explorations of the superhero archetype. The power of invisibility, and equally visibility, is played out in his photographic self-portrait Untitled (South Headland, Botany Bay) (2021) and collaborative cape-making workshops, where costuming and the aesthetic of the superhero are tools for identification and liberation. Even the self-portrait of Cast in cast out draws on a similar sentiment; "I've reimagined the cast iron material as a shield."[2] For Golding, the superhero archetype brings "stronger and more empowering representations of contemporary Aboriginal culture within urban spaces… when you put on a costume, you feel a sense of transformation."[3]
[4] Dennis Golding quoted by Fiona Kelly McGregor, "The Future is Here," and Andrew Stephens, "Dennis Golding's superhero cape," Art Guide Australia, November/December, 2021, i134, 70. [5] Dennis Golding, "Spotlight | 2020 NSW VAEF Recipient Dennis Golding." [6] Dennis Golding quoted by Fiona Kelly McGregor.
Locate where Golding is from on the AITSIS Map of Australia.
Look at the photographic work of Golding where he is standing with his back to the camera looking out across to ocean.
How would you describe the fabric draped on Golding's shoulders?
What words would you use to describe Golding's body language?
Recreate Golding's poses and share how these positions made you feel.
Look at the image Untitled (South Headland Botany Bay). Why do you think Golding chose this site? Find Botany Bay on a map.
What does the colour of Golding's capes remind you of? Where else do we see colour like this used?
Now describe these photographs with one word, what would it be and why?
Golding has used the cape motif in his work often. Who wears a cape? What characteristics do people who wear capes possess?
As a child, Golding loved comic books and superhero television shows – Batman was his favourite. What is your favourite comic book or television superhero? Does this superhero have a super power? When Golding was younger, he wanted his superpower to be invisibility. If you could have a superpower now, what would it be?
Create a design for a cape that is inspired by the things you love. You could use an old t-shirt or bed sheet for the base of your cape and embellish it with paint, sequins, fabric or glitter. Photograph yourself wearing your cape.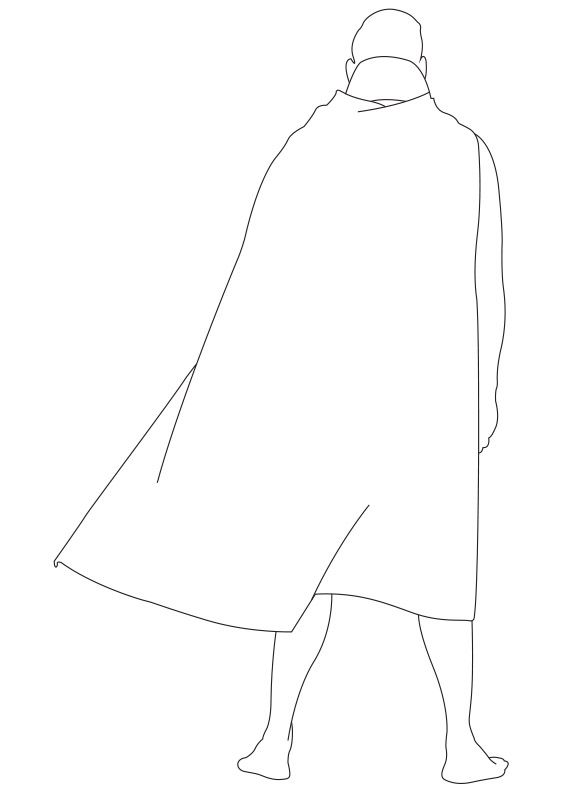 The Gallery's Learning programs are supported by the Department for Education.
This education resource has been developed and written in collaboration Dr. Belinda Howden, Kylie Neagle Education Coordinator, and Dr. Lisa Slade Assistant Director, Artistic Programs.