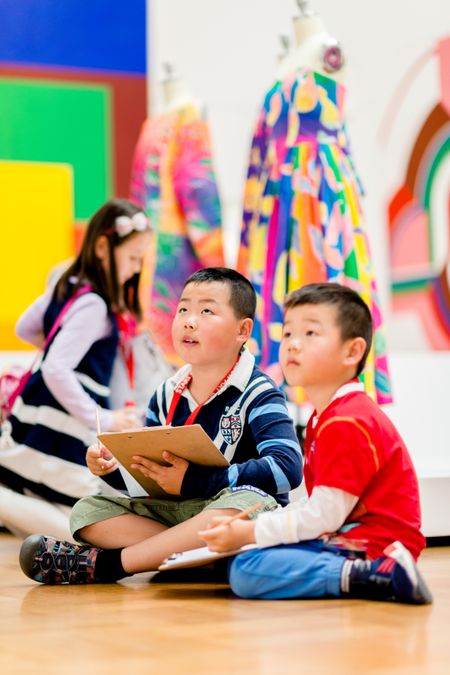 Play, dance and write - new education programs
---
Kylie Neagle introduces new programs for students in the Gallery
Each year AGSA Education adapts to the fluctuations in displays, amendments to curriculum priorities and the ever- changing needs of teachers in their efforts to deliver arts education effectively.
In 2020 we continue to evolve, like all healthy organisms, adapting to new environments and responding to challenges. With assessment deadlines, risk assessment and an already crowded school calendar, it can be almost impossible for teachers to plan, organise and execute an excursion for their students. To alleviate this pressure for teachers, AGSA Education has developed three new programs to complement the Australian curriculum and enhance a visit to the Gallery. These programs include Play: colour and sound, Writing in the Gallery and Dancing in the Gallery.
Play: colour and sound is a hands-on workshop designed specifically for early years and primary school students. Providing children with an opportunity to experiment with materials and explore visual conventions, it emphasises process, with students working independently and collaboratively to create ephemeral compositions and soundscapes in response to a variety of works of art on display. In a world where standardised testing continues to be prioritised, this workshop gives children permission to make mistakes, develop their imagination, improve communication skills and interact with the world around them – while not being driven by the need for a refined end product or a completed worksheet.
Writing in the Gallery, an adjunct to our popular Drawing in the Gallery, uses works of art as prompts. Primary and secondary students are led through a series of writing exercises designed to tap into their imaginations and in the process extend their critical thinking skills. With the South Australian Government's Literacy Guarantee central to strategic planning in schools across the state, our Writing in the Gallery workshop is an ideal opportunity for students to extend and practise their literacy skills in an alternative environment.
After a sold-out season of Art as stimuli: Choreography and the Collection – a full-day dance workshop for senior secondary students, AGSA Education has worked with artist and dancer Jessie McKinlay to modify this program to produce Dancing in the Gallery, a one hour workshop, suitable for all year levels. In this workshop, which has already proved to be a popular drop- in activity during Start and Neo, students respond to works of art through the medium of dance, manipulating and moving their bodies to create meaning. In collaboration with their peers, they utilise improvisation to express movement, shapes and pattern. This workshop is ideal for primary teachers who need support when delivering all of the five Arts subjects, as outlined in the Australian Curriculum.
Through these creative new programs, we not only offer support to teachers by delivering content in an alternative way, but our facilitators also provide opportunities for students to develop new skills and perspectives by looking at, responding to, and engaging with works of art in situ through play, writing and movement – exciting new experiences made possible when visiting the Gallery.
Kylie is Education Officer at AGSA, a position supported by the Government of South Australia through the Department for Education. This article first appeared in AGSA Magazine Issue 39, 2020.