Tarnanthi Art Fair 2023
20–22 Oct 2023
In Person
Fri 5–8.30pm, Sat–Sun 10am–5pm
Online
Fri 5pm - Sun 5pm
Free
Adelaide Entertainment Centre
All Ages
---
The annual Tarnanthi Art Fair returns as both an in-person and online event.
The in-person Art Fair provides a unique opportunity to meet Aboriginal and Torres Strait Islander artists and buy works of art. Exclusive to Adelaide, this popular art event brings together works in diverse mediums, produced by hundreds of established and emerging, regional and city-based artists from across Australia.
If you can't make it to the in-person Art Fair, you can browse and buy online, day and night, from your home anywhere around the world.
Or shop at both, as the offerings at each event are unique.
Importantly, the three-day Art Fair delivers significant economic benefits to Aboriginal and Torres Strait Islander communities, where art production is a vital source of income. All works are made and sold ethically, and all sale proceeds go directly to the artists and their community-run art centres.
Remind me about this event closer to the date.
Art Centres
Anindilyakwa Arts, APY Art Centre Collective, Arts Ceduna, Bábbarra Women's Centre, Badu Art Centre, Baluk Arts, Barkly Regional Arts, Bindi Mwerre Anthurre Artists, Buku-Larrŋgay Mulka Centre, Bula'Bula Arts, Bush Balm by Purple House, Durrmu Arts, Gapuwiyak Culture & Arts, Girringun Art Centre, Hermannsburg Potters, Ikuntji Artists, Iltja Ntjarra (Many Hands) Art Centre, Injalak Arts Centre, Iwiri Art, Jilamara Arts & Crafts, Juluwarlu Art Group, Ku Arts, Magpie Goose, Maningrida Arts & Culture, Mangkaja Arts Resource Agency, Marrawuddi Arts & Culture, Martumili Artists, Maruku Arts, Merrepen Arts, Milingimbi Art & Culture, Minyma Kutjara Arts Project, Mirndiyan Gununa – MIART, Moa Arts, Mowanjum Aboriginal Art & Culture Centre, Munupi Arts & Crafts Association, Nagula Jarndu Designs, Ninuku Arts, Ngukurr Arts, Numbulwar Numburindi Arts, Papunya Tjupi Arts, Pormpuraaw Art & Culture Centre, Spinifex Hill Studio, Tangentyere Artists and Yarrenyty Arltere Artists, Tjanpi Desert Weavers, Tjarlirli & Kaltukatjara Art, Utopia Art Centre, Walkatjara Art, Waringarri Aboriginal Arts, Warlayirti Artists, Warlukurlangu Artists, Warnayaka Art & Culture, Wik & Kugu Arts Centre, Yarrabah Arts and Cultural Precinct, Yinjaa-Barni Art
The Adelaide Entertainment Centre is a wheelchair accessible venue.
They offer a number of accessible parking spaces close to main entry points. These are clearly identified by the accessibility symbol, which is painted on the ground.
Accessible parking must be pre-booked by phoning the Adelaide Entertainment Centre team on (08) 8208 2222. Please have your car registration and Disability Parking Permit number available when calling.
Accessible parking is subject to availability at time of booking. A valid Disability Parking Permit must be clearly displayed on vehicles at all times.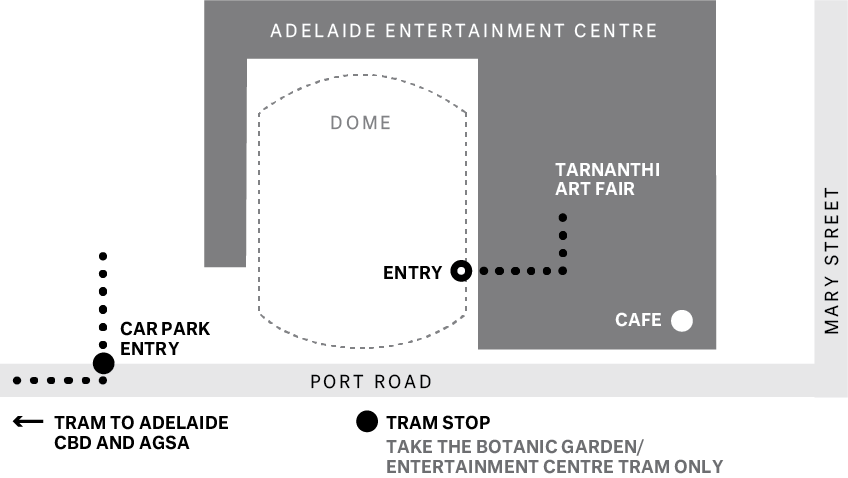 The Adelaide Entertainment centre is located on the corner of Port Road & Adam Street Hindmarsh, South Australia.
Get driving directions from your current location.
Parking
If you are driving to the Adelaide Entertainment Centre, they offer more than 1,400 onsite car park spaces. Entry/exit to our car parks is via Mary Street, Manton Street or Adam Street only.
Please note, the Adelaide Entertainment Centre is a fully cashless venue. They accept payment via card only for all onsite charges, including car parking. Major credit cards, debit cards and mobile pay (Apple Pay, Google Pay and Samsung Pay) are accepted.
Public transport
Tram
A free tram service operates daily between the Adelaide Entertainment Centre and Adelaide city centre with a good level of frequency. The tram station is located immediately in front of the Adelaide Entertainment Centre on Port Road.
Train
The Bowden train station is located approximately 150 metres from the Adelaide Entertainment Centre on Port Road, with easy pedestrian access.
Buses
There are a number of bus stops located within close proximity (50 – 80 metres) to the Adelaide Entertainment Centre. Bus routes directly passing the Centre include 115, 150 and 157.
Taxis
Taxi ranks are located on both sides of Port Road in close proximity to the main Adelaide Entertainment Centre entry.
Bicycle
The Adelaide Entertainment Centre offers bicycle parking rails at the front of the venue, providing opportunity for cyclists to secure their bikes.
See something you like? Purchase artwork directly from the art centre stalls at the Adelaide Entertainment Centre. Please note the offerings available in person and online are different.
The Tarnanthi Art Fair is a card only event.