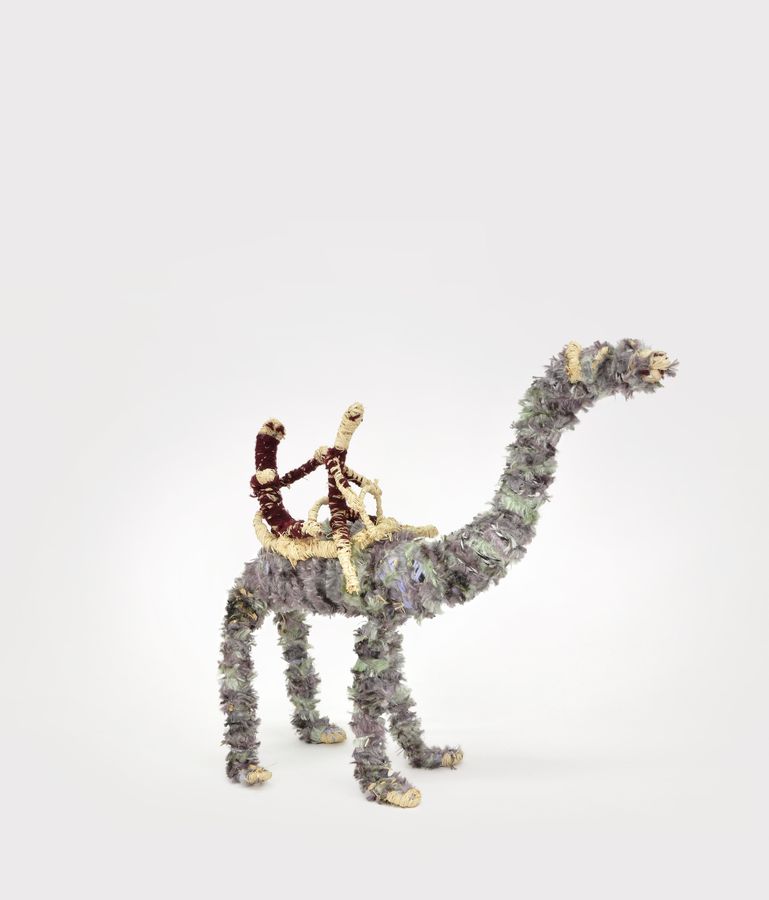 Our Mob
10 October – 6 December 2015
Free
Adelaide Festival Centre and Port Augusta
---
Since 2006 the Adelaide Festival Centre has annually presented Our Mob: art by South Australian Aboriginal artists, a state-wide exhibition and program of events highlighting the innovation and currency of contemporary South Australian Aboriginal and Torres Strait Islander artists.
Our Mob is presented by Adelaide Festival Centre in partnership with Country Arts SA and Ananguku Arts and Culture Aboriginal Corporation as part of TARNANTHI | Festival of Contemporary Aboriginal and Torres Strait Islander Art. 2015 marks the tenth anniversary of Our Mob and features an expanded series of exhibitions including Our Mob Contemporary, Our Young Mob, Ripple Effect, a capsule exhibition by Anna Dowling, and a regional exhibition in partnership with Port Augusta City Council at Port Augusta Culture Centre – Yarta Purtli.
Our Mob 2015: art by South Australian Aboriginal Artists
10 October – 6 December 2015
Adelaide Festival Centre Artspace Gallery and Festival Theatre Foyer
Ray Coulthard, Adnyamathanha Elder: Master Carver
10 – 12 October 2015
Artspace Gallery
Our Mob
Our Young Mob
Our Mob Contemporary – Old & New: Unbroken Threads of Ngarrindjeri Traditions
Anna Dowling: Ripple Effect
10 October – 6 December 2015
Artspace Gallery
Our Mob: Port Augusta
5 September – 3 October 2015
Port Augusta Cultural Centre – Yarta Purtli
Artists
Halee Adams, Imiyari Adamson, Shanya Arabie, Margaret Argent, Christina Ashton, Natalie Austin, Racquel Austin-Abdulla, Anne Baird, Maureen Baker, Peter 'Pungkai' Bertani, Susan Betts, Stacey Brady, Amanda Bush-Blanasi, Charlene Bush-Blanasi, Angel Caddy, Beverley Cameron, Iggy Champion, Laurresha Champion, Jayden Chaney, Cynthia Charra, Milla Coady-Bowes, Gray Collette, Kanisha Collins-Thompson, George Cooley, Lesley Coulthard, Linda Coulthard, Nellie Coulthard, Roy Coulthard, Jacqueline Crawford, Christopher Burthurmarr Crebbin, Vicki Cullinan, Bailey Dadleh, Shaz-ziah Danks-Graham, Vaughan Day, Marika Davies, Julie Dawn Dickerson, Miyuki Dickerson, Pam Diment, Cyril Duncan, Ali Cobby Eckermann, Chianne Edwards, Jodie-Ann Fereti, Patrick Lee Ferguson, Renee Ferguson, John Frost, Michael Garlett, Tjangili George, Witjiti George, Sandy Gibb, Collette Gray, Janine Gray, Glenda Hansen, Veronica Hay, Shoshanna Hayes, Molly Hayes-Brown, Coral Pananka Haynes, Joy Haynes, Joylene Haynes, Keanee Hill-Calgaret, Latoniah Hill-Calgaret, Greg Hodgkinson, Xenia Hughes, Audrey Inkamala, Anne Jacob, Beryl Jimmy, Sherrie Jones, Ray Ken, Sylvia Ken Kanytjupai, Tjungkara Ken, Carl Kennedy, Imuna Kenta, Evelyn Kilmartin, Kiara Kirby, Elaine Lane, Lawrie Nancy, Verna Lawrie, Roxanne Lawrie, Beaver Lennon, Darlene Lennon, Molly Lennon, Samantha Lester, Niningka Munkuri Lewis, Nick Likouresis, Rita Lindsay, Pantjiti Lionel, Abbigail Long, Loretta Macumba, Macacia Marich, Alecia Matthews-Tucker, Lindsay May, Kunyi June McInerney, Donny McKenzie, Regina McKenzie, Virdianha Walha Udi Marvyn McKenzie, Josephine Mick, Delores Miller, Dorcas Miller, Estelle Miller, Lachlan Miller, Samuel Miller, Waylon Miller, Asyriah Miller-Pickett, Shayla Miller-Pickett, Tyrone Miller-Warren, Mary Mingkali, Barbara Mbitjana Moore, Jamie Newchurch, Cheryl (Maxine) Norris, Maude Parker, Josina Pumani, Mandy Queama, Debra Rankine, Nellie Anne Rankine, Jeanie Reggie, Casey Reid, Alex Richards, Alwyn Richards, Chairman Richards, Emmalene Richards, Glenda Richards, Jayleighka Rigney, Michelle Roberts, Dianne Robinson, Stephanie Russell, Ashley Sansbury, Sandra Saunders, Sarah Saunders, James Schmerl, Peter Sharrock, Heather Kamarra Shearer, Damien Shen, Shalona Shilling, Timeisha Simpson, Tjunkaya (Pollyanne) Smith, Raylene Snow, Samantha Snow, Allen Sparrow, Rhiannon Sparrow, Renita Stanley, Tjariya Nungalka Stanley, Savannah Stawiarski, Carol Stevens, Kiana Stewart, Katielee Stewart, Wayen Strangways, Leilamarie Stuart-Likouresis, Serena Swadek, Colleen Taylor, Isabelle Taylor, Kellee Taylor, Sandra Taylor, Darryl Thomas, Lindsay Thomas, Ungakini Tjangala, Bree Toms, Ellen Trevorrow, Jasmine Trevorrow, Joseph Trevorrow, Christine Tschuna, Wesley Tschuna, Yana Tschuna, Celinda Tunkin, Jane Turbin, Ena Maude Turner, James Tylor, Lilly Ulah, Latoya Walker, Michael Walker-Fereti, Fah Fah Walsh, Shakaya Walsh, Katharine Watson, Atticus R. J. Ware, Emelena Warren, Ashleigh Wild, Kara Wild, Ian Willding, Jennifer Williams, Rowena Williams, Kobe Willis, April Pearl Wilson, Sabian Wilton, Dana Wright, Henry Young Witjika, Maureen Young.
Our Mob is presented in partnership with the Adelaide Festival Centre, Country Arts SA, Port Augusta Cultural Centre Yarta Purtli, Aṉanguku Arts and SA Statewide Indigenous Community Arts Development Project.