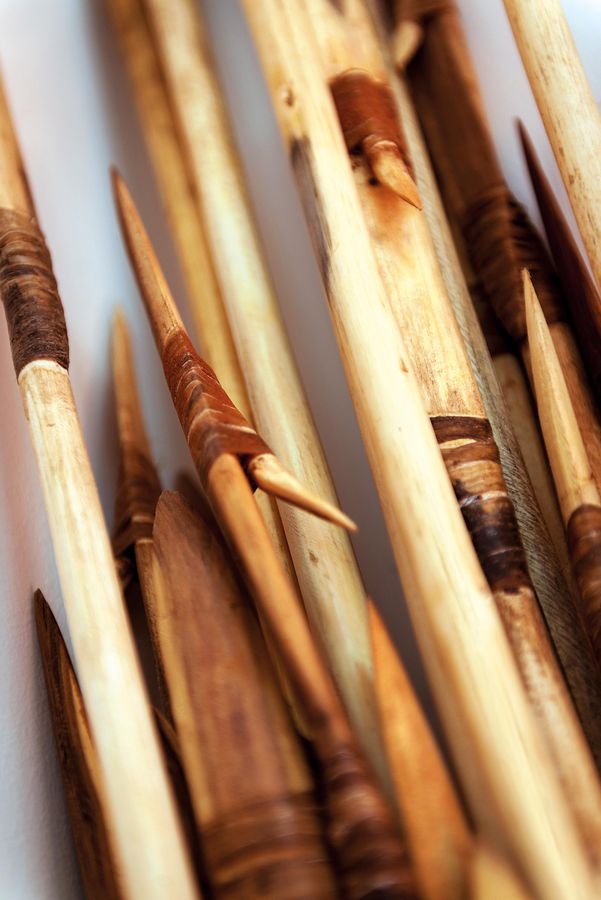 Kulata Tjuta Project
---
The Kulata Tjuta Project is a series of major contemporary art installations rooted in age-old Aboriginal traditions, knowledge and skills, and designed around ongoing cultural maintenance. The project was established in Amata by senior artists Willy Kaika Burton and Hector Burton, and now involves men from the seven art centres on the Anangu Pitjantjatjara Yankunytjatjara Lands whereby senior men teach younger men the skills of carving punu (wood) and kulata (spear) production.
The first Kulata Tjuta installation debuted at the Art Gallery of South Australia's 2014 Adelaide Biennial, Dark Heart. This second iteration, commissioned by the Gallery for Tarnanthi: Festival of Contemporary Aboriginal and Torres Strait Islander Art 2015, is an outdoor installation at Government House South Australia featuring hundreds of spears, film, sound and inma – a traditional dance ceremony.
Senior men, including Adrian Intjalki, David Franks, Keith Stevens and Mumu Mike Williams, have collaborated with Wiradjuri and Kamilaroi artist Jonathan Jones in the creation of their vision for the 2015 Kulata Tjuta Project. The work explores the ongoing relationship Anangu have with Country and is dedicated to those who have fought, and continue to fight, to keep their communities open.
'As a child I sat in a circle surrounded by my brothers, cousins, my father, uncles and grandfathers. This how I learnt my culture. Our culture works in circles, across the generations. Over the years I have tried to think of different ways to communicate or express the relationship Anangu have with country. My spirit, my soul, is my country. It is my family. It is me.'
– Willy Kaika Burton
Participating Art Centres
Ernabella Arts, Iwantja Arts, Kaltjiti Arts, Mimili Maku Arts, Ninuku Arts, Tjala Arts and Tjungu Palya