---
Touring Regional South Australia
Inspired by her direct environment and ongoing connection to country, Naomi Hobson's Adolescent Wonderland, first displayed as part of Tarnanthi's Open Hands exhibition, is a series of photographs that tell the real-life story of young Aboriginal people in remote Australia.  
The title of this series was inspired by the classic children's novel Alice's Adventures in Wonderland by Lewis Carroll. Themes of youth, playfulness and childhood memories are evident in Hobson's photographs. The brightly coloured figures and their props lure the viewer into a dream-like reality, much like how Alice follows the white rabbit. 
Naomi Hobson is a Southern Kaantju/Umpila artist who lives in Coen, a small town of 360 people in the centre of Cape York Peninsula in far north Queensland. A multidisciplinary artist, she regularly works across the mediums of painting, ceramics and photography.  
Adolescent Wonderland tours 11 regional galleries in South Australia from December 2021 until October 2023.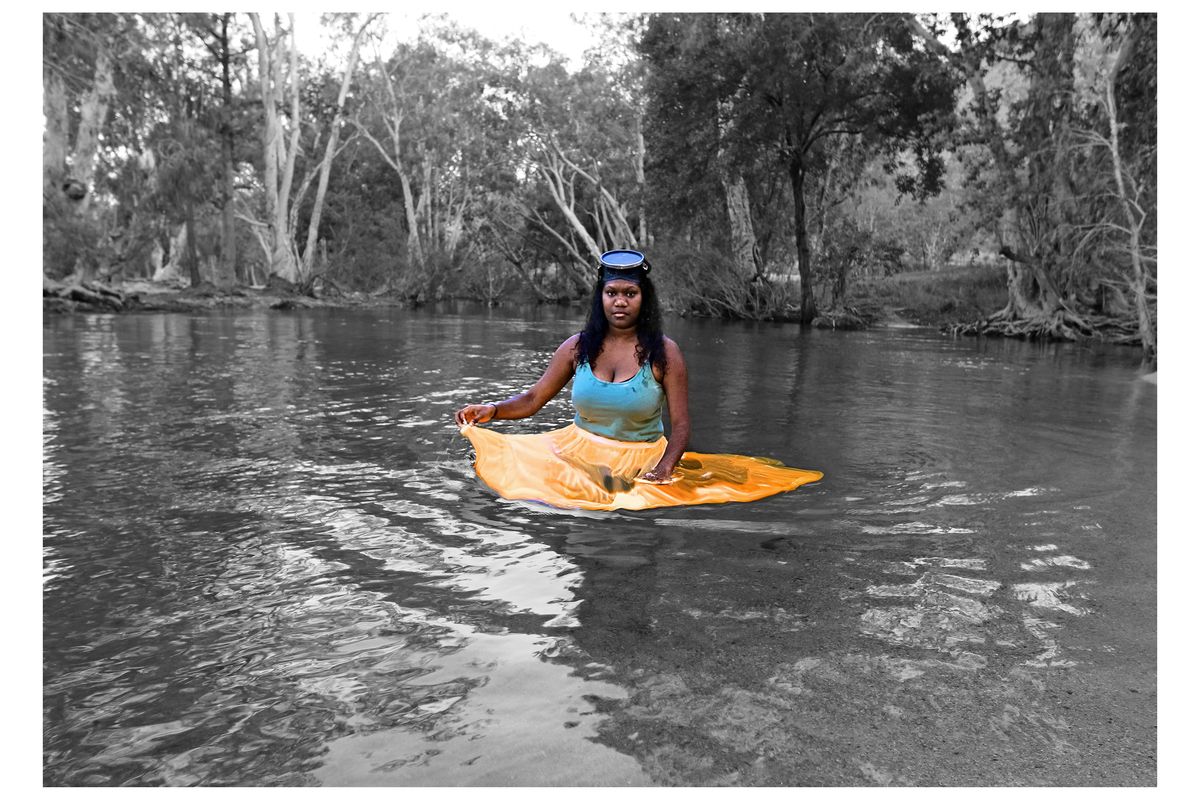 Where's Your Wonderland Photography Competition
Capture who you really are; your everyday and your community for your chance to win.
x

| | | |
| --- | --- | --- |
| Port Pirie Regional Art Gallery | Tarparrie/ Port Pirie | 11 Dec 2021 - 27 Mar 2022 |
| Port Augusta Yarta Purtli Gallery | Kurdnatta/ Port Augusta | 19 Apr - 5 Jun 2022 |
| Nautilus Arts Centre | Galinyala/ Port Lincoln | 10 Jun - 24 July 2022 |
| Roxbylink Art Gallery | Kokatha/ Roxby Downs | 29 Jul - 18 Sep 2022 |
| Chaffey Theatre | Erawirung/ Renmark | 23 Sep - 13 Nov 2022 |
| Riddoch Art Gallery | Bungandit /Mount Gambier | 18 Nov 2022 - 22 Jan 2023 |
| Naracoorte Regional Art Gallery | Naracoorte | 27 Jan - 26 Feb 2023 |
| Walkway Gallery | Tatiara/ Bordertown | 3 Mar - 22 Apr 2023 |
| Murray Bridge Regional Gallery | Pomberuk/ Murray Bridge | 28 Apr - 18 Jun 2023 |
| Burra Regional Art Gallery | Kooringa/ Burra | 23 Jun - 30 Jul 2023 |
| The Hahndorf Academy | Bukartilla/ Hahndorf | 1 Sep - 8 Oct 2023 |