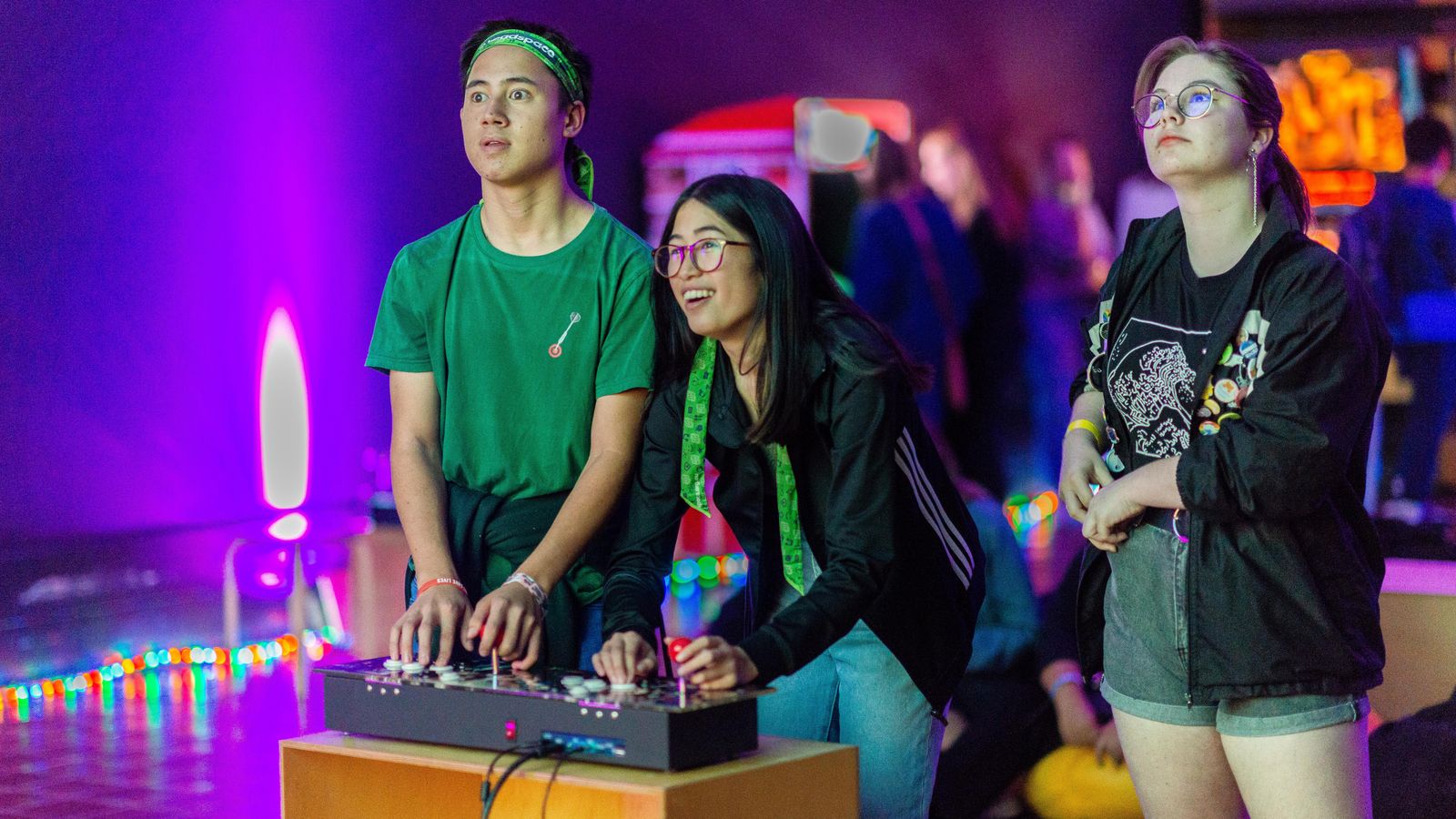 Festival
/
Teens
/
Special Event
Neo Ultraviolet
---
Prepare for some electric energy at Neo Ultraviolet, for a night charged with illuminated image-making, neon glow ups, video games, fandom badge-making, and a stellar line-up of teen musicians including Ultraviolet, Yasika Choure, S0UL Oscuro, Tonix and Kyyo-T. Don't forget to explore the latest wavelength of emerging artists in Neo's 2021 SALA Exhibition.
Poster Making with Jenna Pippett - Downstairs
Using existing design elements, participants will be invited to modernize a vintage-poster using digital collage and their own image.  As an artist Jenna is interested in recollections of the past. In this workshop the posters act as a framework allowing participants to access a historical event and create interchangeable ways of viewing and participating in the past.
Game Zone - Radford Auditorium
Chill out and play Mario Kart and Super Smash Bros with your friends on the big screen.
Automatic Drawing - Upstairs
Let instinct guide you in this automatic drawing session. Be inspired by Tom O'Hern's 1000 drawings from the end of the world which feature "mechanical monsters, future mega fauna, burning trees, skulls, weeds and disease. These drawings are new hieroglyphs - ancient emojis to be dug up in a million years and deciphered without a Rosetta stone."
Live Music
Ultraviolet - 6pm
Yastika Choure - 6.10pm
S0UL Oscuro - 6.30pm
Tonix - 7pm
Kyyo-T - 8pm
Glow Spark Face and Body Paint - Courtyard
Get ready for a neon glow up with Spark Face and Body Paint..
UV Drawing - Courtyard
Chill out and sketch in the black-light zone while you listen to live music.
Neo SALA Exhibition
Celebrate South Australian teen works of art in our Neo SALA exhibition, Ultraviolet. P.S. There's still time to enter your work! Head to 2021 Neo SALA Exhibition to find out more.
Sea of Light - The Studio
Immerse yourselves in a Sea of Light and draw in ultraviolet with Patch Theatre.
Kaleidoscopes with the Neo Ambassadors - Upstairs
Change the way you see the world by creating a dazzling kaleidoscope with the Neo Ambassadors in response to Olafur Eliasson's Dark Matter Bright Light in Gallery 17.
Fandom Badge-making with the Neo Ambassadors - Gallery 6
Are you a fan? Celebrate your fandom of choice by creating a pop-culturally inspired badge, in celebration of Roy Ananda's fan culture fuelled SALA display.
Meet a Stranger with the Neo Ambassadors - Downstairs
Want to meet someone new at Neo? Sit on either side of a doubled-sided work in Surrealists at Sea and use some conversation cards to have a chat before you see each other...
Response Wall
In response to the themes of identity and immigration in Surrealists at Sea, share an anecdote or story that has shaped your understanding of your family history.

The Photobooth - Atrium
Take a snap with your mates in the Photobooth.

Stay in the loop for this event
Register below to receive VIP program updates, exclusive opportunity invites, artist call-outs and competitions!