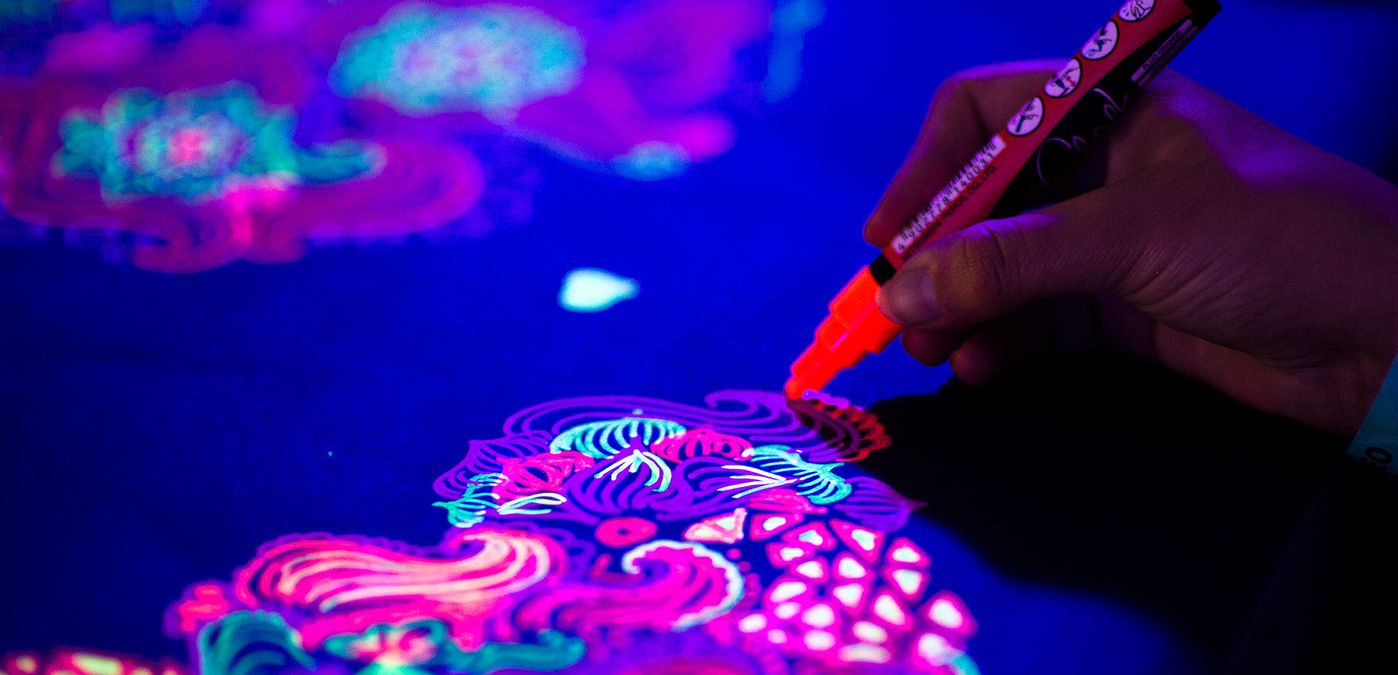 2021 Neo SALA Exhibition
---
We're looking for artworks of any medium, inspired by the theme 'ULTRAVIOLET'.
Young artists this one's for you! This August, Neo is hosting an exhibition as part of the South Australian Living Artists (SALA) Festival!
Be part of a statewide festival of visual art that supports, values and celebrates South Australian artists at any level. Each year, over 600 venues take part alongside 9000 participating artists!
The exhibition will be published online on Saturday 14 August until Thursday 30 September 2021, and also screened at our in person event Neo Ultraviolet on Saturday 14 August 2021.
The Theme
We're looking for artworks of any medium, inspired by the theme of ULTRAVIOLET. The Neo Ambassadors shared some thoughts reflecting on the theme to help you get started.
How does light change the way we perceive the world?
What light forms exist in nature? The sun? An aurora borealis? Light emitted by deep sea creatures? Fire? Make an artwork in response to this.
Make an artwork informed by an art movement that emphasises light - think Impressionism, Pointillism, Installation, or even the technique of chiaroscuro.
Make an artwork out of materials that reflect light
Your artwork is not limited to these ideas, we welcome any interpretation of the theme!
How do I get involved?
Create an artwork in response to ULTRAVIOLET - just make sure that it can be exhibited online!
Please submit your work using our online Registration Form.
This will either involve submitting a high quality photo of your work if it's a physical object (a painting, sculpture, etc.) or a file if it's a digital artwork or photograph. If you're keen to submit a video or animation, please share the file with us via a Google Drive Link.
Registrations
Registrations close on 25 July 2021 at 5pm. See the 'Registration Form' tab to submit your entry.
Exhibition Dates
The exhibition will be published online on Saturday 14 August until Thursday 30 September 2021.
Have a question?
Send your questions to neo@artgallery.sa.gov.au!
Make sure to run through this checklist before you complete the Registration Form:
Have I created an artwork in response to the theme 'ultraviolet'?
Do I have a way to present it online?

Is the artwork a physical object? Take a high quality photo of your work or scan it in if suitable.
Is the artwork a digital file (a photo, digital drawing, etc.) Upload the file!
Is the artwork a video or animation? Share it via a Google Drive link.

Do I have a short description of my artwork (one or two sentences is fine!)
Do I have my key contact details on hand?
Have myself and a guardian read the Terms and Conditions?
Terms and Conditions
I live in South Australia.
I am 13-17 years of age.
The artwork submitted must be the original work of the entrant themselves and not infringe the copyright, moral rights or other rights of any third party. This means you must not copy an artwork or photograph created by another person or an image from another source such as the internet or a print publication.
Artworks that are deemed not to belong to or be created by the entrant will NOT be eligible.
I agree that my artwork does not contain any offensive material and is suitable for all ages to view.
Please keep any physical copies of the finished artwork – you may be contacted regarding future AGSA projects.
Entrants will be added to Art Gallery of South Australia's enews.
Details of the work may be used at the Gallery's discretion.
Entrants will not be entitled to any fee for such use.
Licensing the artwork: Entrants grant the Gallery non-exclusive rights to reproduce their artwork in material form, to photograph, publish and/or communicate it to the public for the following project-related purposes, and anything incidental to such purposes, by the Gallery, its program partners and sponsors (including The Balnaves Foundation): marketing, publicity, educational and publication uses for the Gallery, the competition and its exhibition in all media, including but not limited to electronic/digital, broadcasting and print media in perpetuity.
A presenting partner of Neo, the licensing permission extends to the Balnaves Foundation, who may wish to reproduce artworks via their communication channels.
Artwork containing photography of kids is not permitted.
All good? You're now ready to submit your Registration Form!
Registrations close 25 July 2021.
Having trouble with the form? Contact us at neo@artgallery.sa.gov.au.