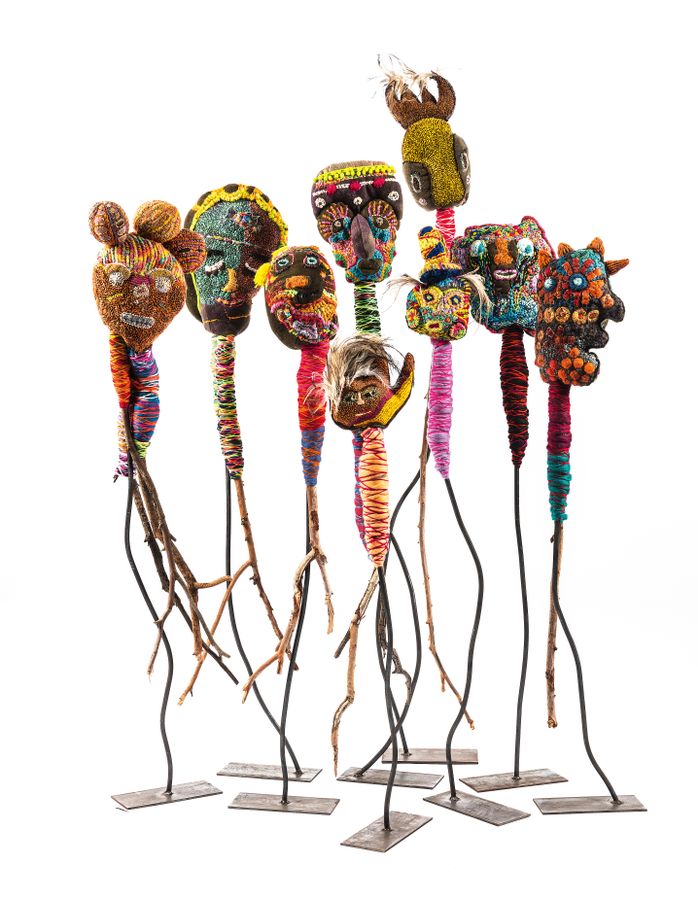 Every face has a story, every story has a face: Kulila!
---
Every face has a story, every story has a face: Kulila! is a group of embroidered sculptures made by nine women artists – Dulcie Raggett, Dulcie Sharpe, Marlene Rubuntja, Rhonda Sharpe, Rosabella Ryder, Roxanne Petrick, Roxanne Sharpe, Trudy Inkamala and Valerie Stafford, from the Yarrenyty Arltere Art Centre in Alice Springs. Using embroidery thread, wadding, twigs and dyed blankets, the artists at Yarrenyty Arltere manipulate techniques such as weaving, looping and knotting to create these unique figures.
Yarrenyty Arltere Artists, from the Northern Territory, comprises a dynamic community of artists who work across a range of soft sculptural forms. Originally established in 2000 as a response to the chronic social issues faced by the Larapinta Valley Town Camp community, the Yarrenyty Artlere Art Centre has played an integral role in rebuilding the community.
In the art centre the artists sew and prepare artworks while sharing their stories and culture. Every face has a story, every story has a face:Kulila! is a collaborative installation of life-size self-portraits describing this daily ritual. The distinct technique of dying recycled woollen blankets using local plants and scrap metal not only reflects an economy of means and resourcefulness but offers an insight into the daily lives of the artists. The vivid colours, bold stitching and combination of materials embrace 'both ways', of telling the stories of the artists lives. As the artists have said: See these faces, they all have stitches all over them all these stories, markings. That's what we do, sew and talk and listen and try to make things get better. So, we thought we might make these faces so you can listen, to us, to our stories.