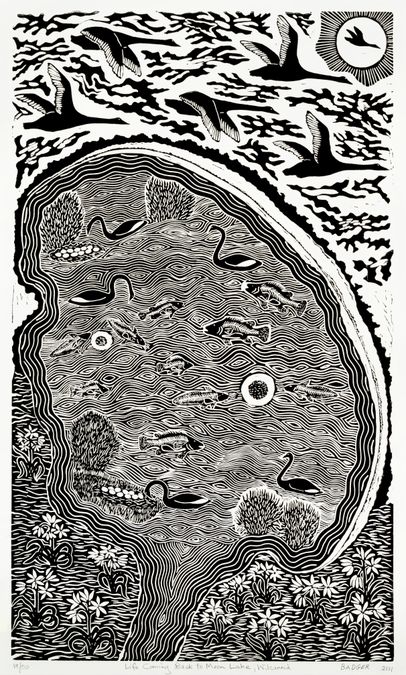 Badger Bates
---
Environment, water systems and culture
Badger (William Brian) Bates is a Barkandji Elder who was born in Wilcannia, NSW, in 1947. As a child he travelled up and down the Barka (Darling River) with his grandmother. 'Granny Moysey' taught Bates about his Barkandji culture and showed him how to carve.
Bates often works within the media of linocut printing, wood, emu egg and stone carving and metalwork. His lino prints show his connection to Country and the interconnected ecosystems of the Barka.
Barka, meaning river, is the home of the Barkandji or Barkanji people, the traditional owners of land around the lower Darling River, stretching from far west New South Wales to the South Australian border just above Broken Hill.
The Darling River, Australia's third largest river, and the surrounding area are home to many different plants and animals, such as yabbies, shrimps, fish, mussels, turtles, birds and old River Red Gums. These animals and plants have been an important food source for the Barkandji people, who have relied on the Barka's interconnected ecosystem.
In his works of art, Bates often depicts these food sources as well as other plants and animals that live along the Barka
'As an artist I always tell the stories that are important to me and my people, and I use any medium to do this, although there is always a strong element of traditional Barkandji motifs and lines weaving through the work'
Australian Curriculum Connection - Year 4 History
The diversity of Australia's first peoples and the long and continuous connection of Aboriginal and Torres Strait Islander Peoples to Country/Place (land, sea, waterways and skies)(ACHASSK083)
Australian Curriculum Connection - Year 4 Geography
The importance of environments, including natural vegetation, to animals and people (ACHASSK088)
The custodial responsibility Aboriginal and Torres Strait Islander Peoples have for Country/Place, and how this influences views about sustainability (ACHASSK089)
The use and management of natural resources and waste, and the different views on how to do this sustainably(ACHASSK090)
Barka means river and is the home of the Barkandji or Barkanji people
Research the current state of the Murray-Darling Basin and specific reasons why it is in the state it is. How might the health of the Darling River impact you where you live? Propose three actions that can be taken to improve the health of the river. Create a video or social media campaign to raise awareness of the Murray-Darling Basin and your proposed solutions.
Investigate work by Nici Cumpston, who is of Afghan, English, Irish and Barkandji heritage. Her work also responds to the Murray-Darling crisis. How have both artists communicated their concerns? Find out more about an environmental issue in your local area that you are passionate about. Create a work of art in response to this issue.
Create a drawing of an extinct or endangered Australian animal and its habitat. Experiment with contrasting colours and positive and negative shapes to distinguish the animal from its habitat.

Find out what animals live along a waterway close to where you live. Make a collaborative work of art based on this ecosystem.
Listen to Wilcannia Mob: Intergeneration's song Our Country, Our Way, which features Badger Bates's voice. This song celebrates culture and connection to Country. Write a song about the place where you live.