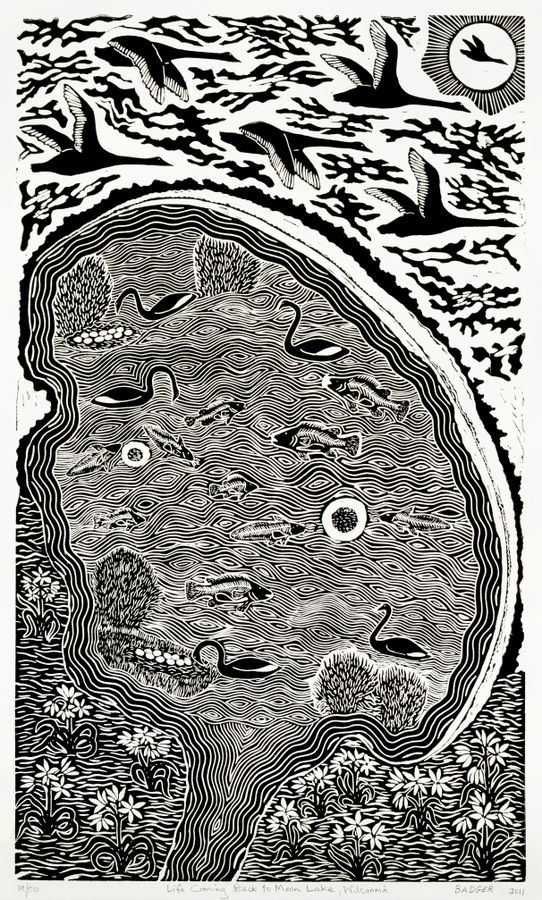 Badger Bates
---
Barka means river and is the home of the Barkandji or Barkanji people
Badger (William Brian) Bates is a Barkandji Elder who was born in Wilcannia, NSW, in 1947. As a child he travelled up and down the Barka (Darling River) with his grandmother. 'Granny Moysey' taught Bates about his Barkandji culture and showed him how to carve.
Bates often works within the media of linocut printing, wood, emu egg and stone carving and metalwork. His lino prints show his connection to Country and the interconnected ecosystems of the Barka.
Barka, meaning river, is the home of the Barkandji or Barkanji people, the traditional owners of land around the lower Darling River, stretching from far west New South Wales to the South Australian border just above Broken Hill.
The Darling River, Australia's third largest river, and the surrounding area are home to many different plants and animals, such as yabbies, shrimps, fish, mussels, turtles, birds and old River Red Gums. These animals and plants have been an important food source for the Barkandji people, who have relied on the Barka's interconnected ecosystem.
In his works of art, Bates often depicts these food sources as well as other plants and animals that live along the Barka
'As an artist I always tell the stories that are important to me and my people, and I use any medium to do this, although there is always a strong element of traditional Barkandji motifs and lines weaving through the work'