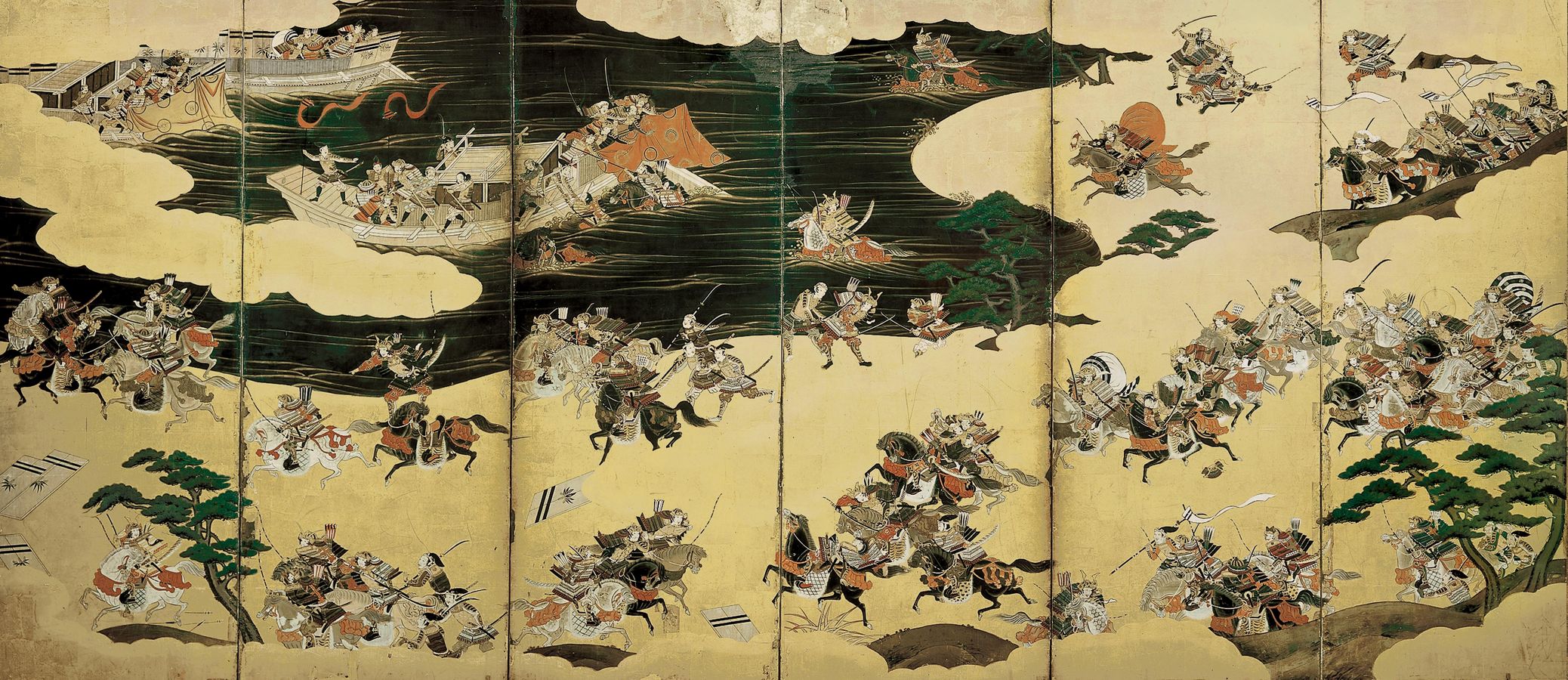 Samurai Transformed
---
For over 800 years the heroic deeds and epic tragedies of the samurai have infused Japanese art and culture. Over that time the role of the samurai has transformed due to social and political circumstances. The way and the manner in which artists represented them changed to suit the ethos of the period. Artists used a wide variety of media for different groups of people of different social standing.
During the Edo period (1615-1868), a time of peace and relative prosperity, the samurai class ruled Japan. Samurai transformed from warriors to bureaucrats and administrators. The heroic tales became the subject of myriad of art forms and were used to teach the ideals of the samurai.
Battle scenes from the Tale of Heike (Heike Monogatari) presents the iconic moments from book 9 of the great war epic of Japanese literature. It describes the tragic and poignant moments of the Genpei wars (1180-85) during which two powerful clans, the Heike (Taira) and Genji (Minamoto) fought for control of Japan. This scene depicts the moment that an older, experienced samurai called Kumagai, entices a 15 year-old samurai named Atsumori, to accept his challenge and face him in battle.
This pair of folding screens (byoubu) were created during the 18th century when the samurai's lethal skills were no longer required. These screens were created by a diversity of artists and craftsmen for a wealthy patrons, possibly a shogun or daimyo to decorate their vast mansions or castles. Screens like these were expensive to create and as a result were made specifically for a patron who would have chosen the most iconic scenes from the tale as a sign of their cultivation.
Sasai Kyuzo Masayasuc 1847-50, made in Edo (present day Tokyo) depicts the young samurai Sasai Kyuzo as he courageously runs forward to attack the opposition's lord. The firing from their matchlock guns is so intense that his Sasai's face is illuminated from the flash of each shot.
This print was created by the master designer of the warrior print (musha-e) Utagawa Kuniyoshi (1798-1861), who is one of the great four printmakers of the 19th century which includes Hokusai (1760-1849) and Hiroshige (1797-1858).
The city of Edo was one of the most populated cities in the world, significantly more than Paris or even London and was inhabited by townspeople who were highly literate and style conscious. This print was created for them, the lowest class of citizens in Japan at the time. Prints of the courtesans, kabuki actors and legendary samurai were greatly admired and were reproduced for sale for the price of a bowl of noodles.
In Conquest of the Karasu Tengu, created in 2005 by Tenmyouya Hisashi, a samurai attacks goblins with long noses and wings, referred to in Japan as tengu. They are believed to inhabit the mountains north of Kyoto and appear in the earliest chronicles of Japan. This print is from the series One hundred new ghost stories and was inspired by well known series of woodblock prints by artists such as Tsukioka Yoshitoshi (1839-1892) the late master of prints of the floating world (ukiyo-e).
Tenmyouya is a Japanese contemporary artist whose paintings, prints and installations have been exhibited all around the world and are immediately recognisablefor their combination of historical media presented in a distinctly modern fashion. As an artist and art theorist his work engages withthe history of art and culture in Japan and seeks to expose lost histories of art thereby providing new ways of understanding Japanese art.
Hatsuhana prays under the waterfall, from the series Biographies of wise women and virtuous wives (kenjo repu den) by Utagawa Kuniyoshi was inspired by a bunraku (puppet theatre) and kabuki (classical Japanese dance-drama) 'revenge play' titled: Miracle of the deity at Hakone, the cripple's revenge. It was based on these historical events and first performed in 1801. 
Hatsuhana was the beautiful wife of the warrior Iinuma Katsugoro (c. 1590) who spent one-hundred days under a waterfall praying to the deity Hakone Gongen to cure her husband's illness. She was subsequently killed by her husband's evil rival. The deity healed Iinuma Katsugoro and he exacted revenge for Hatsuhana's death.
Hatsuhana's loyalty and fidelity are mentioned in the play, as in 1842 new print regulations stipulated that prints should present virtue among women and children rather than simply depict courtesans and geisha.
Look at the works of art above. The first work is a pair of six panel screens that depict the great war epic of Japanese literature. The other is an inexpensive woodblock print depicting the beloved heroes and despised villains of samurai history in vivid and violent fashion for the delight of the townspeople of the vast urban centres of Edo, Kyoto and Osaka.
How do these depictions differ?
What elements do you recognise?
What questions do you have about the imagery?
Who was the audience for these depictions of battle?
Find a contemporary example of a samurai depicted in either art, film or popular culture. What similarities do they each share?
What does the depiction of conflict in these works of art tell us about the values or code of behaviour of the Samurai? Select 2 more works of art from the collection that reflect the samurai values. Explain how these works demonstrate samurai values.
Women warriors learnt the skills of the sword and fought in battle alongside the men. Research some significant women from Japanese history. Tip: Empress Jingū, Tomoe Gozen, Hangar Gozen, Empress Jingu and Yamamoto Yaeko.
Describe what is happening in The Tales of Heike. What is missing in this painting? What would you expect to see in a war scene?
Contemporary artist Tenmyouya Hisashi was inspired by Tsukioka Yoshitoshi (1839-1892). Compare examples of their work. How are they similar in style, technique or the way they tell a story in their work?
Consider western examples of superheroes like Batman or Superwoman. How are comic book depictions of these characters similar to Hisashi's image of a samurai?
Look at Captain Hedland versus The Fisherman by Banjiyma artist Layne Dhu-Dickie. List the qualities and characteristics of a samurai, Captain Headland and a comic book hero or anti-hero of your choosing. Make a list of their characteristics, appearance, attire and special skills, and compare. Do they share any similar traits?
Using these characteristics, as inspiration design your own heroic character. What is their belief system, who are they trained to protect? What special skills do they have? Write a short comic book using your character. Tip: You might like to use other characters designed by your classmates in your story. This is also a great place to start looking comics or graphic novels from Japan in the style of Manga.
Find a contemporary filmmaker who has been inspired by the Tale of Heike and or samurai. How does their depiction differ to what you see in the works of art created during the 18th century? What are the main themes or ideas represented in each? How reliable are both sources in retelling historical events? What is the role of contemporary depictions of samurai?
Create a panel painting that tells a story about an event that has happened in your life. Perhaps a family holiday or wedding or a sports event. Plan your story so that you have an interesting element on each panel.
Why do you think the artist used a lot of gold in Battle scenes from the Tale of Heike (Heike Monogatari)? What might this suggest about the Samurai lords, for whom these paintings were made?
Investigate woodblock prints by other Japanese artists and compare these to the work of Australian artists such as Margaret Preston, who visited Japan in the 1930s and was influenced by Japanese art.