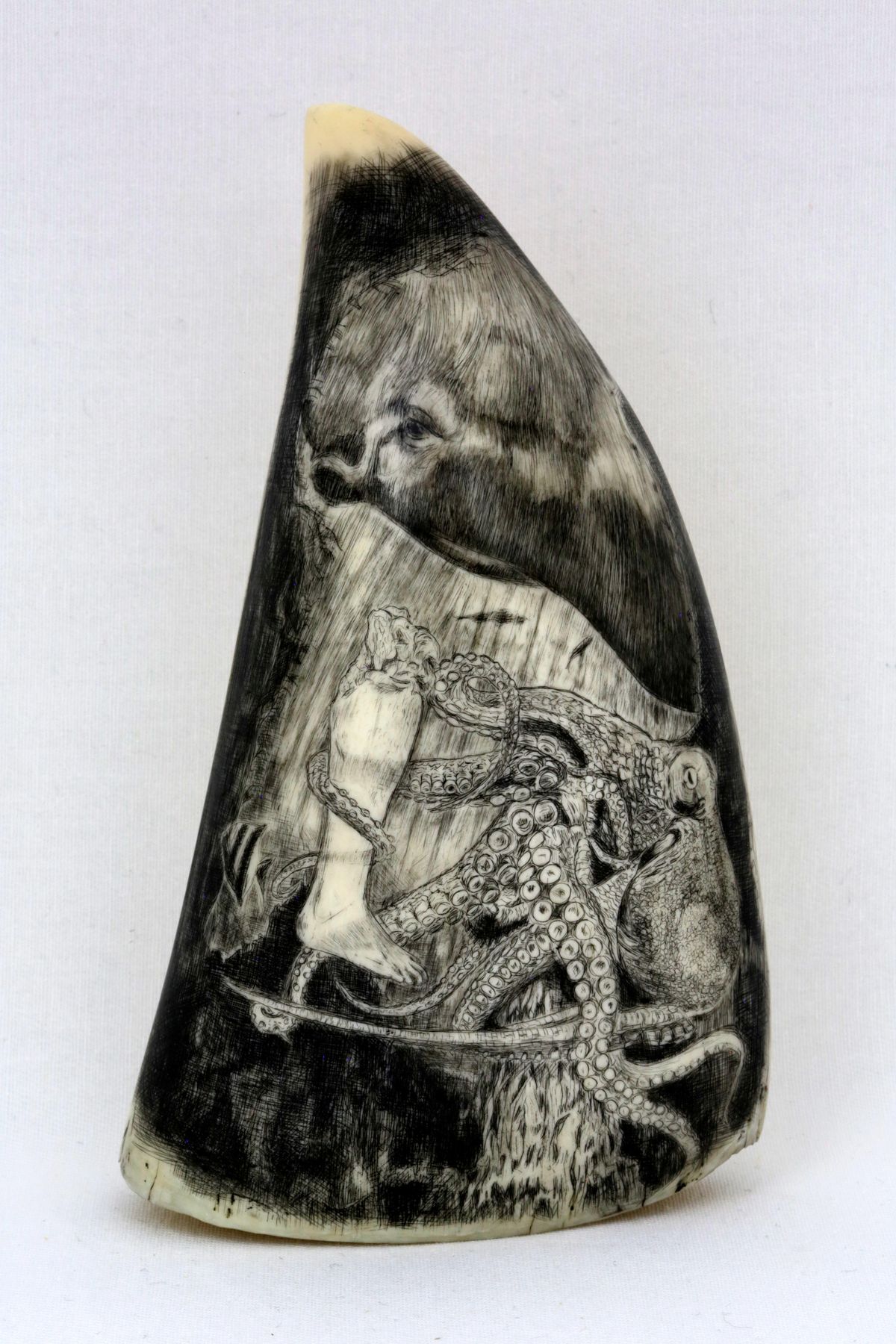 Anna Nazzari
---
The Séance (2015), The Phantom Leg (2015) and The Burial Grounds (2015)
In 2015, Anna Nazzari produced a series of carvings using the late-eighteenth century technique of scrimshaw. The hand-skill involves engraving the surface of whales teeth and bones. As a relic of the whaling industry, the teeth are frequently dominated by heroic imagery chronicling dangerous sea journeys; coastlines and landscapes recorded from sea; and feature portraits of boats, sailors or important naval figures. A scrimshander, the title given to a person who produces scrimshaw, would often rub the carving with soot to make visible the etched surface.
With increasing demand for conservation, whaling in Australian waters permanently ceased in 1979. As a result, scrimshaw is rarely practised and contemporary scrimshanders only use whales teeth already in circulation. Nazzari sourced the teeth for her scrimshaw series through estates and antique auctions in Albany, one of the last operational whaling stations in Australia and where she learnt the craft.
Under Nazzari's hands the whales teeth are powerful talismans. They are the physical evidence of an animal that once lived. Nazzari builds a relationship between your body and the imagined body of the whale; in observing the teeth, you and the spectre of the whale now occupy the same room. The imagery of The Séance (2015) doubles down on this idea. In their attempt to communicate with spirits, three men are seen to sit around a table conjuring a phantom whale. The Burial Grounds (2015) also describes a supernatural occurrence. A man levitates above the ribs of a beached whale. His hands and feet appear energetically charged, the background farm house places us out of time, and a brooding sky altogether evoke an eerie sense of spiritual power. Nazzari's images of the whales, as well as the teeth themselves, embody tales of radical environmental change, loss and resurrection.