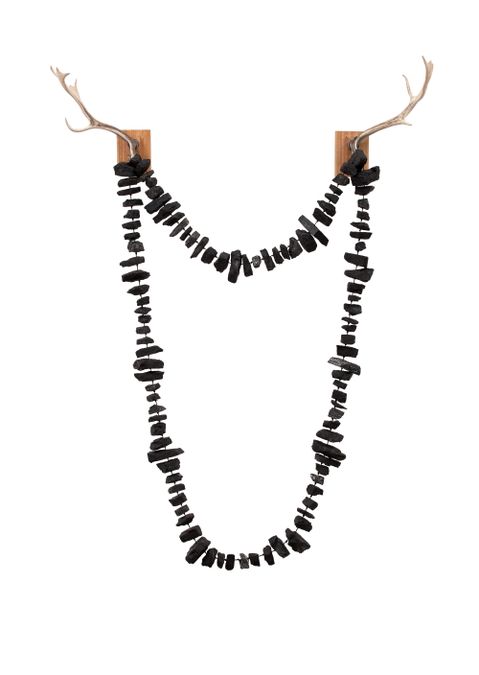 Julie Gough - Malahide
---
Malahide is large-scale sculpture by Julie Gough and is made from 108 pieces of coal, strung together over found antlers. The work takes its name from a colonial property, Malahide, in Fingal, Tasmania, a place that, like the sculpture's materials, has born witness to Australia's early contact history.
Gough is innately drawn to coal as a material, with both sides of her family involved in its mining, in Tasmania but also in Scotland. Extracted from cavernous places, the coal exposes truths that have been buried deeply under the earth. The deer antlers become representative of hunt trophies adorned on walls in houses and the forced removal of Aboriginal people from their Country by colonists.
In this work, Gough translates the usually intimate scale of the Tasmanian shell necklace making tradition to create a heavy sculpture, that carries the weight and burden of Australia's shared histories. Steeped in multiple meanings, the work serves to memorialise, remember, and uncover the forgotten.
Written by Associate Curator, Aboriginal and Torres Strait, Gloria Strzelecki
Before reading the wall label or any information about Malahide,look closely at the work and describe what you see. What is this work of art made from? Make a list of words to describe the materials, what would the materials be like if you were to touch them?

Investigate coal mining in Australia. What are the impacts of coal mining on the environment, people's health and the economy? Research some alternative clean energy solutions which Australia could adopt. Write a letter to your Environmental Minister outlining your concerns regarding coal mining in Australia and why other methods is a good idea for our climate.

Malahide references the Tasmanian shell necklace making which are usually intimate and delicate in scale and material. In contrast Malahide is large and heavy. Imagine what it would be like to wear this neckpiece. What is Gough communicating about Australian history? Now look at the neckpiece by Lola Greeno. Discuss how scale and materials changes the way you respond to a work of art
Compare Malahide to the oversized river reed neckpieces or Ancestral Memory 2, 2019,(a large glass eel trap) made by Maree Clarke. Why do you think both artists chose to increase the scale of these objects? How are Clarke and Gough communicating similar ideas about the enduring culture Aboriginal people?

Gough's influence and inspiration comes from the people, stories, places, skills and connections to her maternal Tasmanian Aboriginal heritage. Create a sculpture that tells the audience the history of your family and who you are.
Coming soon
Tuesday Talk - Gloria Strzelecki discusses the installation by Trawlwoolway artist Julie Gough as part of Tarnanthi
The Gallery's Learning programs are supported by the Department for Education.
This education resource has been developed and written in collaboration with Kylie Neagle, Dr. Lisa Slade and Gloria Strzelecki.