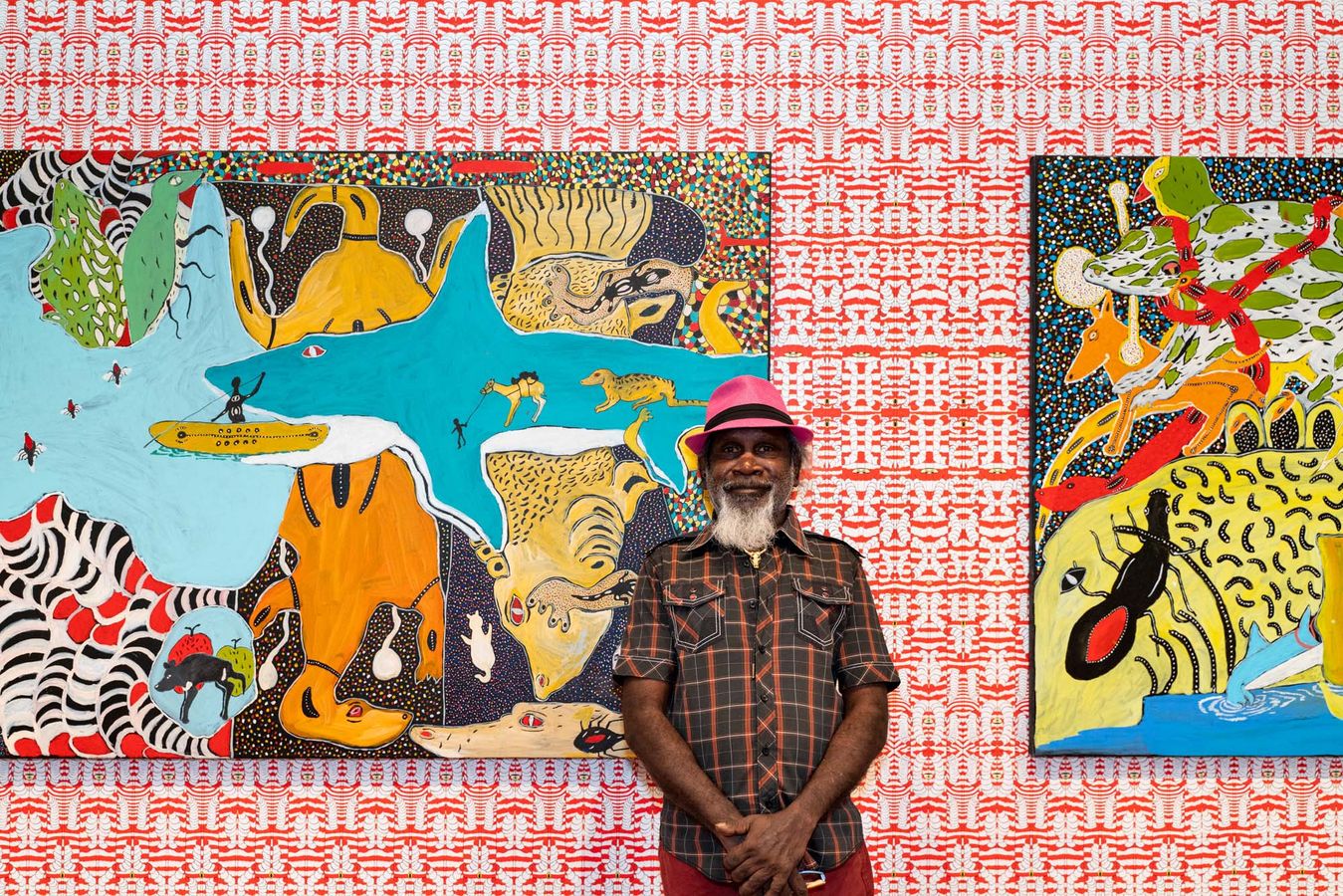 John Prince Siddon
---
A Walmajarri man of the Great Sandy Desert, Western Australia, John Prince Siddon (b. 1964) came to painting later in life. Having spent his younger years working on cattle stations, a horse-riding accident truncated Prince's life as a stockman and instead led him to Mangkaja Arts in Fitzroy Crossing. Although Prince only joined the art centre in 2009, his connection to Mangkaja runs deep. His father, Jirtin Pompey Siddon, was among one of its founding members – an artist in his own right.
As a painter, Prince is as distinct as he is prolific; "Once I learnt to paint, I just couldn't stop."[1] His riotous mix of surreal figuration and traditional mark-making, psychedelic compositions painted in technicolour tones, has forged a unique narrative style. Using whatever surface is close at hand – canvas and board, but also bullock skulls, possum and kangaroo pelts, ngurti (coolamon), scrap tin, even satellite dishes – Prince collapses his personal history with national stories and narrangkarni (ancestral creation stories) to create kaleidoscopic visions of contemporary Australian life.
[1] John Prince Siddon quoted by Emilia Galatis, All Mixed Up: John Prince Siddon, Fremantle: Fremantle Arts Centre, 6 February – 22 March, 2020, exhibition catalogue, p2
Articles and Books
All Mixed Up: John Prince Siddon.Fremantle: Fremantle Arts Centre, 6 February – 22 March, 2020. Exhibition catalogue.
Cumpston, Nici. Tarnanthi 2021. Exhibition catalogue. Adelaide: Art Gallery of South Australia, 2021.
Eccles, Jeremy. "Wadjuk in the Black". Aboriginal Art Directory, 25 February, 2020.
John Prince Siddon – Hatching Time. Abbotsford: Chapman & Bailey,16 October – 21 November, 2020. Exhibition catalogue.
Johnson, Miranda. "Ancient and modern intertwine." Seesaw Magazine, 18 February, 2020
Jorgensen, Darren. "All Mixed Up." Semaphore Art, 18 February, 2020.
McDonald, John. "John Prince Siddon: eclectic, gothic and psychedelic."Sydney Morning Herald, 26 February, 2020.
McDonald, John. "'No boundaries': John Prince Siddon brings an original dynamic to Indigenous art." Sydney Morning Herald, 6 November, 2020.
Smith, Barnaby."Prince and the Revolution."Art Guide Australia, 7 February, 2020.
Websites
Mangkaja Arts Resource Agency. "John Prince Siddon".
This Q&A featured in Tarnanthi: Make and Create, an activity book designed for children.
What made you become an artist?
After an accident I wasn't able to work as a stockman any more. I had so many ideas and I was bored so I started to paint all kinds of things to pass the time. Now once I started I just couldn't stop.
How would you describe your work?
Well to me I'm still mixing stories, painting them better than one, somebody has to do it. As Burke and Wills, what a true Aussie. I am making my own stories and making them fit altogether. I'm trying to piece together every animals – North, South, East West – trying to mix them up like a jigsaw – they love each other they hate each other. Landscape, dreamtime stories, kid's paintings, poetry, animals; put them all together, it's all the same with my paintings.
What is the role of an artist?
I see that art is always a part of my life and it's really important for me to tell my stories this way, get them out and share them with the world. If I can say what I want to say I can say it through my art and that can help change people's ideas about art that is made in remote communities.
What do you enjoy about making art?
There are no rules and it helps me get out all my worries. I get worried watching the news and thinking about what is going on in the world and what is happening in my community all around me. I feel sad and get stressed out – art is a way for me to deal with these issues and communicate with the outside world.
Who inspired you?
These kind people and animals and the things are my true blue heroes, not the ones you see on the movies, local hero make you think twice sometimes, make you cry, laugh most of the stories are true. It's not about getting a top model or the brave things they done. It's who you are as a person or animals they deserve to be who they once was many untold stories out there today.
Hear from John Prince Siddon
Lisa Slade in convo with John Prince Siddon, Emilia Galatis and Liam Kennedy
Walmajarri people were displaced and relocated through systems of colonisation, resulting in them being exploited as unpaid labourers on cattle stations across the region. Investigate the impact that invasion has had on the Walmajarri people.
Prince often paints about local and global events, notably the 2020 bush fires on Kangaroo Island in South Australia. His imagery of these incidents is combined with the ancestral stories of his desert homeland to create scenes with patterns and dazzling spectrum of colour. In some instances, Siddon has used elements from his paintings to create a tessellated pattern. Using a significant event as inspiration design your own tessellated pattern.
In a 2020 Sydney Morning Herald article about Prince, critic John McDonald stated: 'Siddon has more in common with Hieronymus Bosch than Papunya Tula'.
In 'Prince and the Revolution, an article featured in Art Guide Australia 2020, writer Barnaby Smith wrote: 'Siddon is a dazzling mixture of Rover Thomas and often confronting imagery of avant-garde filmmaker Alexander Jodorowsky'
Divide the class into two and debate one of these statements, research and use works of art as evidence to support your argument.
Prince began painting in 2009 and he likes to paint on different surfaces - from boab nuts to bullock skulls. His work responds to both local and world events which he combines with the ancestral stories of his desert homeland.
The boab tree, also called bottle trees or the tree of life, is native to the northern part of Western Australia. Prince loves boab trees - they produce large nuts that are a great source of food and medicine. They also make great art!
Have you ever seen a boab tree? If not take a look at the photograph below by artist James Tylor.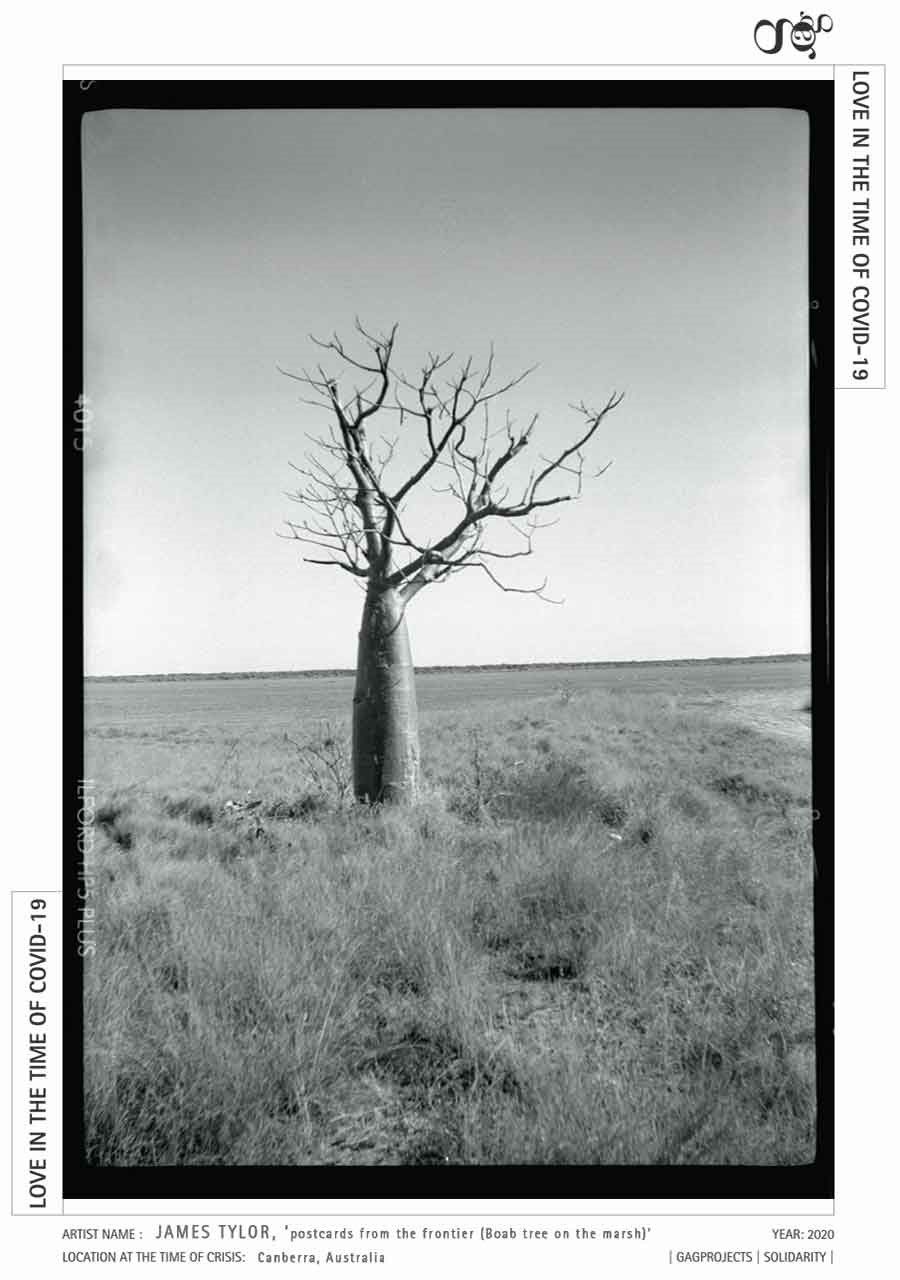 Create your own sculpture
Using the boab nut template, take inspiration from Princes' bold patterns to create your own colourful designs inspired by what matters to you most. You might draw inspiration from your favourite animal or the patterns you see in nature or where you live.
Step 1
Select colours from nature and a favourite animal.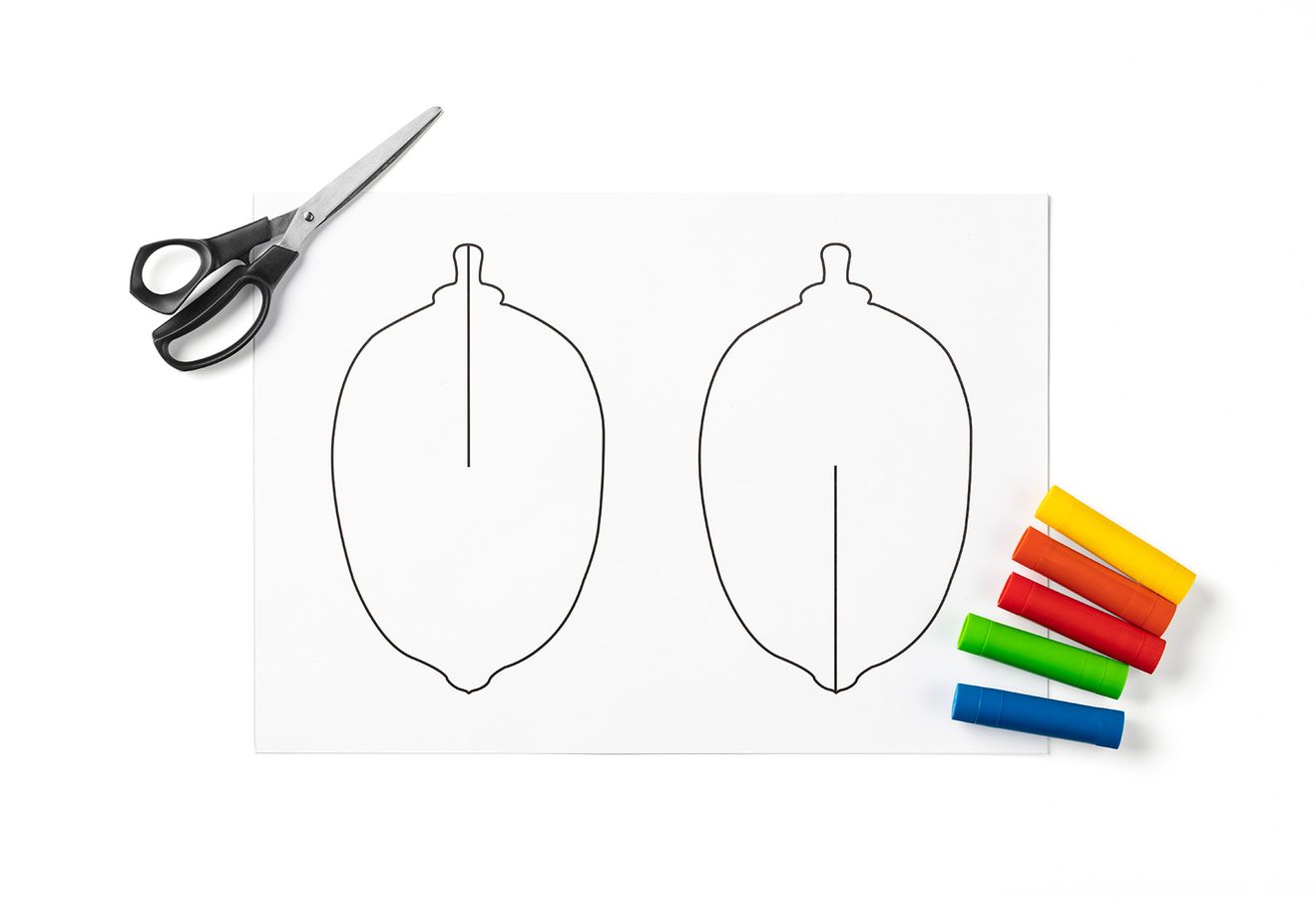 Step 2
Draw your designs, you can be completely random with these. We have used oil pastels but you can use pencils or textas too!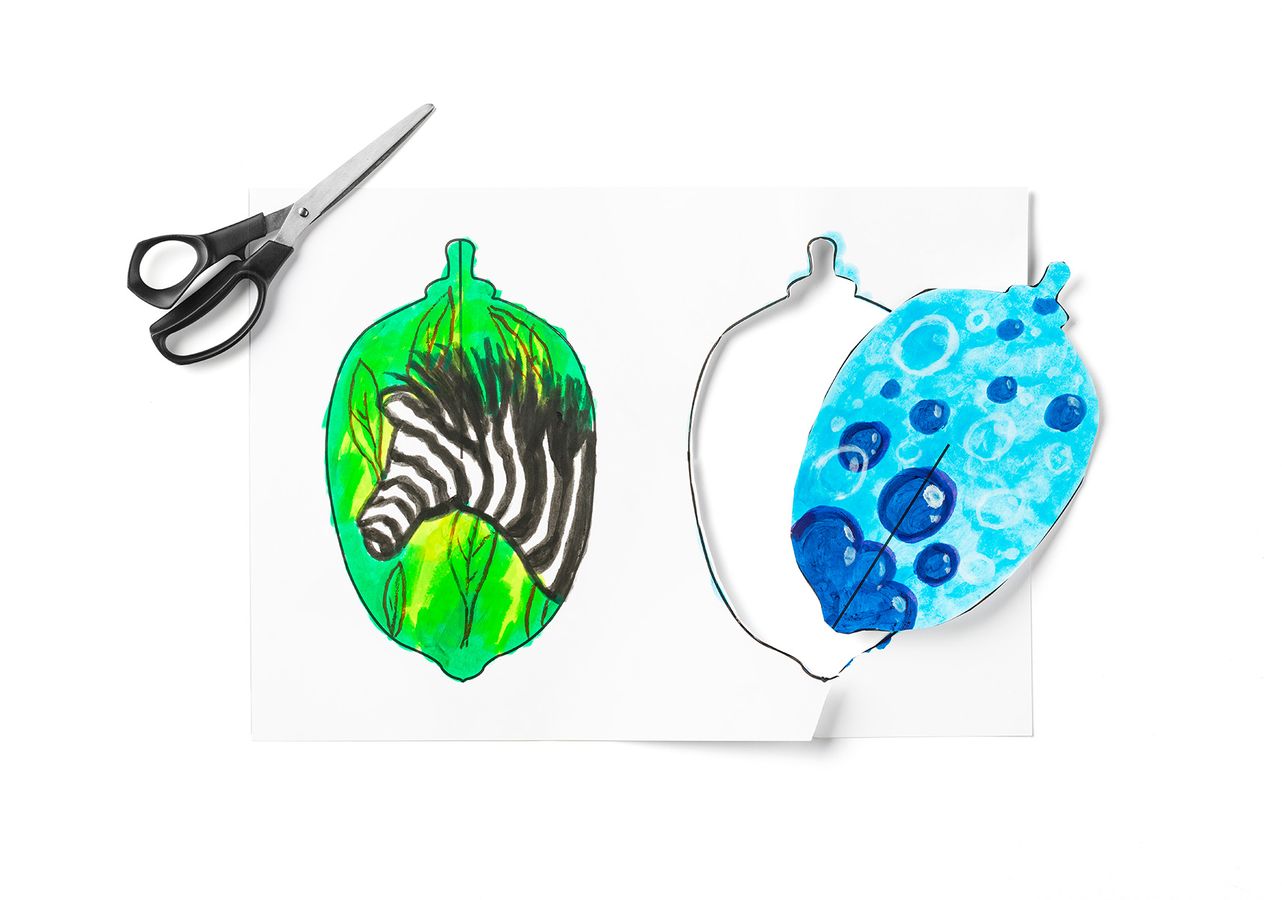 Step 3
Cut out your designs and slot them into one another and your boab nut design is complete.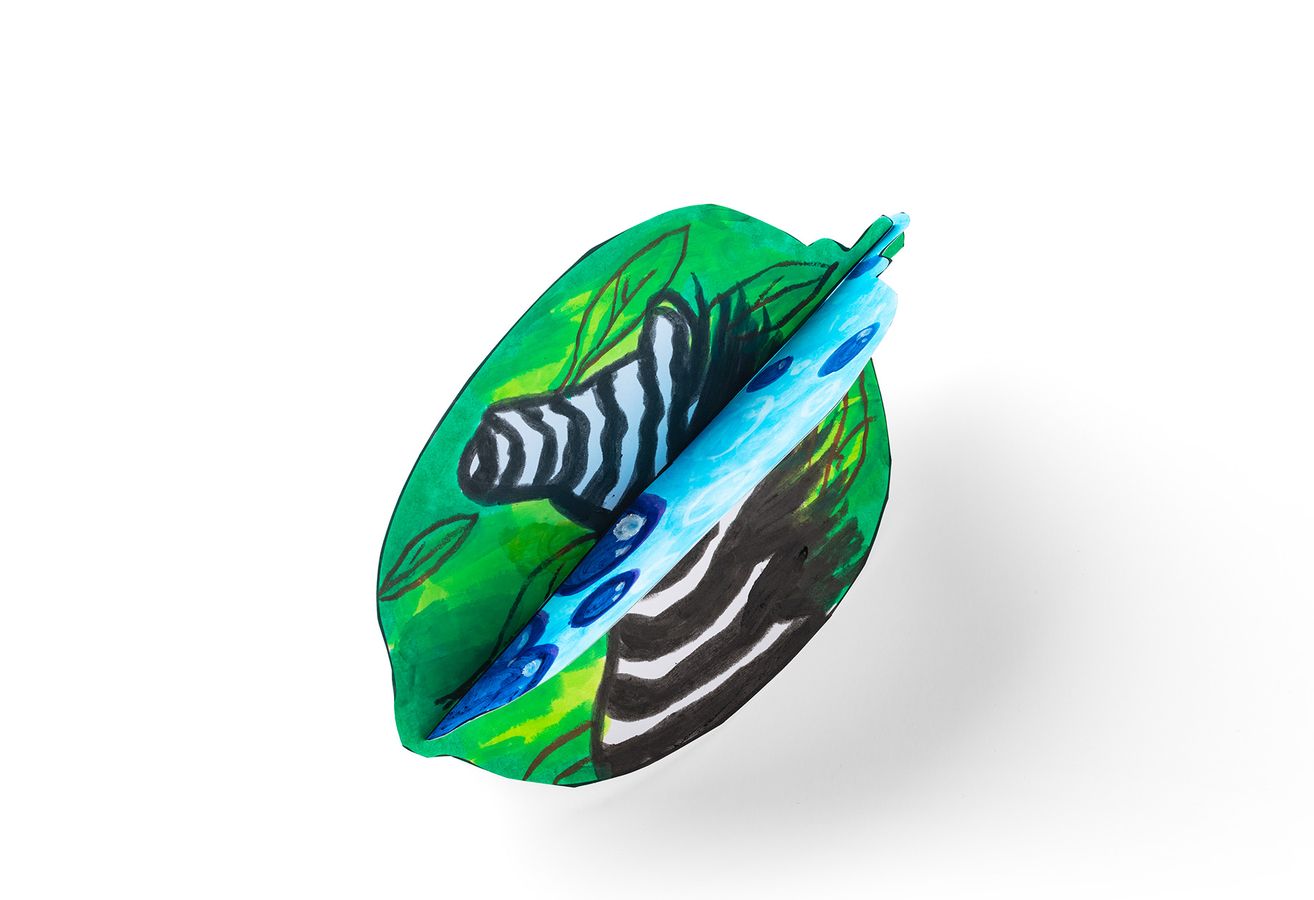 Tarnanthi is presented by the Art Gallery of South Australia with Principal Partner BHP and support from the Government of South Australia
The Gallery's Learning programs are supported by the Department for Education.
This education resource has been developed and written in collaboration Dr. Belinda Howden, Kylie Neagle and Dr. Lisa Slade.