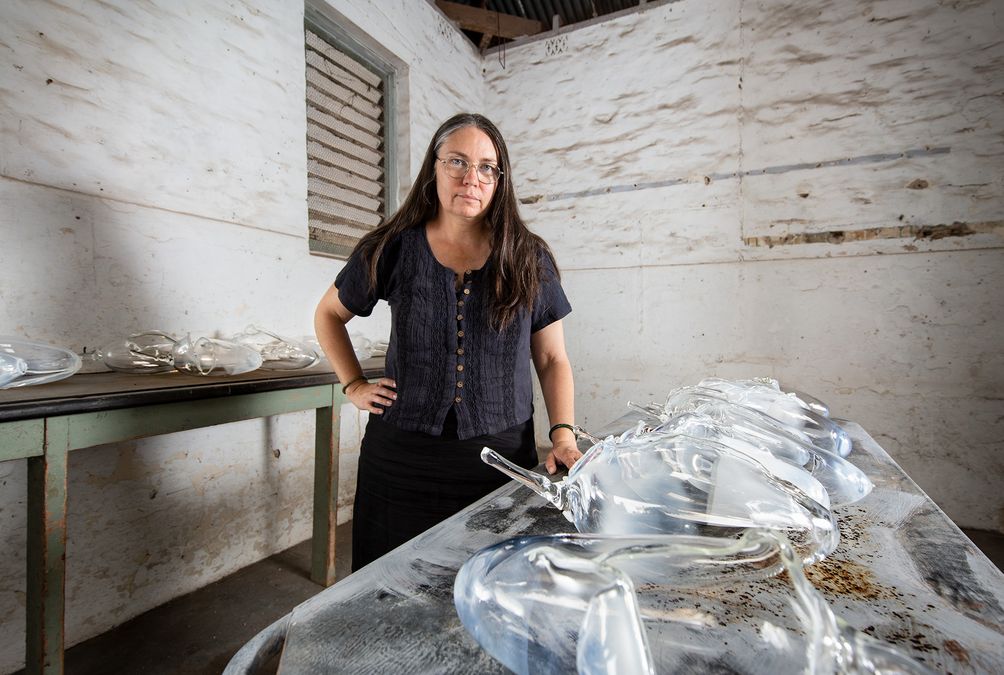 Yhonnie Scarce
---
Yhonnie Scarce (b. 1974) was born on a military base in Woomera, a small South Australian township approximately 450 kilometres north of Adelaide. Belonging to the Kokatha and Nukunu peoples – whose traditional lands cover a large expanse north of Port Augusta, stretching from Lake Torrens in the east to the Gawler Ranges in the west, and the southern Flinders Ranges, respectively – today, Scarce spends her time living and working between Melbourne and Adelaide.
Scarce began working with glass during her studies at the University of South Australia in 2003 and was the first Aboriginal student to graduate in the discipline. "When I was training as a glassblower, there was this idea that you would move on to do more functional objects. I couldn't see my culture being in a drinking vessel or something like that."[1] Instead, Scarce quickly developed the recurring and enduring motif of blown glass bush foods – silky pear, long yams, bush plums and bush bananas – as anthropomorphic objects representing the bodies, lives and stories of her family members and Aboriginal community.
Soon after graduating, Scarce also began visiting and researching memorials internationally. Winning the 2008 Qantas Foundation Encouragement for Australian Contemporary Art Award through Adelaide's Experimental Art Foundation (AEAF) enabled Scarce to visit Berlin, in particular Peter Eisenman's Memorial to the Murdered Jews of Europe. This trip later proved to be instrumental in developing her own practice around memorialisation.
Not all my works are memorials but they are about memory and history, looking at the past, looking at the hard stories and holding people accountable. When I make work memorialising my family, it is not about their death but their life. I am celebrating and honouring them, remembering them
Watch and Listen
TARNANTHI 2015 – Yhonnie Scarce

The Art of Glass: Lisa Slade and Yhonnie Scarce in Conversation
As part of the Art Gallery of South Australia's inaugural Tarnanthi Festival in 2015, Scarce produced an installation of over two thousand hand-blown streaky green glass yams, her largest and most ambitious work at the time. Taking on the form of an atomic fallout cloud, Thunder Raining Poison (2015) directly addressed a history of British nuclear testing during the 1950s and 60s in Maralinga, within the Woomera Prohibited Area (WPA) – a weapons research facility and defence area used for testing war material. Having lived on the southeastern edge of the WPA, Scarce grew up knowing the history of the region, the removal of Pitjantjatjara and Yankunytjatjara people and desecration of their traditional lands as well as direct accounts of nuclear survivors. 'It's probably one of the most hidden histories within Australia, not just South Australia."[2]
A vital process in developing Thunder Raining Poison was to undertake fieldwork. Scarce took six glass associates from the JamFactory's hot shop to visit Breakaway – an historic bomb site among the first suite of nuclear tests conducted in 1956. Breakaway was significant due to the heat of the blast. With temperatures exceeding 1600°C degrees, the explosion transformed the silica of the desert sand into a field of radioactive glass.
Standing there, you can see the circumference of the blast on the ground. Dark green snotty glass is speckled across the whole site, amongst the red dirt. It feels deadened; there is no energy, you look around and it's silent
For the 2020 Adelaide Biennial of Australian Art: Monster Theatres Scarce unearthed another South Australian history, this time in relation to the 'Dead House' – a small nineteenth century brick building on the grounds of the Adelaide Botanic Gardens. Once used as a morgue to the Adelaide Lunatic Asylum, it was workplace to the Scottish physician, William Ramsay Smith, who in 1903 came under government enquiry for his post-mortem practices. Using his position to illicitly dissect and remove human remains, Smith is acknowledged as one of the most prolific colonial collectors and exporters of Aboriginal bones and soft tissue.[3]
Scarce's installation of thirty glass bush bananas, In the Dead House (2020), occupied the brick building. A native plant to South Australia, the fruit was handblown in alabaster white for its spectral and unpredictable properties and then flayed open, echoing the treatment of Aboriginal people and their bodies under Ramsay Smith.
[3] Claire Scobie, 'The return of the bones', Meanjin, vol. 68, no. 4, Summer 2009, p. 127
I like calling these people out or going after them – naming and shaming – because they were major perpetrators of crime against Aboriginal people. Same as Maralinga, these stories are very hidden. I don't feel obligated but it is part of who I am as a person. It prompts me to make works that remain for a long time, that remain as an archive – a glass archive. The reason I use bush food is because they are really beautiful objects unto themselves. And, that's what we are as Aboriginal people. We are approachable; we are still here; we are resilient
Books
Cumpston, Nici. Tarnanthi 2015. Adelaide: Art Gallery of South Australia. 2015.
Articles and Essays
Browning, Daniel. "Yhonnie Scarce: 'Australia is very good at forgetting the past.'" Ocula. 2 June, 2021.
Clark, Maddee. "Yhonnie Scarce's art of glass." The Saturday Paper. No. 304, 6-12 June, 2020.
Dow, Steve. "'Meth Kelly' and colonial monsters: Australia's biggest art shows get Indigenous rewrite." The Guardian. 25 February, 2020.
Flux, Elizabeth. "In Conversation with Yhonnie Scarce". Broadsheet. 13 July, 2021.
Neilson, Lindy. "Yhonnie Scarce: Thunder Raining Poison." Art Gallery of South Australia. Education Resource. 2015.
Rice, Zoe. "Facing demons in the 2020 Adelaide Biennial." SA LIFE. 25 February, 2020.
Ray, Debrika. "Glass artist Yhonnie Scarce shines a light on the oppression of Aboriginal people." Crafts Council. 17 March, 2020.
Websites
"Yhonnie Scarce." This Is No Fantasy / Dianne Tanzer + Nicola Stein. Accessed 12 October, 2021.
"The Image is not Nothing (Concrete Archives)." ACE Open. Accessed 12 October, 2021.
Videos and Podcasts
"2020 Adelaide Biennial – Yhonnie Scarce." Art Gallery of South Australia. Video, 3:19, 10 July, 2020.
"Clare Belfrage & Yhonnie Scarce: The Role of the Artist." Guildhouse. Online. Video, 1:09:17, 22 September, 2020. https://guildhouse.org.au/project/revision-clare-belfrage-yhonnie-scarce/
"Looking Glass: Judy Watson and Yhonnie Scarce." TarraWarra Museum of Art. 4 December, 2020.
"TARNANTHI 2015 – Yhonnie Scarce." Art Gallery of South Australia. Video, 3:05, 28 September, 2015.
"The Art of Glass: Lisa Slade and Yhonnie Scarce in Conversation." Art Gallery of South Australia. Podcast, MP3, audio, 34:05, 5 December, 2015.
Locate Kokatha and Nukuna countries on the map of Aboriginal languages.
Scarce's work is made from multiples, in this case hundreds of similar objects. Look carefully at some of the yams. How are they similar but different?
Consider a single glass yam in Scarce's 2011 work Burial Ground. Is this object opaque, translucent or transparent? Find another work of art that possesses these qualities.
Write a short poem in response to a work of art by Scarce. You may choose to create an acrostic poem or write a haiku.
Glass can be simultaneously fragile and strong. Discuss this statement in relation to Scarce's work both metaphorically and literally.
Research the story of Maralinga. Write a personal response to the things you have learned about this aspect of Australian history.
Primary
Aboriginal and Torres Strait Islander people have long used symbols in their art making to communicate stories and traditions. Think of a memorable moment in your life. Create your own set of symbols to illustrate this narrative. Challenge yourself to design pictograms that are suggestive of objects or actions. Repeat these designs to create interesting patterns. Your story may only be able to be read by you!
Experiment with art using multiples. Choose a favourite object and make a number of the same forms. Explore how you can arrange your multiples to create a visually pleasing composition
Secondary
Yhonnie Scarce hails from Woomera and often addresses the trauma associated with displacement and relocation. Woomera was home to the Immigration Reception and Processing Centre until 2003, when it was closed following a breakout of detainees and subsequent protests about the treatment of asylum seekers. Investigate Australia's current policies regarding immigration and asylum seekers. Create a work inspired by your findings.
Thunder Raining Poison Education Resource
The Gallery's Learning programs are supported by the Department for Education.
This education resource has been developed in collaboration with ACE Open and the Art Gallery of South Australia. Written by Dr. Belinda Howden with contributions from Louise Dunn, Kylie Neagle and Dr. Lisa Slade.