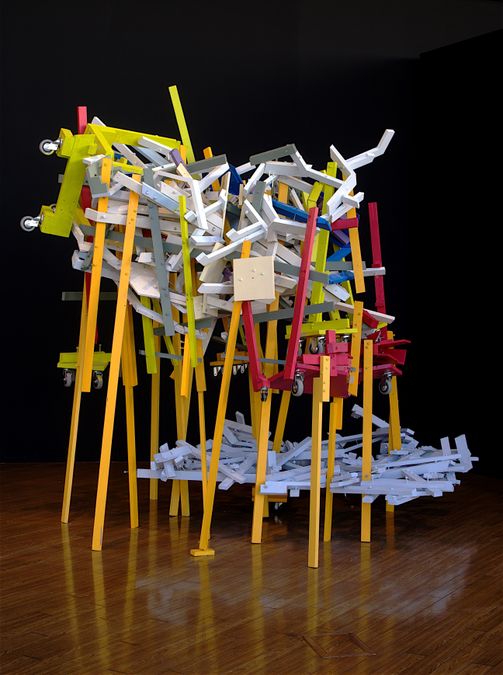 Roy Ananda
---
Roy Ananda (b. 1980) is a South Australian artist, educator and writer best known for his explorations of popular culture fandom. Drawing on his wide-ranging interests and hobbies – in particular his love of the tabletop roleplaying game Dungeons & Dragons, works of science-fiction and horror by H. P. Lovecraft, the Star Wars franchise, comics and cartoons such as Looney Tunes, Tintin and Asterix, as well as 1980s and '90s hip-hop music – over the past two decades Ananda has produced materially and conceptually driven works that explore his identity as a fan.
Born and raised in Adelaide, Ananda began making art from a young age – he held his first solo exhibition of paintings and drawings at only fifteen years old. Upon completing high school he embarked on undergraduate studies at Adelaide Central School of Art, where, since 2004, he has lectured in sculpture and drawing and today holds the position of Head of Drawing.
Ananda's early works are typified by process-based drawing, sculpture and installation, whereby Ananda sets himself strict parameters or rules of play. Taking a cue from the instructional wall drawings of Sol le Witt or Richard Serra's Verblist (1967-68) – a list of verbs to be used as a creative prompt – Ananda's self-imposed rules were similarly strategic in opening up the processes of making to forces of chance, "sculpture is an action as much as it is an outcome."[1] In Twelve Tasks (2007), for example, Ananda made use of lingering detritus in his studio, including material refuse from previous works, to dictate an over-engineered sculptural form. A governing colour scheme in butter yellow, acid green, pink, white, grey and cornflower blue was drawn from his favourite pair of sneakers at the time and used as a schema in determining its composition. "Play is a central principle of almost all my work… It can be a childish, frivolous thing. But, it is also a very productive intellectual tool."[2]
[1] Roy Ananda, unpublished interview with Belinda Howden, Adelaide, 18 September, 2021.
[2] Ibid.
Ananda's sense of play and procedural approach to sculpture is taken to an extreme in his large-scale installation Thin walls between dimensions, created for the 2018 Adelaide Biennial of Australian Art: Divided Worlds. Installed in the subterranean galleries of the Art Gallery of South Australia, Thin walls between dimensions transformed an early iteration of a Dungeons & Dragons gridded battle-map, designed by Gary Gygax in 1979, from a two-dimensional plane into an increasingly three-dimensional environment. Ananda routed elements of the map onto sheets of blue-print-toned MDF, and devised a complex numerical and geometric system of angles and mitres to generate the enveloping immersive landscape. It was a "blunt analogue for the way the fantasy setting can take on a level of reality in the player's imagination."[3] As audiences moved deeper into Thin walls between dimensions, Ananda imagined it as one of the "great mythological descents into the underworld, like Orpheus going down to rescue Eurydice."[4]
The map represented an imaginary space but one that has been inhabited in the minds of probably tens of millions of people…It is a game that has loomed large in my imagination since I was about ten years old. I feel certain that a childhood and adolescence spent playing these kinds of games – inhabiting those imaginary spaces and designing them – has impacted my life as a sculptor.[5]
[4] "Roy Ananda – Thin walls between dimensions", Art Gallery of South Australia, filmed as part of the 2018 Adelaide Biennial of Australian Art: Divided Worlds, video, 00:47, 30 May, 2018,
[5] "First Fridays Online: In-Conversation with Roy Ananda and Andrew Purvis."
Early years and Primary
What is your favourite game to play with your friends or family?
What games did your grandparents or parents play when they were children?
Secondary
Suggest some reasons why this work of art may appeal to people of all ages, even if not a fan of Dungeons and Dragons.
What is the difference between what is commonly known as "fan art" and Ananda's practice, which is informed by fandom?
Compare the work of Ananda to other artists who reference pop culture and role playing such as Jeff Koons, Roy Lichtenstein, Takashi Murakami, Barry Reigate, Cindy Sherman and Andy Warhol.
Early years and Primary
Create a board game where places you visit and people you know are the subjects of this new game.
Design a map to an imaginary new world. Transform your map into a three-dimensional form using cardboard.
Create a new identity for an existing game.
Write a character profile for a new Dungeons and Dragons character. What species will it be – an elf, orc, halfling or human? What special powers do they have? What are their abilities – are they fast, stealth or strong? What is their backstory?
Secondary
Pay homage to your favourite pop culture character using only balsa wood or cardboard and pins.
Some of Ananda's sculpture work is processed based. Use a variety of materials to create a 3D work of art. Deconstruct your sculpture and recreate a new one using the same materials.
Ananda's forms emerge through the process of play rather than following a strict design process. Take a well know structure, such as a table or chair, and recreate this object in an unconventional way.
In the same year, Ananda began an ongoing series of diagrammatic drawings – Annotations (2018 – current). For the exhibition Roy Ananda: Further Annotations (2021), Ananda was invited into the Art Gallery of South Australia's collection to select and annotate two works: Peter Booth's Painting 1982, whose dystopian, cannibalistic scenes appeared both shocking and amazing to Ananda as a young visitor to the gallery; and Olafur Elliason's Dark Matter Collective, an installation of 217 glass orbs with light-bending properties that, for Ananda, invoked the magic and multiverses of science fiction and fantasy.
To produce the annotations, Ananda traced, scaled and redrew component parts of each work in his signature colour – Uni Posca Light Blue No. 8 – and then attributed them with references to music, literature, objects, scenes and characters from cinema and television – a fandom paint by numbers.
It feels very authentic to the way I apprehend the world. For example, for people of my generation or interests, everything could be analogised with The Simpsons. It's very postmodern. To some people, this tendency might suggest that I am so inculcated in popular media that I don't have an authentic experience because it is mediated by fiction. But the other side is that it's just a fun lens to put on things and quite a joyful way to be in the world. That said, it's also a bit ambivalent; [Annotations] is a bit of a self-deprecating take on me being the uber-fan – both the absurdity and the pleasure of it
The Annotations series can be read in a tradition of conceptualism too. As highly pared back pictograms, the works draw on the minimal visual language of conceptualism while also encouraging the viewer to travel with Ananda, skipping and jumping from reference to reference, evoking whole worlds in the mind's eye.
I like playing off the austere trappings of conceptualism – the dry text, the reduced post-object art – and colliding it with things that are ostensibly more pulpy in their genre… One of my favourite descriptions of my work was by artist and academic Simon Biggs, "It is like capital C conceptualism but with a gooey centre."
Watch and Listen
First Fridays Online: In-Conversation with Roy Ananda and Andrew Purvis

Bernadette Klavins discusses the work of 2021 SALA feature artist Roy Ananda
Books
Purvis, Andrew, et. al. Roy Ananda. Adelaide: Wakefield Press, 2021.
Articles and Essays
Ananda, Roy. Slow Crawl into Infinity. Adelaide: Anne & Gordon Samstag Museum of Art, 2014. Exhibition Catalogue.
Barikin, Amelia. "Tales of the Fourth Dimension." Contemporary Art Centre of South Australia. Catalogue Essay. Available online.
Foster, Farrin. "Roy Ananda comes in peace." InDaily. 28 July, 2021.
McDonald, Logan. "Roy Ananda is not a nerd. He may be a record collector, a role-player, a Star Wars fan, a nerd, but he is not a Juggalo." fine print magazine. Issue 11. September, 2017.
Mitzevich, Nick. "The secret lives of artists." InDaily. 5 October, 2016.
"Roy Ananda." Art Guide Australia. 11 August, 2021.
Watts, Tim. "Creative Couples: Julia Robinson and Roy Ananda." Broadsheet. 27 July, 2016.
Websites
Roy Ananda.Artist website.
"Further Annotations: Roy Ananda". Art Gallery of South Australia. Accessed 11 October 2021.
Videos and Podcasts
"First Fridays Online: In-Conversation with Roy Ananda and Andrew Purvis." Art Gallery of South Australia. Video, 50:09, 6 August, 2021.
Klavins, Bernadette. "Bernadette Klavins discusses the work of 2021 SALA feature artist Roy Ananda." In Tuesday Talks. Produced by the Art Gallery of South Australia. Published 10 August, 2021. Podcast, MP3 audio, 20:16.
Peek, Christina. "2021 SALA Feature Artist: Roy Ananda." SALA Podcast. Interview with Christina Peek, produced by the South Australian Living Artists Festival. Published 2 August, 2021. Podcast, MP3 audio, 40:35.
"Roy Ananda – Thin walls between dimensions." Art Gallery of South Australia. Filmed as part of the 2018 Adelaide Biennial of Australian Art: Divided Worlds. Video, 00:47. Published 30 May, 2018.
"SALA Feature Artist: Roy Ananda." Radio Adelaide. Produced by Anisha Pillarisetty. Published 20 July, 2021. Audio, 22:02.
Interviews
Unpublished interview between Belinda Howden and Roy Ananda. Audio, 2:07:22. Adelaide, 18 September, 2021.
Thin walls between dimensions resource
The Gallery's Learning programs are supported by the Department for Education.
This education resource has been developed in collaboration with ACE Open and the Art Gallery of South Australia. Written by Dr. Belinda Howden with contributions from Louise Dunn, Kylie Neagle and Dr. Lisa Slade.