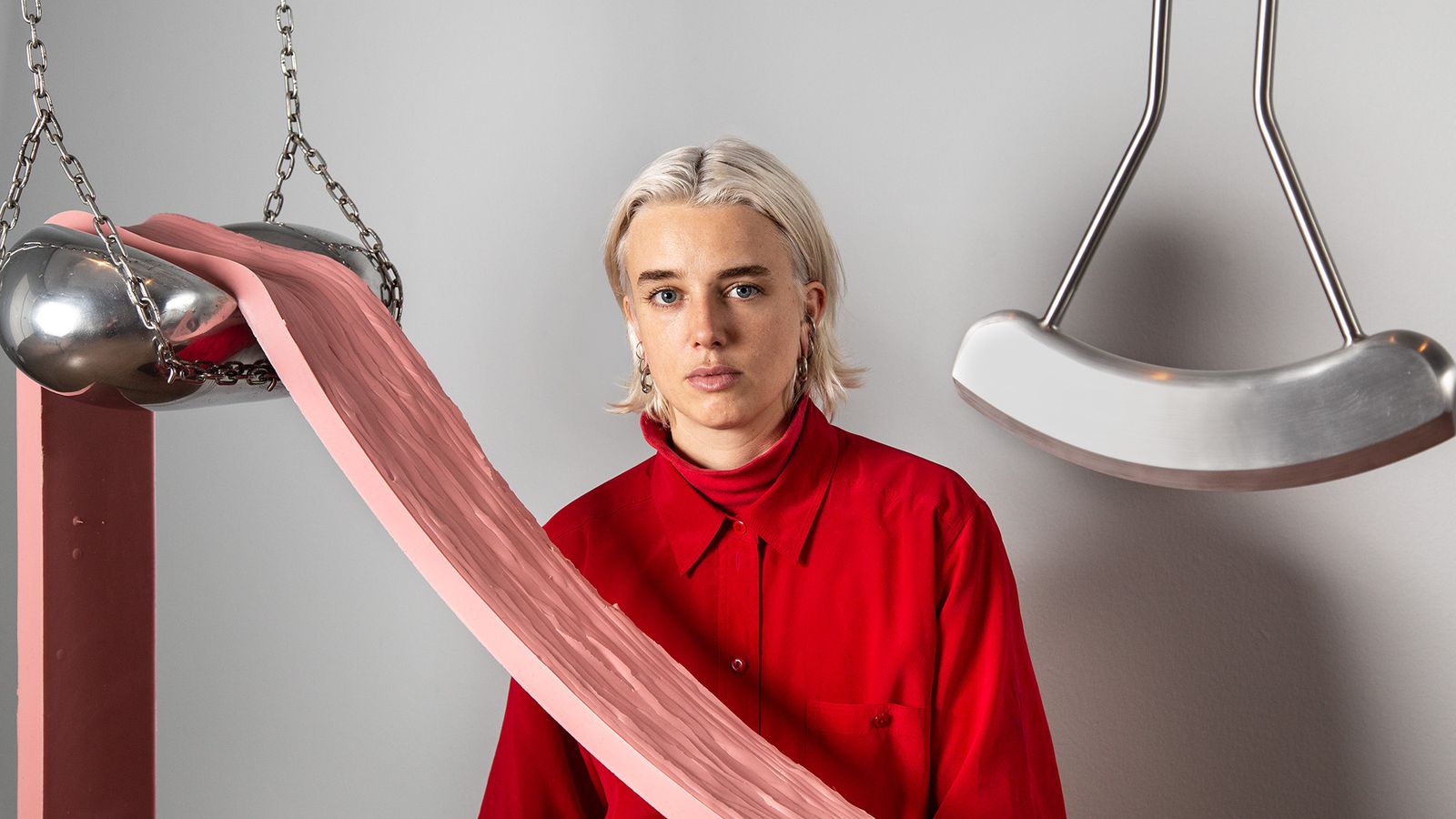 Kate Bohunnis
---
Born and raised in Adelaide, Kate Bohunnis (b.1990) is a South Australian artist known for producing pared back yet large-scale sculptural installations. Although Bohunnis was trained as a printmaker, and worked predominantly in screen-printing and linocut for several years, in 2017, during her studies at Flinders University, she shifted her focus to metal fabrication. The transition from two to three dimensions marked the beginning of Bohunnis' deep engagement with ideas of 'productive difference' and 'the power of uncertainty' – metaphysical concepts developed by twentieth century French philosopher Gilles Deleuze. For Bohunnis, moving objects off the wall and into the room was a material method of working with states of uncertainty and unknowing. "Productive difference is about purposefully disarming yourself from the things you know, the things you're good at. It's not about creating chaos; it is about trying to create productive change."[1]
[1] Kate Bohunnis, unpublished interview by Belinda Howden, Adelaide, 5 July, 2021, 17:44.
Catalogues and Articles
Alice, Jessica. "Towards the Edges of Excess." In If the Future is to be Worth Anything, 24-29. Adelaide: ACE Open, 2020.
Dunnill, Anna. Kate Bohunnis: With each little death. Adelaide: FELTspace, 6-22 June 2019,
Kitto, Joanne. The incomprehensible wild: Kate Bohunnis, Sam Gold and Anna Gore, Adelaide: praxis ARTSPACE, 2020.
Llewellyn, Jane. "Artist Profile: Kate Bohunnis brings the inside out." The Adelaide Review, 11 September 2018.
McDonald, John. "Artist Kate Bohunnis is one to watch – not least because she does the hard work herself." Sydney Morning Herald, 28 May, 2021.
Marsh, Walter. "How Kate Bohunnis is making and breaking the mould." InDaily, 9 June, 2021.
Power, Kate.Strong House / Soft Walls. Adelaide: Sister Gallery, 2 Feb – 2 March 2018.
Stephens, Andrew. "Emergent – Light, sound, print: Kate Bohunnis." Imprint, vol. 52, no. 2 (Winter 2017): p9
Websites
Kate Bohunnis, artist website.
Jenkins, Hannah. "Kate Bohunnis' fabrications and frustrations." firstdraft, blog, 26 November 2020
Videos
"Kate Bohunnis 'Edges of Excess' 2020, ACE Open." Filmed as part of If the future is to be worth anything: 2020 South Australian artist survey. ACE Open, 1 October 2020, 1:24.
"Em König performs a sound response to Edges of Excess by Kate Bohunnis." Performance filmed as part of fine print LIVE. fine print magazine and ACE Open, 31 October 2020, 3:24.
"MINDEROO x PICA Hatched 2018 | Kate Bohunnis." Filmed as part of Hatched: National Graduate Show 2018. Perth Institute of Contemporary Art, 12 July 2018, 1:19.
Podcasts and Interviews
ABC Mornings with David Bevan. "Young South Australian artist Kate Bohunnis wins Ramsay Art Prize." Interview with David Bevan. 21 May, 2021. 6:18.
Bohunnis, Kate. Unpublished interview by Belinda Howden, Audio, 1:51:32. Adelaide, 5 July, 2021.
"Rebecca Evans in conversation with 2021 Ramsay Art Prize Winner Kate Bohunnis." In Tuesday Talks. Interview with Rebecca Evans, produced by the Art Gallery of South Australia. Podcast, MP3, 21:47.
The Gallery's Learning programs are supported by the Department for Education.
This education resource has been developed in collaboration with ACE Open and the Art Gallery of South Australia. Written by Belinda Howden with contributions from Louise Dunn, Kylie Neagle and Dr. Lisa Slade.