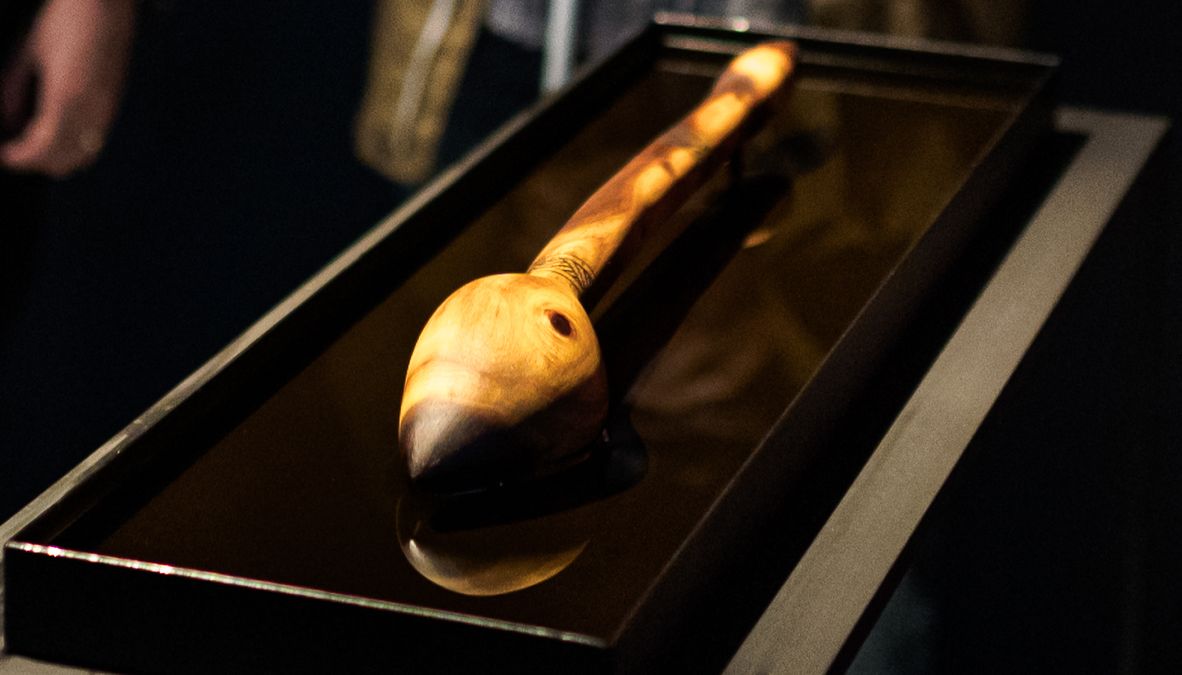 Brad Darkson
---
Living and working forty minutes south of Adelaide, Brad Darkson (b. 1987) is a South Australian artist who draws on his Anglo Australian and Narungga heritage – whose traditional homelands span the Yorke Peninsula – to produce site-specific, new media and multimedia installations. Darkson first trained as a mechanic before turning his attention to art-making and completing a Bachelor of Fine Art through the University of South Australia in 2015. In the following years, whilst studying a Masters at the University of Tasmania, he shifted his focus from graffiti, painting and drawing to sculpture, proving an important development in the spatial and experiential properties of his later works.
In terms of material techniques and mediums, Darkson is a mercurial figure. From printing, casting and carving to assemblages, sound and performance, Darkson tends to be conceptually driven rather than materially focused. "I spend a lot of time planning and thinking about a work, well before I make anything. I think that comes from my family as well as my trade background."[1] His systematic approach often reflects his chosen subjects, where politics, society, history and contemporary structures and technological systems can be seen to influence human behaviour.
[1] Brad Darkson, unpublished interview with Belinda Howden, Mclaren Vale, 19 October, 2021.
An early work that typifies such an approach is Darkson's interactive installation appropriate[d] (2014) that temporarily occupied a concrete stairwell on the grounds of the University of South Australia. Using an elaborate system of pulleys and a timber armature, the opening and closing of the stairwell door triggered an aerosol can to spray a black dot onto a white MDF surface. Through repetition, Darkson's riff on the dot iconography deeply connected to a history of central desert painting devolved into a mess of dripping wet paint; in handing authorship over to the public, his role and categorisation as an Aboriginal artist was challenged.
For a more recent incursion into public space, Hold Me (2020), Darkson installed a repurposed Telstra Touchfone 400 – a landline handset standard to Australian homes throughout the late 1990s and 2000s – on an exterior wall of the Samstag Museum of Art. Lifting the receiver, the listener was immersed in an endless loop of Centrelink hold music, backgrounded by sounds of food preparation, eating, washing up and other domestic scenes of Darkson and his wife, Chloe, tending to their young family. The aural purgatory is only finally interrupted when the Darkson's are informed of the amount owing on their Robodebt, over $1000 between them.
I think architecture is about shaping how people respond to the built form, how it influences their movement or their actions and thoughts. Hold Me was about the architecture of bureaucracy, these impenetrable systems that really are designed to be punitive. The phone is the same model I grew up with. I would see and hear my mum on the phone to Centrelink as a single mother with two kids. For me, that phone has the obvious connections with being on hold and being restricted. It's a tethered phone so you can't move around
Produced as part of the 2020 Adelaide//International, the work was uncannily timed with the beginning of the COVID-19 lockdowns in Australia.
In the end, the timing ended up being one of the most powerful aspects of the work. I was already fixated on the distressing state of the welfare system in Australia. Then, all of a sudden, everyone needs to be supported. Everyone was exposed to this broken system.
Darkson's challenge to the utopian promise of technology continues in his work Smart Object (2020). Created for Experimenta: Life Forms (2021-23), Australia's leading triennial of media art, Darkson responded to the premise and pursuit of Artificial General Intelligence with a two-part multi-media installation; a carved wooden plongi (club) guided by the teachings and knowledge of Ngarrindjeri Elder Uncle Moogy and Allan Sumner from ACA studios, and a looped animation of Darkson's 3D avatar performing the carving process using motion capture technologies.
Darkson borrowed his title from the Sims, a playable simulation of suburban life and one of the best-selling video game franchises of all time. The core game design ensures artificial intelligence is distributed throughout the environment – the fridge, the chair, the television – rather than its playable characters. The Sims themselves merely respond to the world based on a hierarchy of needs; "what we did was make the people really dumb and make the environment and objects really smart."[2]
[2] Will Wright quoted by Jeremy Tirrell, "Dumb People, Smart Objects: The Sims and the Distributed Self." 6th International Conference on the Philosophy of Computer Games: The Nature of Player Experience, Madrid: January, 2012,
That got me thinking, the idea of responding to an object…Why are we spending so much time focused on trying to develop artificial intelligence with the goal of sentience? I feel it is a distraction from reconnecting with the sentient world we all come from, that we are so disconnected from. I also believe objects inherently hold that sort of energy. If we pay attention, if we learn more about the old ways of thinking about the world, then it could lead to the same goal, the same end point… to form kinship with Country and the objects of our creation, to reconnect with the spirit of Country and culture that already exists.
Articles and Essays
Burke, Eliza. "Experimenta Life Forms." Artlink. 14 April, 2021.
Butler, Andy. "Notes on measuring value, progress and productivity." 2020 Adelaide//International. Adelaide: Anne & Gordon Samstag Museum of Art. Catalogue Essay. 28 February – 12 June, 2020.
Falcinella, Marie. "Brad Darkson: Ritual Space." Artlink. 1 June, 2018.
Masi, Monte. "Brad Harkin: Loss. Gain. Reverb. Delay." Artlink. 16 November, 2017.
Sullivan, Eve. "On hold in hard times." Artlink. 8 April, 2020.
Tirrell, Jeremy. "Dumb People, Smart Objects: The Sims and the Distributed Self." 6th International Conference on the Philosophy of Computer Games: The Nature of Player Experience. Madrid: January, 2012.
Wolifson, Chloé. "2020 Adelaide//International." Artlink. 29 March, 2020.
Websites
Brad Darkson. Artist Website. Accessed 13 October, 2021.
"Brad Darkson: Smart Object." Experimenta. Accessed 13 October, 2021.
"Experimenta Life Forms. In Development Interview: Brad Darkson and 'Smart Object'." Experimenta. 3 November, 2020.
Videos and Podcasts
"Brad Darkson / Hold Me." On Art. Produced by Anne & Gordon Samtag Museum of Art. Audio, MP3, 30:09, May, 2020.
"Unceded Land." fine print. Issue 21, December, 2019. Video, 4:29.
The Gallery's Learning programs are supported by the Department for Education.
This education resource has been developed in collaboration with ACE Open and the Art Gallery of South Australia. Written by Dr. Belinda Howden with contributions from Louise Dunn, Kylie Neagle and Dr. Lisa Slade.