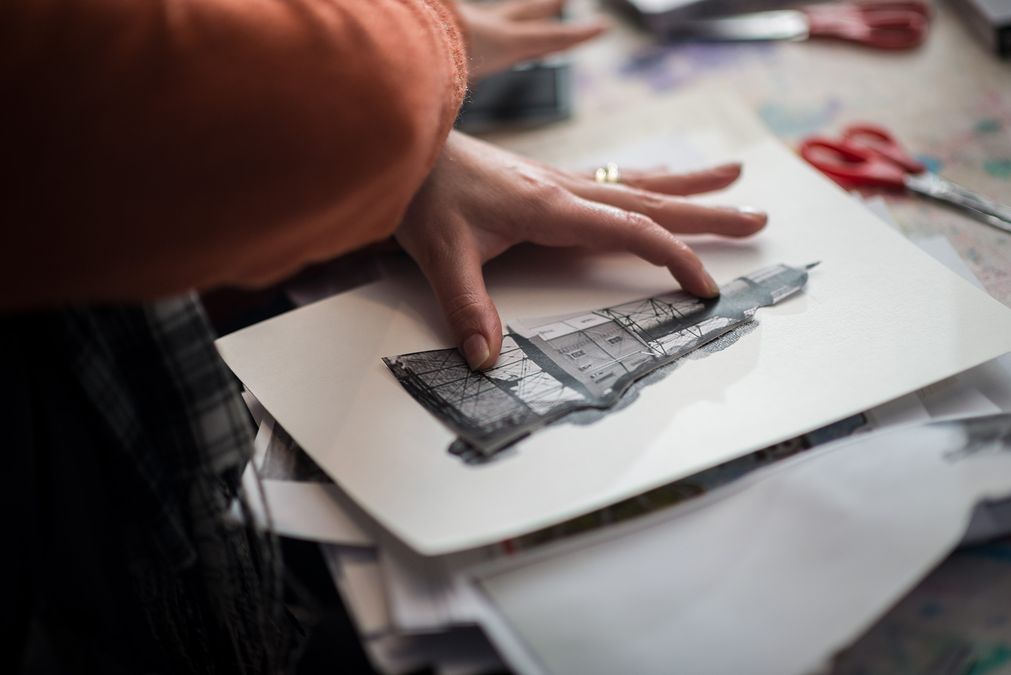 Memory, place and pattern-making
---
Kylie Neagle provides an overview of teacher workshop with Jonathan Jones
Since January 2018 over 460 teachers have attended 'Aboriginal and Torres Strait Islander Art in the Classroom', a full-day workshop that advocates for the appropriate inclusion of Aboriginal and Torres Strait Islander content in the classroom.
In July 2019, Wiradjuri/ Kamilaroi artist Jonathan Jones took part in the Gallery's fifth workshop, this iteration aimed at secondary history and visual arts teachers. As part of his involvement in the workshop, Jones was asked to deliver a hands-on component, prompting him to reflect on the fundamental themes that shape his work. During the workshop, Jones highlighted two key projects: (untitled) grain – a flock of winged sculptures, made for the 2019 Australian Pacific Triennial at QAGOMA, and barrangal dyara (skin and bones), a sculptural installation for the 32nd Kaldor Public Art Project, which was located across 20,000 square metres of the Royal Botanic Garden in Sydney. Both works, which required community involvement to realise their monumental scale and scope, referenced notions of memory, place and pattern making and drew on the artist's interest in local history.
These key themes acted as the foundation for Jones's workshop at the Gallery. Teachers brought a photograph of a place, building or landmark that was significant to them to the workshop. Using the photograph and their own finger prints, participants created a personal work of art, inspired by memory, place and pattern-making. Through this activity, educators experienced first-hand the importance of listening and learning about someone else's story and reflecting on their own personal story rather than simply creating a copy of an artist's work.
Kylie is Education Officer at AGSA, a position supported by the Government of South Australia through the Department for Education. This article first appeared in AGSA Magazine Issue 37, 2019.