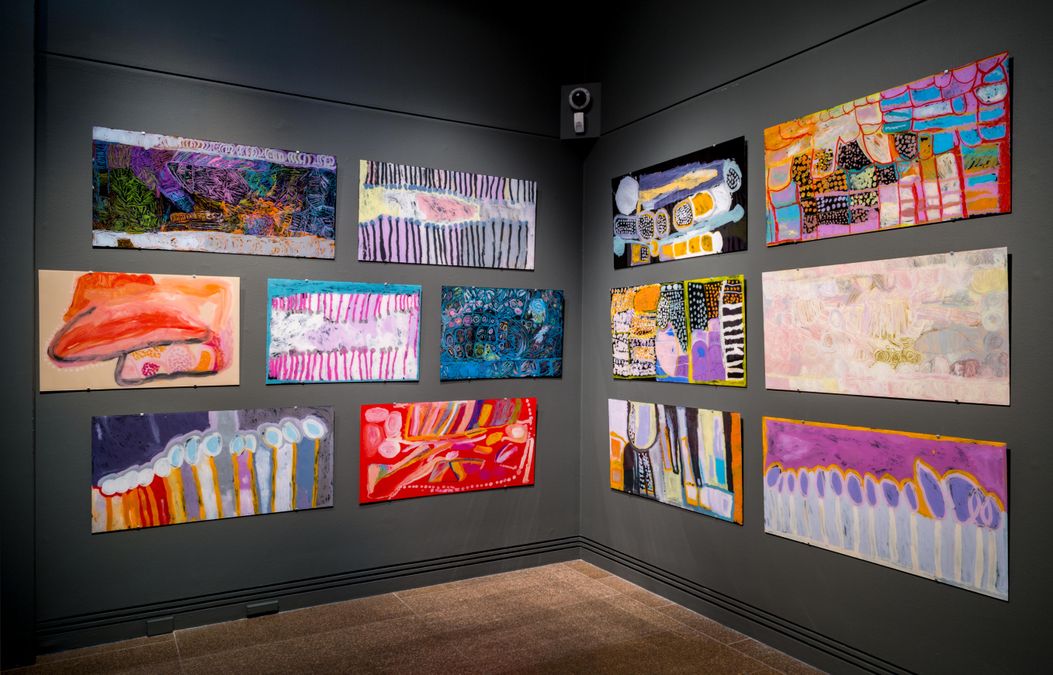 Year 3 Collage - Linden Park Primary School
---
Year 3 students from Linden Park Primary School responded to the works on Perspex by Daisy Japulija, Sonia Kurarra, Mrs Rawlins & Ms Uhl from Fitzroy Crossing in Western Australia, Wangkatjungka, Western Desert region.
Teacher Ms. Loan had seen similar works of art on display in Tarnanthi in 2017. After listening to artist and curator talks and reading through information in our catalogues, as well as on The National website, Ms. Loan designed an activity that was meaningful for the students and was respectful of the artists' works.
'In class, students discussed ideas about traditional and contemporary art methods and the messages portrayed in these works. We also discussed the stories passed down from the elders, the connections to land and their environment and the symbols used. Students were then asked to think about a special place or moment and communicated this by creating collages using tissue paper on acetate sheets. Students looked at how layering the tissue paper created new colours particularly when placed against the windows throughout the art making process. The students' works of art will be displayed on their classroom windows for Reconciliation Week'
Following on from this, the year 3 students extended their learning by exploring the works by Artists Maringka Tunkin, Byron Brooks and Waal- Waal Ngallanetta. These works of art were found in AGSA's resource 'The Essential Introduction to Aboriginal Art' and the Bush Footy paintings by Central Australian artist Dinny Kunoth Kemarre.

Students discussed similarities between these works of art, how they appeared 'map- like' and depict country from a birdseye view. As a class we looked at a map of Kaurna Land and then used Google Earth to zoom in on areas of interest, such as footy stadiums, the school, the beach and the Botanic Gardens. We printed maps of these areas, which were a source of inspiration for both group and individual works of art.
– Kara Loan, Linden Park Primary School