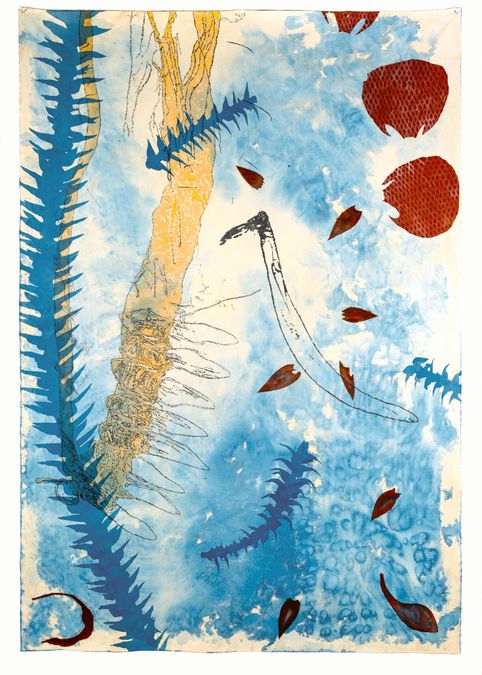 Year 2 Printmaking - Colonel Light Gardens Primary School
---
Multilayered prints inspired by Waanyi artist Judy Watson
Year 2 students at Colonel Light Gardens Primary School have been exploring the work of Waanyi artist Judy Watson, developing printmaking and painting skills while exploring their school and home environments. Watson's multidisciplinary art practice includes print-making, painting, sculpture, moving image and installation. Conceptually and physically, her work is multilayered and draws on her ancestors and their ongoing connection to Country.
After bringing the artist into the classroom with a short video featuring Watson's art making process, students were inspired to create their own three layered work of art. They began by painting a coloured wash on paper as their background layer (we would have loved to have used our feet like Judy Watson does!). Students then collected objects from the home including bottle tops, pegs, string, straws, and dried plants and used these as stamping (relief printing) tools to create their second layer. During their art making, student talked about the story they were telling with the shapes their objects made and learnt art terms such as balance and pattern when considering the placement of these marks in their work. - Michelle Bawden, Visual Arts Teacher, Colonel Light Gardens Primary School 
Year 2 works of art by students at Colonel Light Gardens Primary School
Monoprints
Students collected plant leaves from their school environment to use for the final layer of their work of art. They rolled black acrylic paint on both sides of their chosen leaf and placed it on their coloured background. Students then pressed a clean white piece of paper over the top which transferred the leaf print onto the final layer of the coloured paper (above) and a monoprint on white paper (below).
For the classroom
Judy Watson's string over water (alkkurrji kingkarri wanami) is featured in AGSA's Art School in a Box. When introducing students to Watson's work consider incorporating art terms such as contemporary art, rhythm and movement and artist into your lesson or unit plans.
Create a work of art that responds to something in nature that attracts your interest. It might be a particular constellation in the night sky, or other natural phenomena such as the weather, seasons, bodies of water or earth formations.
Think about some of the ways you could use your body to create a work of art. Think about how you could move your body in a different way to make marks on a surface or alter the shape of the material you are using.
Transform a piece of string into a drawing tool; for example, tie knots, attach other pieces of string or fray the ends. Dip your tool into ink and move your string over a sheet of paper. How do your marks differ from those made by others in your class?
Tarnanthi is presented in partnership with BHP and with the support of the Government of South Australia.