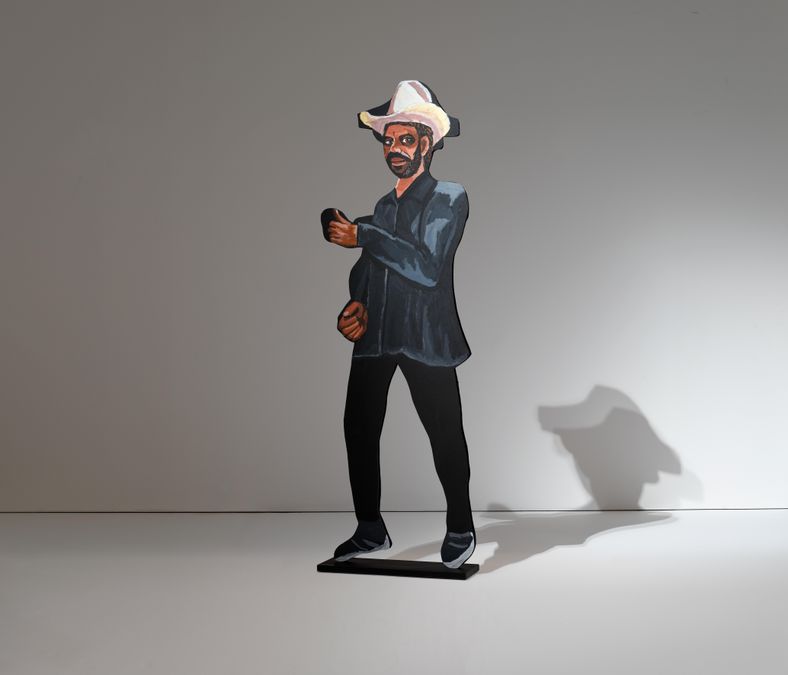 Reception drawings - Immanuel Primary School
---
Vincent Namatjira, Western Arrernte people, was born in 1983, Alice Springs, Northern Territory. He spent most of his childhood in Perth and returned to Hermannsburg after he finished high school. It was not until he returned to Hermannsburg that Vincent learnt about his famous great-grandfather, Albert Namatjira and family of renowned artists. Vincent would watch his aunty, Eileen Namatjira, make pots in the Hermannsburg ceramic studio.
Vincent Namatjira began painting with his wife at Iwantja Arts, in the Indulkana Community, Anangu Pitjantjatjara Yankunytjatjara (APY) Lands in the north-west of South Australia. With the help of his wife he first started painting in a traditional dot painting style and after a few years he felt confident to paint a portrait of his great-grandfather Albert Namatjira. Vincent has continued to develop his distinctive figurative style, expressively painting portraits of politicians, historical figures and members of his family and community.
Inspired by Vincent Namtjira, students drew their own self portrait that captured the essence of themselves. We began by finding out more about Vincent by watching a short artist video - this was great to be able to hear directly from the artist and also see inside the artist's studio.
Students used favourite colours as the background for their portraits and worked on blending analogous colours together. Using coloured pencil, students shaded two colours together starting with one colour and lightly shading and then adding the other colour over the top. Students then used coloured markers to colour their face and figure, so it would stand out from the background.
One of our Reception students made the top 70 entries for the Young Archie for her portrait titled "Daddy the Artist". With Vincent winning the Archibald Prize in 2020 it was a great connection and opportunity for discussion about art and portraiture in a broader context.
- Sharon Lynch, Specialist Art Teacher, Immanuel Primary School