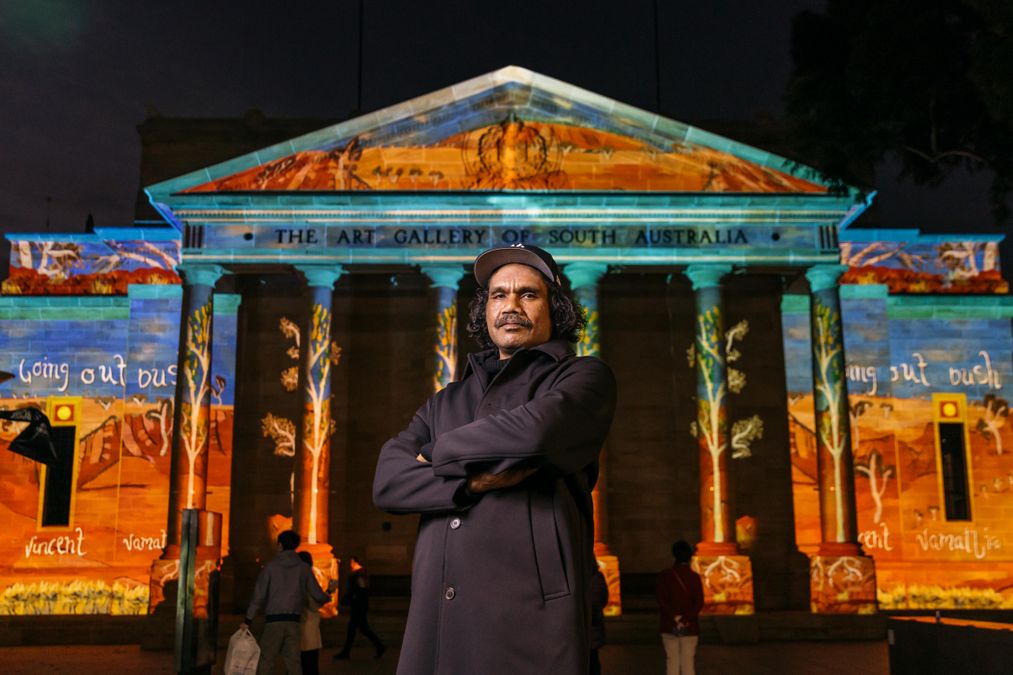 Vincent Namatjira
---
Western Aranda artist Vincent Namatjira was born in 1983, Mparntwe (Alice Springs) in the Northern Territory. He spent most of his childhood in Perth and returned to Hermannsburg after he finished high school. It was not until this time that Vincent learnt about his famous great-grandfather, Albert Namatjira. Vincent would watch his aunty, Eileen Namatjira, make pots in the Hermannsburg ceramic studio.
Encouraged by his partner, Vincent began painting at Iwantja Arts, in the Indulkana Community, Anangu Pitjantjatjara Yankunytjatjara (APY) Lands in the north-west of South Australia. With the guidance of other Iwantja artists, he first started painting in a traditional dot painting style. Vincent continued to develop his distinctive figurative style, expressively painting portraits of politicians, historical figures, athletes, musicians and members of his family and community.
His paintings offer a wry look at the politics of history, power and leadership from a contemporary Aboriginal perspective. Namatjira often positions himself in this history – out of place and out of time – and in doing so he helps us to reconcile our complex and traumatic pasts. Humour and parody are his tools for staging difficult conversations about Australian history and society.
Close Contact is a double-sided work of art, which won the Ramsay Art Prize in 2019. Executed in acrylic paint on plywood, this three-dimensional work breaks away from the artist's familiar single-sided rectangular formats to make a painting that the viewer can interact with in different ways. To make the work, Namatjira made preparatory drawings directly onto plywood, working from life in the case of the self-portrait on one side and from reference images, including E. Phillips Fox's Landing of Captain Cook at Botany Bay, 1770, for the portrait of James Cook on the other side.
Cook and Namatjira reappear in a moving image projection made for the Art Gallery of South Australia in 2022, titled Going Out Bush. Through the work, presented as part of the Illuminate Festival, the colonial façade of the Gallery is temporarily relocated to the Central Australian desert. In its new home, 'out bush', the gallery building becomes a stage set for a vibrant and witty series of encounters. These include a football game with Namatjira's favourite team performing spectacular marks. The Aboriginal flag takes pride of place in the work, supplanting the state's emblem of the piping shrike carved in sandstone at the apex of the building's pediment. The classical sandstone columns grow as ghost gums, the legendary eucalypts that appear in the work of Albert Namatjira, and Albert Namatjira's iconic green truck traverses Country, weaving in light across the face of the building.
In a scene both dramatic and comic, strange things occur as night falls on Indulkana – Cook and Queen Elizabeth emerge and lose their heads, which bounce up and down the Gallery's columns as though in a fair ground game. Their heads are replaced by Namatjira's own as he inserts himself in a position of power, and slyly comments on a history of colonial collecting that has seen Aboriginal people treated as trophies and museum specimens. In the final scene, there is a gesture of peace and reciprocity whereby Queen Elizabeth and Vincent exchange bush treats – maku (witchetty grubs) and tjala (honey ants). Projected as a continual loop, the work repeats itself, suggesting perhaps that history has done the same.
By combining imagery and ideas from across time and place, Namatjira levels us all. In his words:
'I'm interested in painting strong figures and leaders, we see them on the news and wonder how and why they make their decisions. These powerful people are far away from us here on the APY Lands, but when I paint them it brings them right into the studio. I like to paint with a little bit of humour, humour takes away some of their power and keeps us all equal'.
Text written by Dr. Lisa Slade, Assistant Director, Artistic Programs, Aboriginal and Torres Strait Islander Art in the Classroom, 2022.
'Going out Bush' by Vincent Namatjira was presented as part of City Lights, Illuminate Adelaide 2022
'There's two sides to every story.' – Vincent Namatjira. Discuss what two stories you think Namatjira is trying to tell in Close Contact?
How is the meeting between James Cook, his crew and Aboriginal people depicted in E. Phillips Fox's Landing of Captain Cook at Botany Bay, 1770? What was the purpose of such a painting?
Namatjira states that using humour to portray a serious event or issue allows you to be in control. What do you think he means by this? Look at a variety of works by Namatjira, including Close Contact, Going out Bush and The Richest? How are his works humorous? Can you think of a situation where humour has alleviated a serious situation for you?
Research an Australian historical figure and imagine you could have a conversation with them. Create a video or write a screenplay about this meeting. Weave information into your screenplay that informs the audience about this person and what impact they had on Australia, its environment and its people.
Namatjira is interested in painting strong figures and leaders – seeing them on the news, he wonders how and why they make their decisions. Select a powerful leader who you see in the news or on social media, someone who has potentially abused their power or leadership. Investigate this person and decisions they have made. Create a work of art that has humorous element – removing some of their power, like Namatjira has done with depictions of royalty in Going Out Bush.
Presented by
Illuminate Adelaide