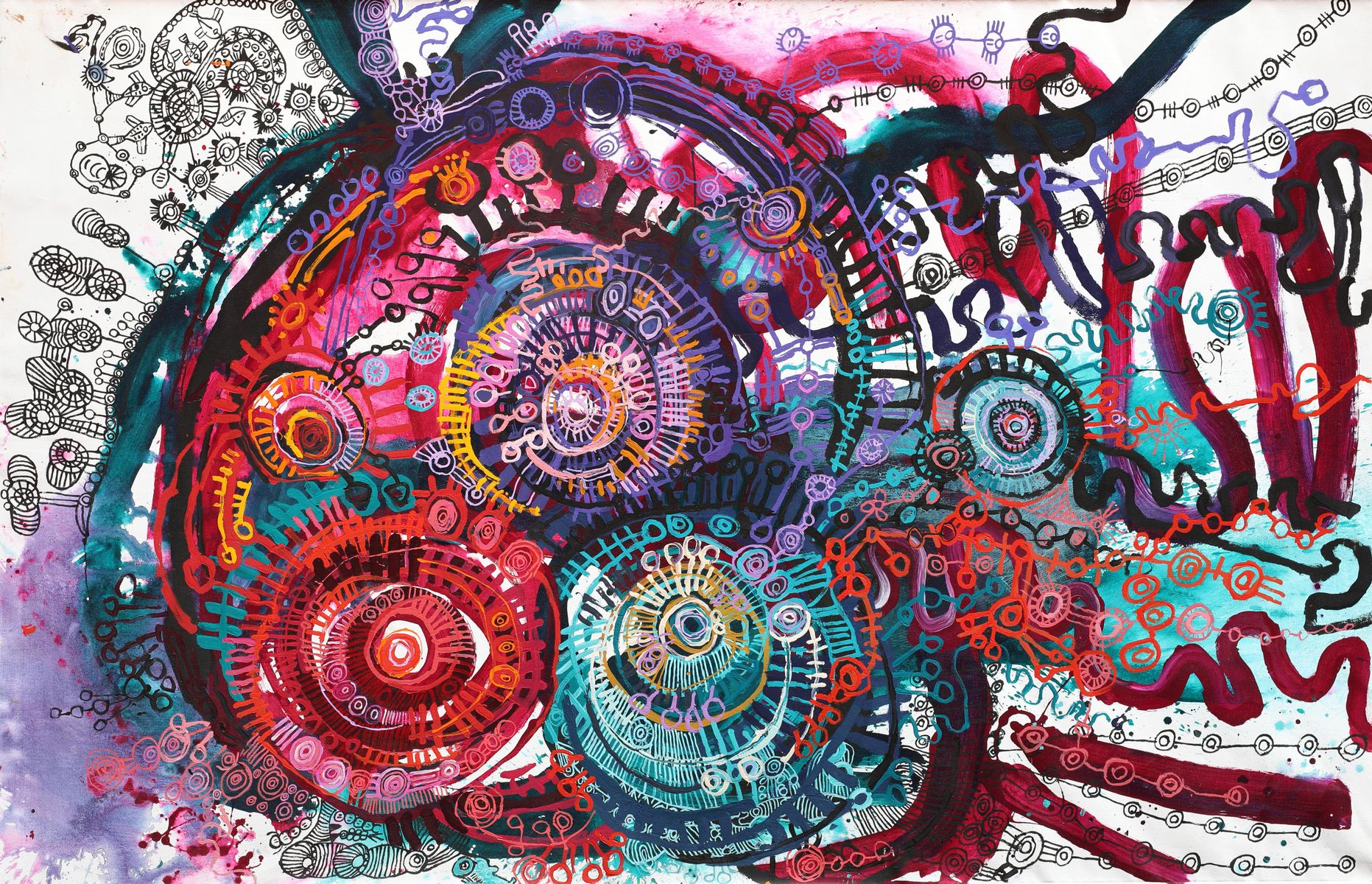 Kungka Kuṉpu Glossary
---
I love my language, Pitjantjatjara, and love sharing this language with people who are keen to learn. It is very important for language to be spoken. When language is lost, culture is lost, which is why we must celebrate the language by speaking it. I am proud that our language is as strong as our culture on the Anangu Pitjantjatjara Yankunytjatjara Lands. The Pitjantjatjara language is spoken among young and old. Our language, like our culture, is alive, it is dynamic, it is always evolving and it is held with deep respect by all Anangu. I hope our language brings you the same joy it brings Anangu.
This glossary was first developed and published as part of the Kuḻaṯa Tjuṯa Project, a long-running cultural maintenance project and series of exhibitions by artists from the Aṉangu Pitjantjatjara Yankunytjatjara Lands in South Australia.
Far from encyclopedic, the selection of words focus specifically on Anangu women, their roles, Country, and the plants and animals that share Country with Anangu. As with language, this glossary will continue to evolve over the course of the exhibition tour.
aṉangu

:

person, human, body

Aṉangu

:

Aboriginal people who speak Western Desert languages

ilykuwara

:

witchetty bush (Acacia kempeana); the type of grub found in its roots

inma

:

song; cultural song and dance, ceremony

inuntji, inunytji

:

flowers, blossoms

kaaṉka

:

crow (Corvus bennetti, Corvus orru)

kaḻaya

:

emu (Dromaius novaehollandiae)

kampuṟarpa

:

desert raisin, bush tomato (Solanum centrale)

Kungkarangkalpa

:

the Pleiades star cluster, also called the Seven Sisters; an important Tjukurpa

Kunmanara

:

avoidance name, used after a person has died

kuṉpu

:

strong, tough, confident

mai

:

food, especially food from plants and grains

maku

:

witchetty grub or other edible grubs

manguṟi

:

head-ring, used to help carry loads on the head

manta

:

earth, land, country

maṟa aḻa

:

open hands (of traditional healer)

mingkuḻpa

:

native tobacco (Nicotiana excelsior, Nicotiana gossei)

minyma pampa

:

senior woman

Ngaanyatjarra

:

dialect of the Western Desert language

ngangkaṟi

:

traditional doctor or healer

ngura

:

camp, home, place; site, country

nguraṟitja

:

traditional site owner, landowner, custodian

Nyiru or Nyirunya

:

Orion (constellation); male protagonist in the Kungkarangkalpa Tjukurpa (Seven Sisters story)

Pilati

:

A rockhole in the Mann Ranges in the Western APY Lands, an importatnt Tjukurpa site

piṟanpa

:

white; white person

Pitjantjatjara

:

dialect of the Western Desert language

puḻi

:

rock, stone; hills, mountain

puṉu

:

tree, bush, plant; wood, timber; wooden carving, wooden implement

tali

:

sand dune, sand hill

tjala

:

honey ant (Camponotus inflatus)

tjanpi

:

various kinds of grasses, especially spinifex grass; works of art made from dry grass

tjiḻpi

:

old man, senior man

tjina

:

foot, feet, tracks

tjukuḻa

:

rockhole, waterhole

Tjukurpa

:

story; ancestral creation story; law or belief system

Tjukurpa puḻka

:

most important ancestral stories

waḻawuru

:

wedge-tailed eagle (Aquila audax)

walytja

:

family, relative

wanguṉu

:

naked woollybutt (Eragrostis eriopoda), a grain-bearing grass

wiltja

:

shelter, bush hut; shade

woka woka

:

rhythm of the wana (digging stick)

Yankunytjatjara

:

dialect of the Western Desert language
Audio recordings courtesy of Nyunmiti Burton and Kunmanara Williamson of APY Art Centre Collective, Adelaide.