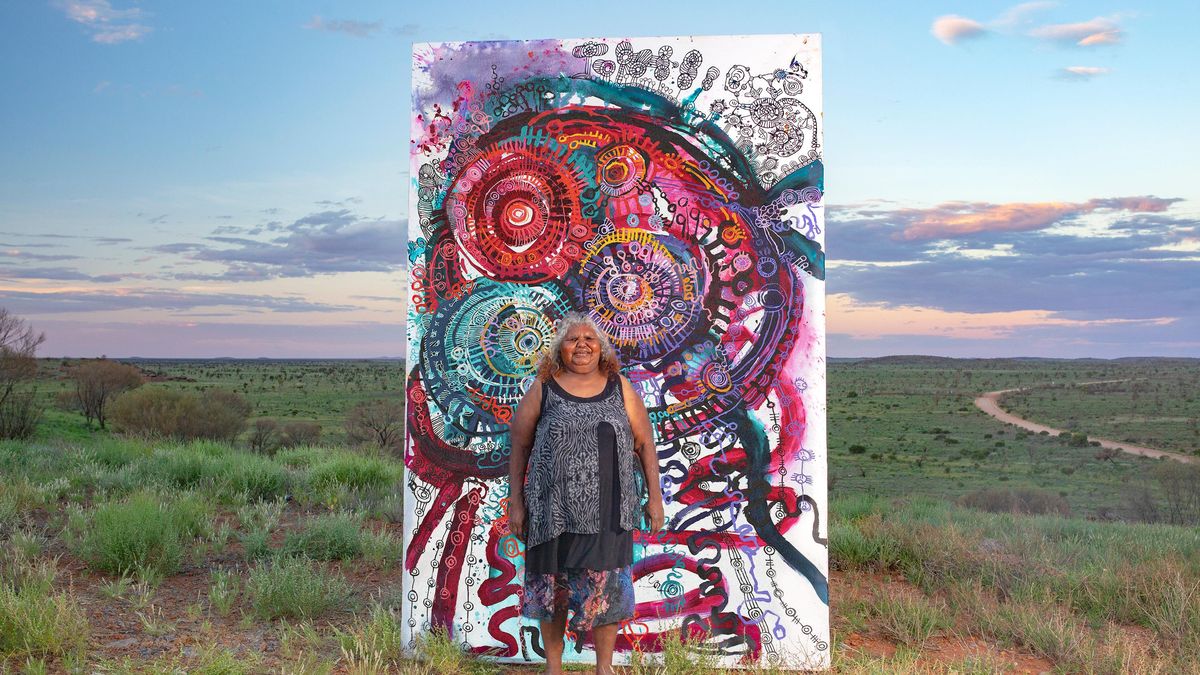 Tarnanthi 2022
---
A CONTINUOUS CELEBRATION OF CONTEMPORARY ABORIGINAL AND TORRES STRAIT ISLANDER ART
Throughout 2022, Tarnanthi is bringing major new works of Aboriginal and Torres Strait Islander art to audiences in Adelaide and delivering touring exhibitions in South Australia, nationally and internationally.
Tarnanthi 2022's projects in Adelaide include Vincent Namatjira's Going Out Bush, which brings his witty and subversive paintings to life on AGSA's façade during July. Other projects in development will be announced soon.
Tarnanthi is also expanding its touring program with Kungka Kuṉpu (Strong Women). This exhibition of contemporary works by renowned women artists from the Aṉangu Pitjantjatjara Yankunytjatjara Lands tours eastern Australia from October until 2024, sharing bold art from Tarnanthi with new audiences. It builds on current Tarnanthi tours: photographic works in Naomi Hobson: Adolescent Wonderland travelling regional South Australia, and the Kuḻaṯa Tjuṯa exhibition of vibrant Aṉangu works in Europe until late 2022.
In addition, the online Tarnanthi Art Fair returns in October, showcasing Aboriginal and Torres Strait Islander art from across Australia to art lovers around the world.
Tarnanthi is presented by the Art Gallery of South Australia with Principal Partner BHP and support from the Government of South Australia.
The Kungka Kuṉpu touring exhibition has been assisted by the Australian Government's Visions of Australia program.
Tarnanthi Art Fair 2022 is supported through the Australian Government's RISE Fund and the Australian Government's Indigenous Visual Arts Industry Support program.
Learn
Learn Kaurna with Taylor Tipu Power-Smith

Learn Pitjantjara and Yankunytjatjara with Sandra and Nyunmiti
Tarnanthi Art Fair

14-17 Oct 2022
Richard Bell - Embassy

19-21 Oct