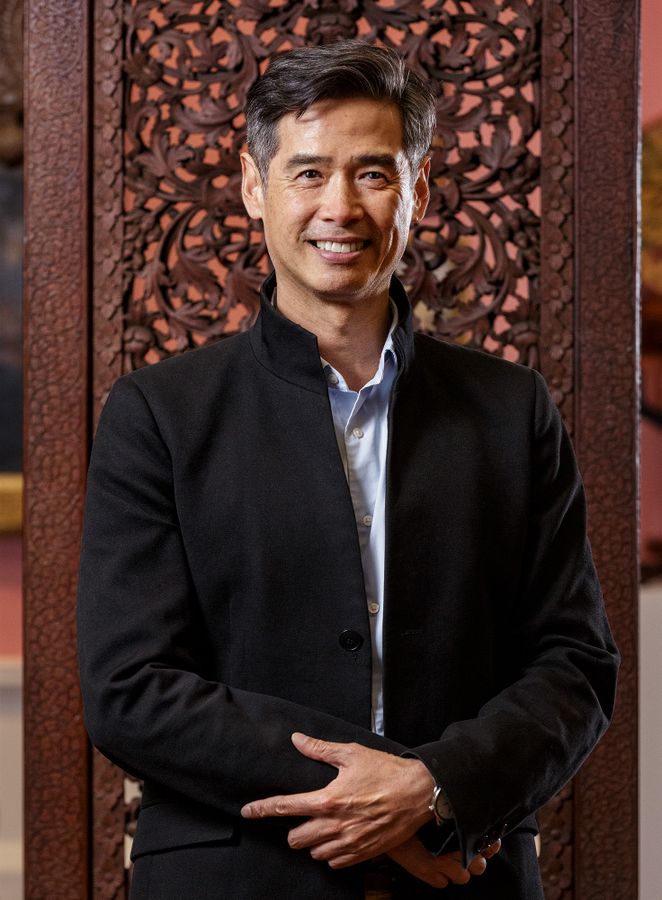 Lee Mingwei
---
Lee Mingwei is an artist whose practice dwells in the intimacy of human exchange. He creates participatory installations in which strangers can explore issues of trust, chance and self-awareness. His practice is relational in nature as he orchestrates scenarios involving what he calls 'rules of the game' for human interaction. These scenarios, which often occur one to one between strangers, honour the practices of everyday life such as dining, writing, sleeping, mending clothes, storytelling and song. His practice conjures a space of unexpected poeticism alongside conviviality and reciprocity.
His projects are often open-ended scenarios for everyday interaction and take on different forms with the involvement of participants. These interactions evolve and change during the duration of the project. The artist distils these exchanges into considered environments for others to experience. A certain formality orchestrates enough space for unpredictability and for new insights to occur, for those involved in the exchange and for the audience. Within these participatory projects, elements of openness, risk, conversation and especially gift-giving are paramount. The refined visuality of the physical elements in his works – influenced by Japanese and Nordic aesthetics – instils a considered and contemplative environment to encourage engagement.
From the age of six, Lee spent six summers training and living under the care of a revered Ch'an Buddhist monk in the beautiful mountains near Taichung. These experiences of quietude, compassionate behaviour and close attentiveness to the quotidian aspects of life were formative in his development as an artist.
He then attended secondary school in the Dominican Republic and San Francisco. He studied biology and architecture before completing a Bachelor of Fine Arts degree in textile art from California College of Arts (CCAC) in 1993 and a Master of Fine Arts in sculpture from Yale University Graduate School of Fine Arts in 1997. His first major public presence, a solo exhibition at the Whitney Museum of American Art in New York soon after graduation, received acclaim, and he has since participated in major exhibitions and solo projects throughout the world.
Given that the conceptual and practical scope of Lee's art encompasses human relations and the wider social contexts of behaviour, his practice may be discussed within the scope of what Nicolas Bourriaud in 1998 termed 'relational aesthetics'. However, it is Lewis Hyde's 1983 book The Gift: Imagination and the Erotic Life of Property that is a generative textual influence on Lee's work. Therefore 'invitational aesthetics' may better describe his practice.
There is a lineage to the process-orientated and social-network-based art of the 1970s in the United States and France in Lee's emphasis on the process of becoming, decommodification and the dissolution of the lines between art and life, as curator Eugenie Tsai has noted, yet his practice differs in its dependence on personal one-to-one experience. Informed by Mahayana Buddhist principles and relationality within eastern thought, Lee's art creates circumstances for participants to consider immateriality and impermanence, as well as pratitya-samutpada or mutual interdependence.
Lee was introduced to 'new genre public art' while studying at CCAC under Suzanne Lacy, who studied under the artist Allan Kaprow, who studied under the composer John Cage, who had attended lectures by the philosopher D.T. Suzuki, who spread Zen Buddhist thought to the world in the early 1950s. The coalescence between Buddhist thought and the development of late-twentieth-century 'socially engaged art' and 'participatory art' is central to an understanding of Lee's practice.
The idea that informs each of Lee's projects often emerges from his familial history and personal life. It was the artist's own efforts to care for those affected in the immediate aftermath of the 9/11 attacks in New York City in 2001 that informed the emotional and interpersonal underpinning for his work The Mending Project, 2009, which creates situations for one-to-one conversations to occur between a mender and a visitor during the humble act of repairing clothing. The Letter Writing Project, 1998, which involves visitors entering one of three booths to write a letter of gratitude, forgiveness or apology, was created in response to the hundreds of letters the artist wrote to his grandmother after her passing.
Sonic Blossom, 2013, is the work presented at AGSA every day from 1 November to 1 December 2019 in the historic Elder Wing. Of the work, Lee says:
Sonic Blossom came into existence while I was caring for my mother as she recuperated from surgery. We found great comfort in listening to Franz Schubert's Lieder. These songs came as an unexpected gift to us, one that soothed us both and clearly helped with her healing. At another level, seeing my own mother weak and ill made her (and my) mortality suddenly very real; ageing, disease and death were no longer abstractions to me, but immediate and present. One day she – and I – will be gone. Like Schubert's Lieder, our own lives are brief, but all the more beautiful because of this.
The rules of the game are simple. Each singer learns a selection from five Lieder and every day, from 11am to 3pm, the singer roams the Gallery to find a visitor who they think might enjoy receiving this sonic gift. The singer asks, 'May I give you a gift of song?' If the visitor accepts, the song is sung. As Lee says, 'This happens sporadically in time and space – this is the folding and unfolding of a sonic blossom.'
The Lieder were written by Franz Schubert (1797–1828), an Austrian composer of the late Classical and early Romantic period, whose vast body of work includes more than 700 secular vocal works (mainly Lieder), seven symphonies, sacred music, operas, incidental music and piano and chamber music. When I asked 'Why Schubert's Lieder?', Lee replied:
I remember growing up in hot summer nights, I would run around like a puppy – my mother was thoughtful and she played her favourite of Schubert's Lieder to calm me down. She played them softly, 'My dear boy, if you sit down and are very quiet you might be able to hear Schubert singing' … amongst the cicadas and frogs and night owls in Taiwan. These are some of my most beautiful memories growing up in Nanto with my family. I wanted to bring this psychological and emotional situation back to the hospital. The Lieder are so beautiful, why not have them performed between strangers? This is when the tension of my work comes in. Working with a classically trained singer to bring the spirit of Schubert through the sentient beings to strangers in a gallery situation.
Many of Lee's projects focus on one-to-one encounters, yet Sonic Blossom is also an open performance, with the songs ambiently reaching visitors throughout the Gallery and with the exchange becoming a transformative gift witnessed and shared by others. Lee explains:
We all know how to exchange things, especially giving gifts to those whom we love, based on the rituals we have learned through our family upbringing or society. I wish to use this as a platform for people to change situations into something different at the moment of encounter … It takes so much trust and courage to receive and to give this transformative gift.
Japanese-born, Sydney-based designer Akira Isogawa was commissioned to create a new costume especially for the Adelaide exhibition. Conscious of the transformative role of the costume and intrigued by Lee's idea of the unfolding of sound, Akira incorporated two antique kimono and a gold antique obi to create a layered costume that is organic and petal-like to visually amplify the encounter.
Sonic Blossom has been presented at Centre Pompidou in Paris (2018), The Metropolitan Museum of Art in New York (2015), Museum of Fine Arts Boston (2015), Ullens Center for Contemporary Art in Beijing (2014) and other museums throughout the world.
A major survey of Lee's work, curated by Mami Kataoka, was presented by Mori Art Museum in 2015, and toured to Taipei and Auckland, while projects have been presented in major exhibitions throughout the world, such as the 57th Biennale di Venezia Viva Arte Viva (2017), Biennale de Lyon (2017, 2009), SITE Santa Fe (2014), 18th Biennale of Sydney (2012), Liverpool Biennial (2010, 2006), Taiwan Art Biennial (2008), Asian Art Biennial (2007), Echigo-Tsumari Art Triennial (2006), Whitney Biennial (2004), 50th Biennale di Venezia at Taiwan Pavilion (2003) and the Asia Pacific Triennial of Contemporary Art (1999).
His solo exhibitions and commissions include a forthcoming retrospective at Martin-Gropius-Bau, Berlin (2020), and at Peranakan Museum, Singapore (2013), Isabella Stewart Gardner Museum (2012, 2000), Brooklyn Museum (2011), Queensland Gallery of Modern Art (2008), Govett-Brewster Art Gallery (2008), Museum of Contemporary Art Taipei (2007), Los Angeles County Museum of Art (2004), Museum of Modern Art, New York (2003), Fabric Workshop and Museum (1998) and Whitney Museum of American Art (1998).
Lee Mingwei encourages audiences to consider their universal relationship with the world through everyday life while at the same time calling to mind the tenderness and potency of personal relationships. Faith and chance are paramount. As he says, 'Nothing stays the same – the tension of change and fragility are the most important elements of my work.'
Rhana Devenport ONZM