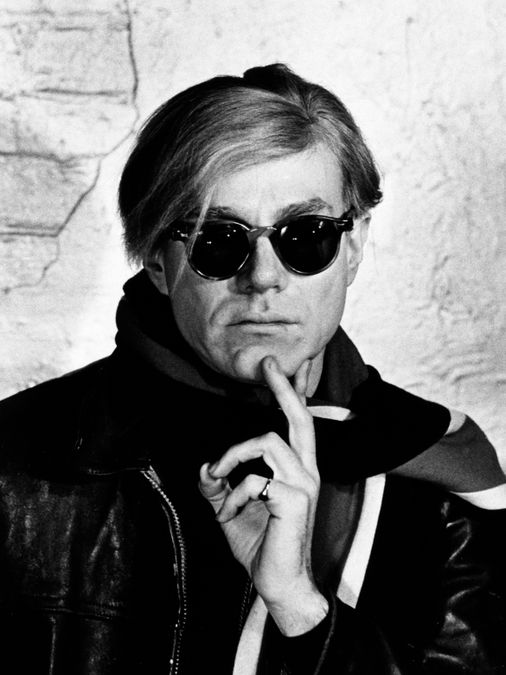 Curator's Insight - Andy Warhol and Photography: A Social Media
---
Exclusive to Adelaide, Andy Warhol & Photography: A Social Media is the first Australian exhibition to survey Warhol's career-long obsession with photography. As the title suggests, the exhibition explores the social aspects of Warhol's photography, including the collaborative nature of his photographic practice, the role photography had in his social interactions with others, and the candid social media 'look' of his images, which were taken decades before today's obsession with social media.
These concepts apply to the two strands of Warhol's photographic practice that are brought together in this exhibition – photography as an essential part of his working method and photography as an end in its own right.
From the beginning of Warhol's career, photographs became important source material and were used by the artist as the basis of his paintings and screenprints. Included were existing photographs from magazines, advertisements, publicity portraits of movie stars, and photographs taken by his friends. Warhol's painting of Elvis Presley, for instance, is based on a publicity still from the movie Flaming Star (1960); while photographs by Edward Wallowitch, Warhol's boyfriend at the time, formed the basis of Warhol's printed imagery in A Gold Book, 1957.
During the 1970s and 1980s, when commissioned portraits became a significant part of his artistic practice, Warhol based these portraits on Polaroid snapshots taken by him during photo shoots in his studio. The instantaneous nature of Polaroid photography allowed Warhol and the sitter to immediately select a favoured image to be transformed into a painting. Warhol's studio photo shoots were often a social and collaborative affair, with studio assistants and others photographing alongside Warhol, while studio guests watched on. Film and video footage provides rare behind-the-scenes insights into Warhol's studio practice for several of his portraits, including the excitement in the studio on Friday 17 February 1978, when John Lennon unexpectedly arrived during Liza Minnelli's photo session, with the two celebrities meeting for the first time.
During the 1960s, in addition to creating his Pop Art paintings, Warhol was a leading underground film maker, making hundreds of experimental films. Some were silent, some were loosely scripted and others were largely improvised; most invariably relied upon friends and acquaintances as 'actors', such as in his 1965 film Camp. The exhibition also includes various screentests or 'stillies' – three-minute silent portraits of sitters who were instructed to sit motionless and gaze directly at the camera.
Warhol's engagement with still photography for most of the 1960s was through the myriad of photographers who were drawn into his circle and studio, which was known as the Silver Factory.[1] Their images captured an insider's view of Warhol's world and studio practice, as Billy Name, the Factory's resident photographer explained, 'Cameras were as natural to us as mirrors. We were children of technology … It was almost as if the Factory became a big box camera – you'd walk into it, expose yourself and develop yourself'.[2] As well as Name, other photographers from this period represented in the exhibition include Duane Michals, David McCabe, Bob Adelman, Nat Finkelstein and Steve Schapiro. In 1969 Warhol's closest confidante and a fellow artist, Brigid Berlin, bought a Polaroid camera and over the next five years obsessively photographed her life and surroundings. Inspired by her example and attracted to the immediacy of the medium, Warhol himself bought a Polaroid camera and similarly used it to compulsively document his life and social milieu until 1976, when he purchased a new type of camera, which took on this role in his photographic practice.[3] The new camera, a Minox 35 EL, the smallest type of 35 mm camera at that time, facilitated a new direction for him – black-and-white photography – which lasted until his death in 1987 and resulted in many thousands of 8 x 10 inch gelatin-silver photographs, each of which exists as a work of art in its own right.
Warhol took his camera everywhere; it was a constant presence in private and social situations, where he captured his friends and celebrities in candid moments with a 'snapshot' aesthetic. The nature of Warhol's gelatin-silver photographic practice was publicly revealed when he published his first photographic book, Andy Warhol's Exposures, in 1979. At that time he described his philosophy on photography: 'My idea of a good picture is one that's in focus and of a famous person doing something unfamous. It's being in the right place at the wrong time'.[4] Warhol also stated that his favourite photographer was paparazzi photographer Ron Galella. The pair occasionally found themselves photographing at the same social events – Galella as a press photographer and Warhol as an invited guest, an insider.
In 1980 Warhol's Swiss-based gallerist, Bruno Bischofberger, published the only two editioned portfolios of Warhol's photographs. In this exhibition these two portfolios – one comprising twelve photographs and the other, forty photographs – are for the first time in Australia being shown together. Bischofberger, who had a long association with Warhol, considers Warhol's gelatin-silver photographs to be part of his diaristic tendency to record his life, writing that Warhol's tape recordings and dictated diaries could be regarded as his verbal memories, while his photographs became his 'pictorial or visual memory'.[5] Warhol's contact sheets reveal his daily journeys, the people he meets, and his wry observations of details from everyday life, including shop windows, signage and roadside rubbish.[6] Warhol's eye was also drawn to serial imagery and abstract patterns, such as a shadow on a sidewalk, images he was collecting for his intended 'stitched' photographs.
Most of Warhol's gelatin-silver photographs were printed by Christopher Makos; each week they would review the contact sheets together and select the images for printing. Makos, one of the young photographers working for Warhol's Interview magazine, was also art director of the book Andy Warhol's Exposures, and became a key photographic companion of and collaborator with Warhol. As Makos said, 'I undoubtably learnt a great deal from him, but he also learnt from me, especially about photography. We were in constant confrontation, continually exchanging impressions and ideas'.[7] They often photographed the same subjects side by side – whether travelling or in the studio – and Makos also took many photographs of his friend. The exhibition includes Makos portraits of Warhol doing everyday or 'unfamous things', including rowing a boat on a lake in Paris, having a massage, or posing wearing a clown nose. Perhaps their most enduring collaboration was the suite of Altered Image photographs: Warhol dressed in male attire but with female wigs and make-up. Makos remembers that Warhol 'didn't want to look like a beautiful woman, he wanted to show the way it felt to be beautiful'.[8]
Warhol exhibited very few of his photographs during his lifetime, although in January 1987, just weeks before he died, he revealed a new approach to his photography in an exhibition of 'stitched photographs' at Robert Miller Gallery, New York. Made by sewing several identical photographs together in a grid formation, these works frequently used photographs with strong abstract qualities in order to enhance the visual impact of the work.
AGSA's exhibition Andy Warhol & Photography: A Social Media presents a new perspective on Warhol for Australian audiences.[9] Tracing Warhol's photographic practice both behind and in front of the camera, and focusing primarily on portraiture, the exhibition explores the social nature of Warhol's photographic practice and in doing so offers new insights into his art and life.
Julie is Senior Curator, Prints, Drawings and Photographs at AGSA
[1] So called because from 1964 to 1968 Warhol's studio was on the site of a former hat factory on East 47th Street. Warhol asked Billy Linich, known as Billy Name, to decorate the interior with silver foil and paint, as Billy had done for his own apartment.
[2] Billy Name, All tomorrow's parties, Frieze, London and D.A.P. New York, 1997, p. 18.
[3] In the studio, however, Warhol continued to use his Polaroid camera for portrait shoots for the rest of his career.
[4] Andy Warhol, with Bob Colacello, 'Introduction: social disease' in Andy Warhol's Exposures, Hutchison, London, 1979, p. 19.
[5] Bruno Bischofberger, 'Andy Warhol's visual memory', 2001, p. 4, https://www.brunobischofberger.com/_files/ugd/d90357_015362edc78746d3b4ec6654231933ef.pdf accessed 23 December 2022.
[6] Warhol's contact sheets archive is held at the Cantor Arts Center, Stanford University.
[7] Christopher Makos, Andy Warhol, Charta, in collaboration with Edition Bruno Bischofberger, Zurich, 2002, p. 8.
[8] Christopher Makos, 'Lady Warhol the book, Altered Image', https://www.makostudio.com/gallery/2717, accessed 23 December 2022.
[9] I am grateful to the many supporters who have made this exhibition possible, including sponsors and donors, lenders in Australia and overseas, artists and artists' estates, sitters and their families, colleagues at other institutions, and the staff at AGSA.