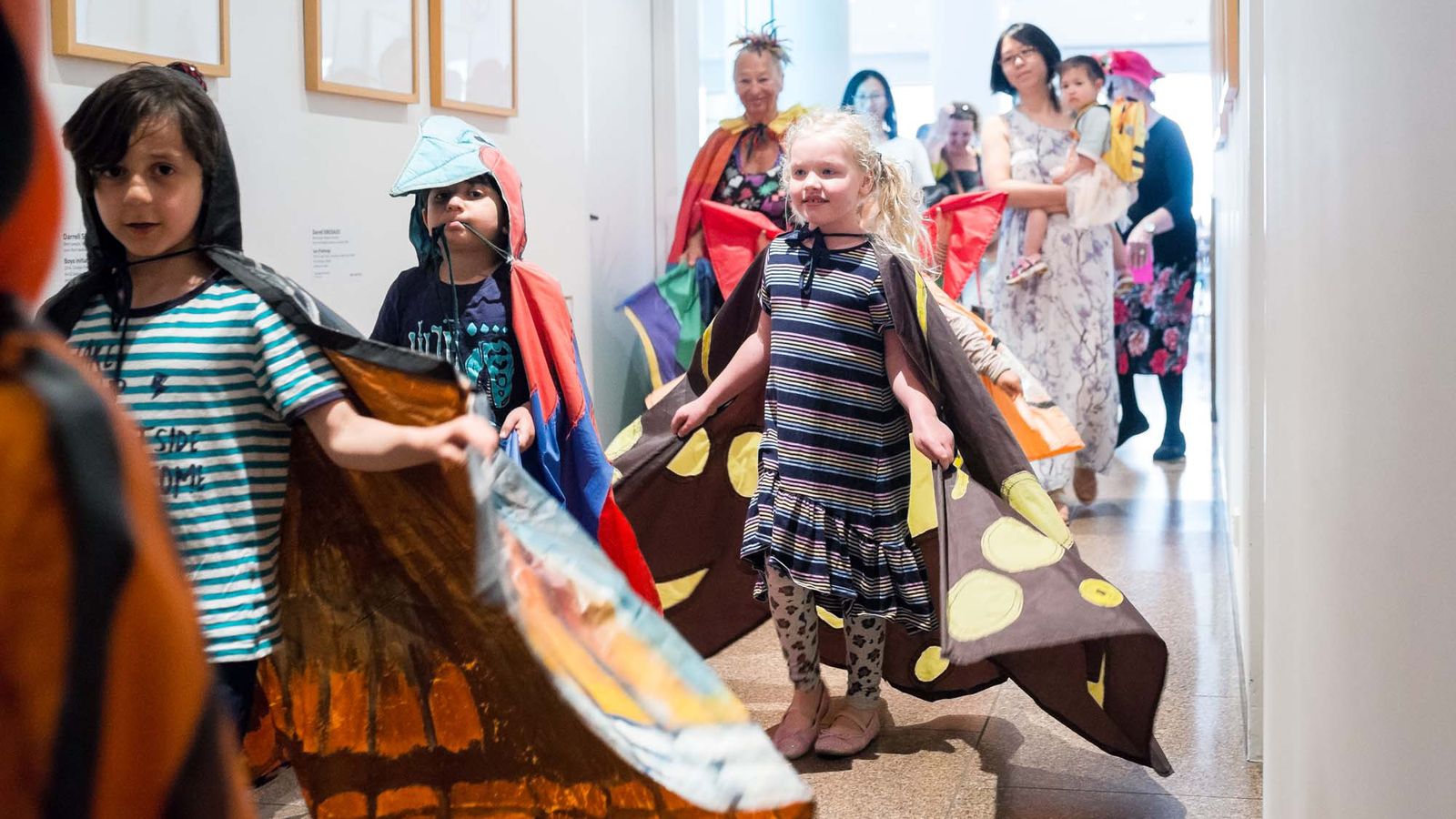 Festival
/
Kids & Families
Start at the Gallery: Monster Mayhem
Free
Gallery-wide
Ages 3–12
---
Dress in your monstrous best for a boisterous beastly party to mark the opening of the 2020 Adelaide Biennial of Australian Art: Monster Theatres.
11am-3pm
Start Art workshops
Monster masks with The Bait Fridge
The Bait Fridge is a wickedly creative art collective bringing action, colour and costumed chaos to Start. Build a monster mask, be captured on-set in your wild new form, and join the creature collective!
Where: Radford Auditorium
11am-3pm
Beetlemania with Nylon Zoo
A beastly Beetle has crept into our courtyard, and all it wants is to play! Don a colourful costume and explore Evelyn Roth's incredible inflatable wonderland.
Where: Sculpture Courtyard Lawn
11am-3pm
Snap Snap Photo Booth
Where: Radford Auditorium
11.15am, 12.15pm & 1.15pm
Storytelling Performances
Through the day and the dusk and the dawn
with Helen Lawry
Ubir is a monster, and her stomach is rumbling! It's lucky that Rosalie is so quick witted. A spirited story, inspired by an enchanting folk tale.
Where: Function Room
11am-3pm
Face Painting
Be adorned by Mask face painters.
Where: Sculpture Courtyard
11am, 11.30am (Auslan), 12pm, 1pm, 1.30pm & 2pm
Discovery Tours
Interactive art experiences for toddlers, teens and in-betweens with Gallery Guides.
Where: Meet in the Atrium
12.30pm
Learning to Look
Unpacking art with Neo's teen ambassadors.
Where: Meet in the Atrium
12pm, 1pm & 2pm
Sketch Tours
with Mitch Hearn
Pencil in hand, take a creative journey through the Gallery with your host Mitch Hearn, local illustrator and monster aficionado!
Where: Meet at The Studio
11am-3pm
Start Sounds
with DJ Sandy Bunker & the Dumpster Soundsystem
Stomp your feet, flap your wings and waggle your spiky tail to the beastly beats of the most monstrous mutant sound system in town.
Where: Sculpture Courtyard
Start at the Gallery is held on the first Sunday of every month. Parent/carer supervision is required.