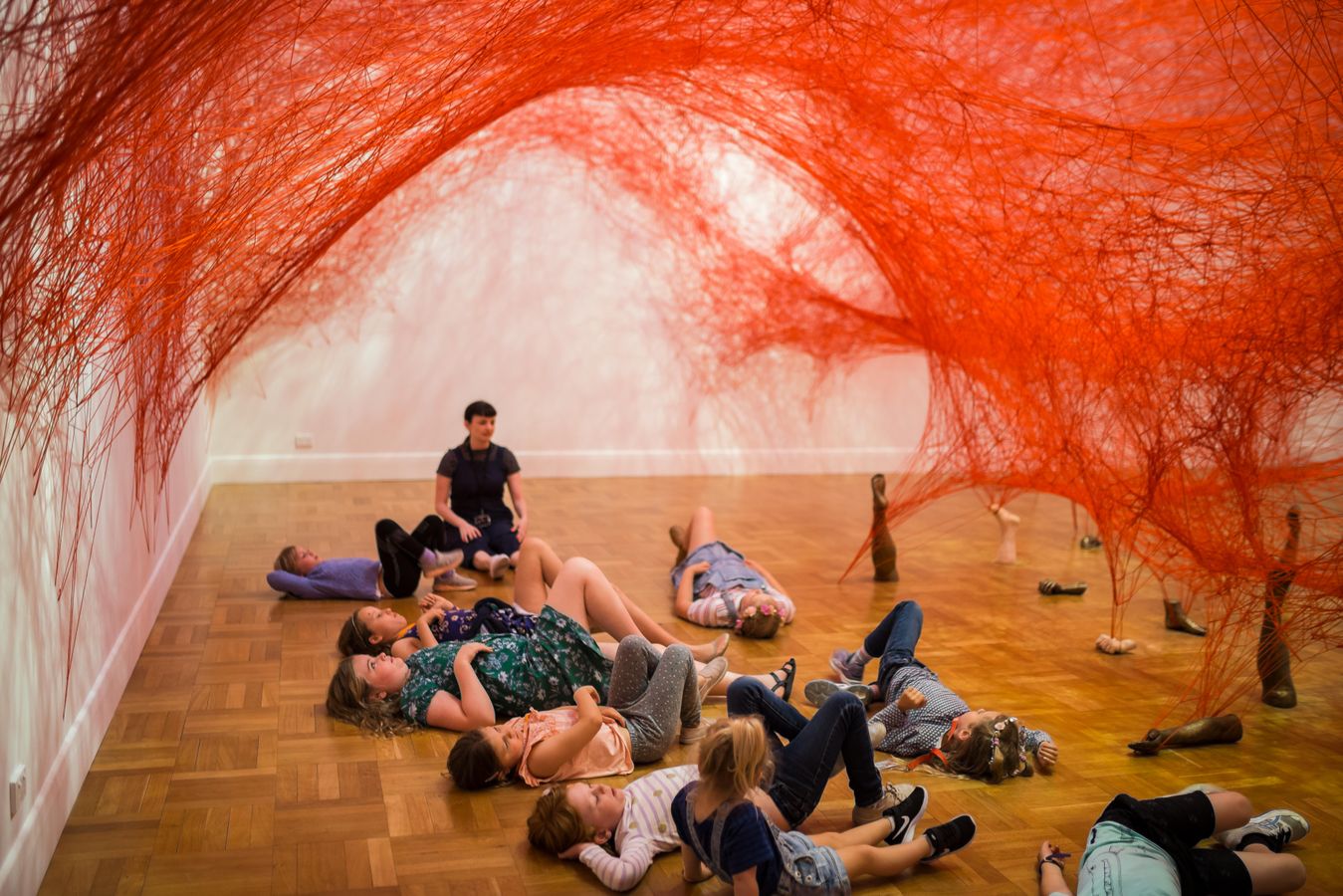 Start at the Gallery: Sensory Scenes
Free
Art Gallery of South Australia
Ages 3-12
---
Enjoy art making, music, performances and tours on the first Sunday of every month.
Look through a different lens and have fun with texture, colour, light and shape to see what you can create at Start! Explore, draw and sculpt suburban scenes; meditate, move or dance your way through the Gallery; and encounter spectacular sounds, storytelling and performances this Start.
Register on arrival
11am-3pm
Start Art workshops – Suburban Scenes
Create suburban scenes from plasticine.
Location: Radford Auditorium (capacity 30)
Duration: 30 minutes
11am-3pm
Start Sketch Tours
Join a drawing journey through the Gallery with Illustrators Robin Tatlow-Lord and Lauren Herraman.
Location: Meet outside The Studio (capacity 15)
Duration: 45 minutes
11.15am, 12.15pm & 1.15pm
Storytelling Performances
Hear timeless tales from a master storyteller, Helen Lawry.
Location: meet upstairs in Gallery 7 (peformances in Galleries 5-6, capacity 20)
Duration: 45 minutes
11.30am, 12.30pm & 1.30pm
Dancing in the Gallery
Workshops with creative choreographer Jessie Mckinlay.
Location: Meet at the top of the stairs in Gallery 7 (capacity 15)
Duration: 45 minutes
11.45am, 12.45pm & 1.45pm
Blooming Hearts Yoga
Connect, create and meditate through movement.
Location: Function Room (capacity 20)
Duration: 30 minutes
Drop in and join
10am-5pm
Studio Snazzy
Experience light, colour and texture through an immersive sensory space.
Location: The Studio (capacity 20)
Duration: 30 minutes
11am-3pm
Nylon Zoo
Explore Evelyn Roth's colourful incredible inflatable wonderland.
Courtyard Lawn (capacity 20)
11am-3pm
Start Sounds
Immanuel College String Orchestra conducted by Emily Gann
11.45am to 12.15pm (whole orchestra) – Location: Atrium top of stairs Gallery 7
12.20pm to 12.50pm (small ensembles and soloists) – pop up performances in courtyard and gallery
1.00pm to 1.30pm (whole orchestra) -Atrium top of stairs Gallery 7
1.30pm-2.30pm
Modern Lift Jazz Duo
Sculpture Courtyard Marquee – (capacity 50)
11am-2pm
Start Discovery Tours
Guided interactive art experiences exploring suburban scenes for toddlers, teens and in-betweens.
Location: Meet in the Atrium (capacity 15)
Duration: 20mins
Art Gallery Food + Wine
10% discount for AGSA and Start Art Club Members
On your visit please
Check in when you arrive by using your Start Art Club Membership.
Book into activities on arrival.
We've added extra tours but numbers and capacity restrictions apply. Arrive early to avoid disappointment.
Remember to social distance, wash your hands, and use hand sanitiser frequently. AGSA has increased cleaning on the premises.
If you're not well or experiencing flu-like symptoms, please join us online instead of at the Gallery.