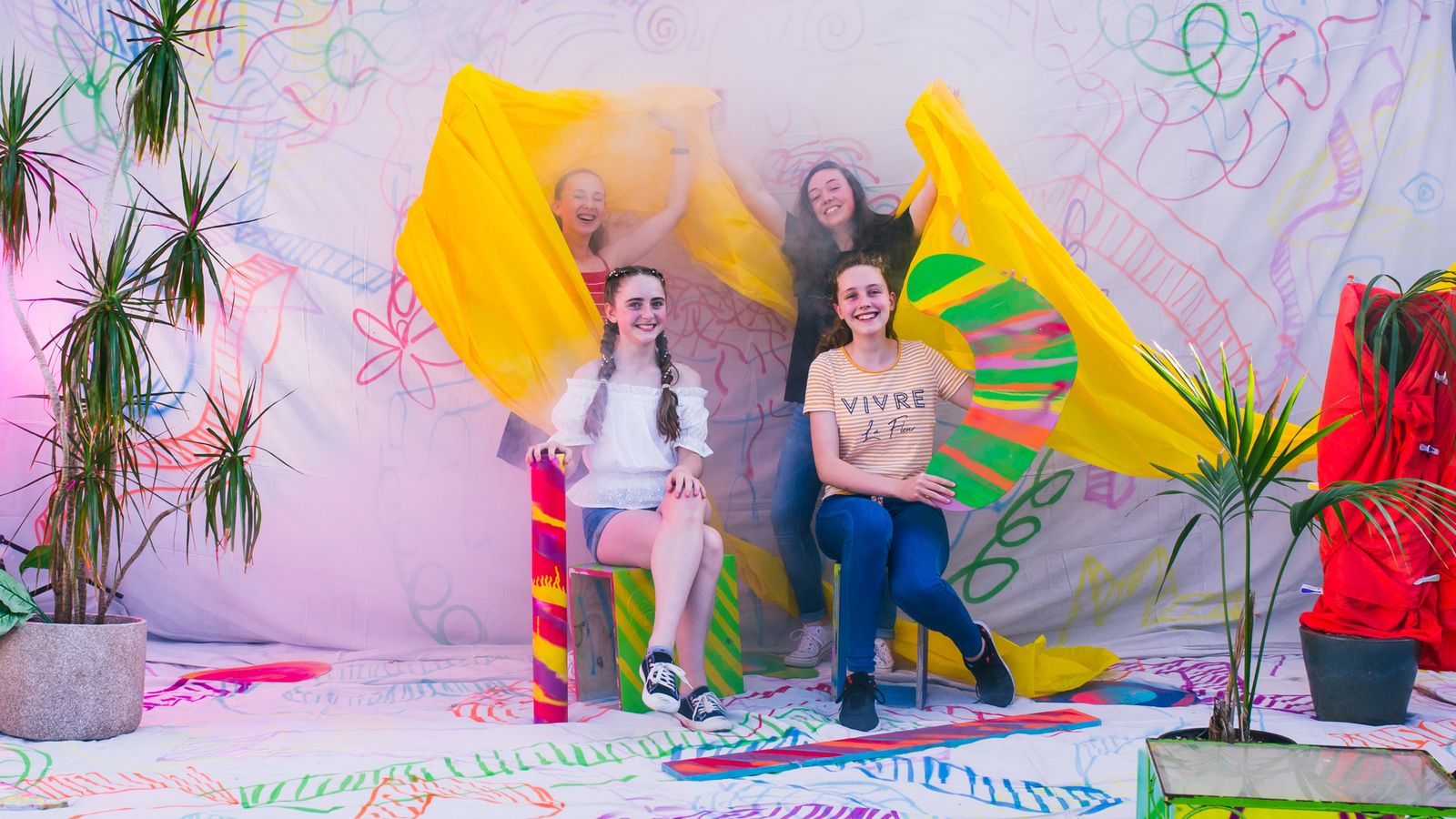 Festival
/
Teens
/
Special Event
Neo: Colourverse
---
Explore the spectrum at Neo Colourverse!
Come dressed in your most vibrant threads, belt out your favourite pop anthems in a karaoke sesh, and get ready to tune into the big sounds of Lil Cue, Picasso's Blind Grandmother and Running with Scissors. Be immersed in the colours of the collection with artists Jasmine Crisp and collaborative duo Brianna Speight and Rosina Possingham, and don't forget to grab a free snack and a bubble tea!
Lights, camera, action! with Rosina Possingham and Brianna Speight
Join Adelaide artists Rosina Possingham and Brianna Speight in The Studio for a creative camera workshop. Participants can expect to make portrait photography with a playful twist - think hi-visibility, extreme heat protection and future beach activities, exploring costuming, performing and play!
Now and Then Self-Portraiture with Jasmine Crisp
In response to John Brack's 'Now and Then', Jasmine asks you to reflect upon your present and past self through collective drawing. Look into the mirror to produce a live self-portrait, before adding to a growing installation of colourful live portraits.
Prospeks
Learn how to mix songs and perform as a DJ with Prospeks! Work with a collection of music and production sounds to create live beats in the Elder Wing of Australian Art.
Live Music
Running with Scissors - 6pm
Paper Snorkel - 6.30pm
Lil Cue - 7pm
Picasso's Blind Grandmother - 7.30pm
Prospeks - 8pm
Karaoke
Belt out your favourite pop anthems in this karaoke session in the gallery!
The Photobooth
Take a happy snap with your friends in the photobooth!
Snacks - Courtyard
Grab a bahn mi or cold roll from Soonta, with gluten free and vegan options available.
Spirit House
Step into the Spirit House and explore this giant inflatable sculpture created by artist Evelyn Roth!
Response Wall
Add your mark to the rainbow graffiti wall while you rock out to live music.
Sketch a Stranger with the Neo Ambassadors
Want to meet new people? Sit down and sketch a fellow Neo-goer, and be inspired by the fresh line-work in Mortimer Menpes' plate portraits.
Paper Landscapes with the Neo Ambassadors
Inspired by Bessie Davidson's paint box in the Elder Wing, the Neo Ambassadors invite you to add to a paper landscape wonderland!
Poetry in the Elder Wing
Put pen to paper and poetically respond to some enigmatic works in the Elder Wing of Australian Art. Submit your words to the next issue of our teen zine Neon!
Jewellery Making with the Neo Ambassadors
Sit down and piece together your own item of jewellery to exchange with a friend!
Register for the event at the link.
Numbers and capacity restrictions for each space apply.
Remember to social distance, wash your hands, and use hand sanitizer frequently.
Please stay at home if you're not well or experiencing flu-like symptoms.
Since 2016, Neo has welcomed over 6000 teens to the Art Gallery of South Australia.
Register for this event
Register below to receive VIP program updates, exclusive opportunity invites, artist call-outs and competitions!