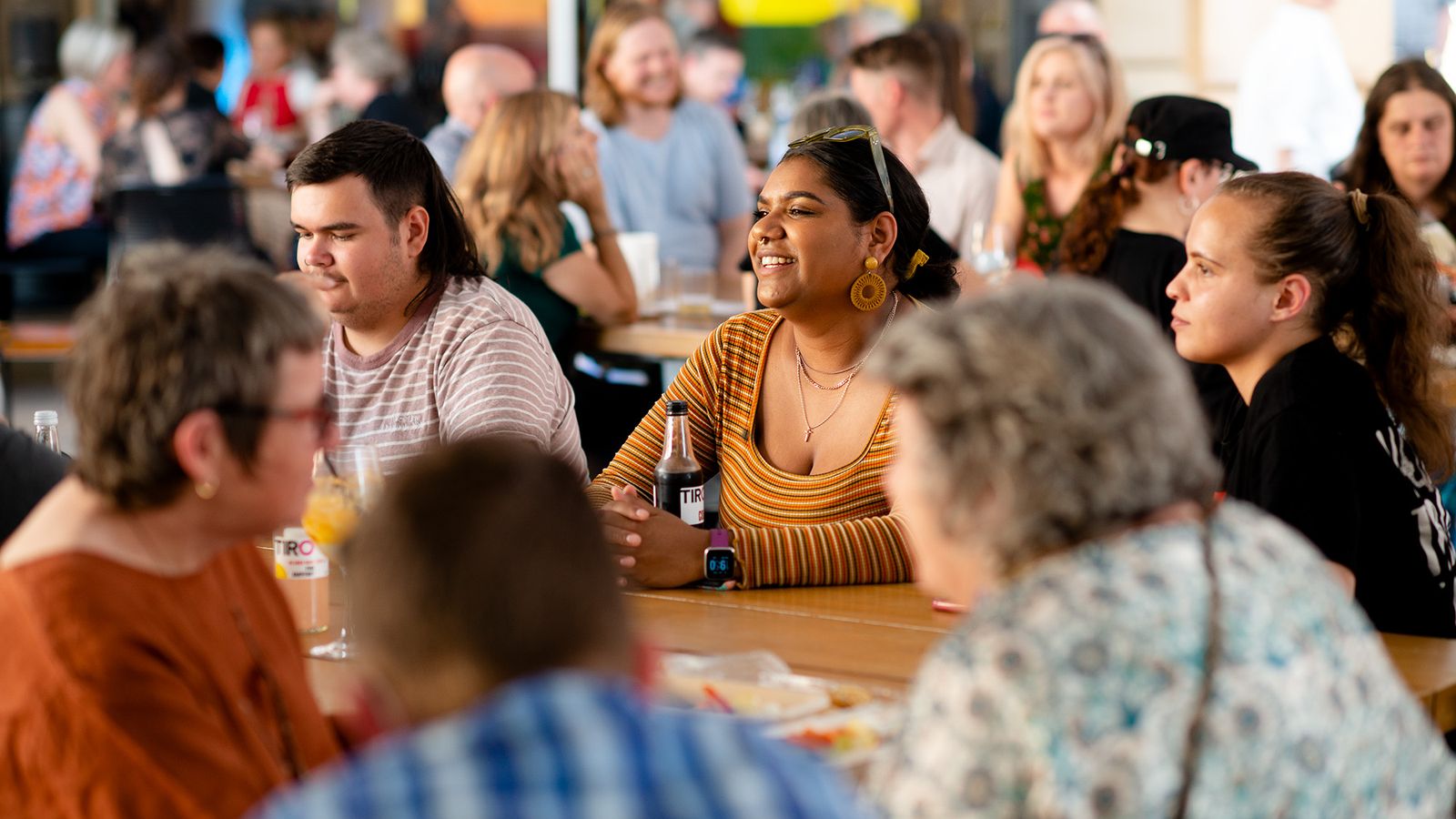 Open Late
/
Guided Tours
/
Access Program
First Fridays: Colour Deluge
Free
Art Gallery of South Australia
All Ages
---
KICK-START YOUR WEEKEND WITH AFTER-HOURS ART AND ENTERTAINMENT
Immerse yourself in vibrant colours of the land, sea and sky celebrated in this year's Tarnanthi exhibition. Hear from Tarnanthi artists involved in the Tainga Marine and Land Debris Art Project then sit back and absorb the captivating sounds of MARLON X RULLA. This First Friday we are also celebrating International Day of People with Disability, join us for the launch of our new Access Guide, find out more here. With Christmas just around the corner, pop into the Gallery Store to pick up that special gift. This First Friday Members will enjoy Christmas double discount shopping in the Gallery Store.
5-9pm
Access Guide self-guided tour
Join us for the official launch of our new Access Guide. Using your own smart device take a self-guided tour of Australian and International art using tour options in self-guided audio, audio description, Auslan, and plain English. Content can also be accessed via QR codes on selected wall labels. Register your interest here.
5pm & 7pm
Guided Tours
Focus your attention on Tarnanthi 2021 with a Guided tour of selected works in the exhibition.
From 5:30pm
Musical Performance - MARLON X RULLA
Born and bred in Darwin, Northern Territory, Marlon is of Aboriginal Larrakia, Kungarrakany and Thursday Island heritage. His deep love for family and country are the foundation of his perspective that we need to share positive energy and grow together. Marlon has big ambitions for the music industry, performing with proud Tulampanga Pakana MC Rulla Kelly-Mansell; Marlon X Rulla have burst onto the Australian music scene in under a year.
From 5:30pm
The Studio
Drop into The Studio to create your own boab sculpture and cover it in designs inspired by Tarnanthi feature artist John Prince Siddon.
5:30pm
Weaving Workshop
Join Tarnanthi artist Sonya Rankine of Lakun Mara in a weaving workshops to learn traditional Ngarrindjeri & Ngadjuri weaving techniques.
Sorry, booked out but some spaces may be available on the night.
6pm
Tarnanthi Artist talk
Hear from the artists who have created two life sized emu's made as part of Tarnanthi at the Tainga Marine and Land Debris Art Project; a textile and sculpture workshop facilitated by Port Adelaide Enfield Council. Kardi the male emu and Murltarra the female emu are made entirely from discarded fishing nets and ropes that have been cut free from fishing vessels and left to drift in the sea, also known as ghost nets. The artists have repurposed the nets and ropes to raise awareness about the environmental and ecological damage that is occurring in our oceans. On display in Gallery 7.

7pm
Deaf-led Tarnanthi tour for deaf and hard of hearing visitors
Take an Auslan guided tour of Tarnanthi 2021 at AGSA with Deaf Aboriginal Guides. Register your interest here.

7pm
Audio described tour and accessible making workshop for blind and vision impaired visitors
Take an audio described and multi-sensory tour of the permanent collection, and join an accessible making workshop in The Studio with AGSA staff and volunteer guides. Register your interest here.